Features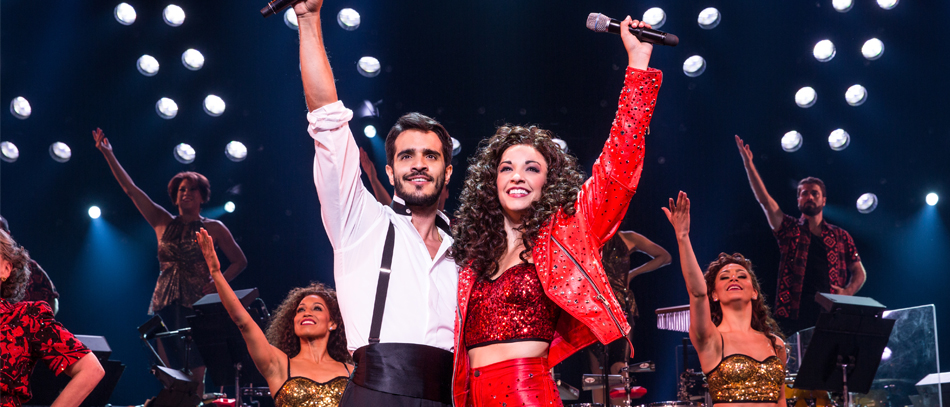 1-2-3 Tour!
JUN 9, 2017
For almost two years, Broadway audiences have laughed, cried, cheered, and conga-ed in the aisles to the songs of Gloria and Emilio Estefan at the hit musical On Your Feet! Now, this supremely entertaining show is headed across America and around the world in touring companies set to launch this fall.
"On Your Feet! is a celebration of the incredible music created by two people who emigrated from Cuba and found the American dream," says Jerry Mitchell, the production's two-time Tony Award–winning director. Appropriately, the national tour will get its official opening in the Estefans' hometown of Miami on October 5 before traveling to 60 additional cities through April 2019. The musical will also make its international premiere on October 29 in Utrecht, Netherlands, where Gloria Estefan's megahit "Conga" was written in 1985.
Mitchell, who has guided multiple international companies of his other current Broadway hit, Kinky Boots, is unfazed by the demands of assembling two companies of On Your Feet! "We want the show to look and sound just like the Broadway production [closing August 20], in a form that can move quickly from city to city," he explains. "If audiences don't see an element on stage, we're looking for ways to make it lighter and more efficient."
Joining Mitchell in casting two all-Latino companies is choreographer Sergio Trujillo, whose scintillating salsa numbers in On Your Feet! earned a 2016 Tony nomination. "I've told the Broadway cast numerous times that this show is an opportunity to share the story of a Hispanic family, something we don't get to do very often unless it's West Side Story or In the Heights," Trujillo says. "In many ways, they're telling their own story on that stage, and the audience connects with that, so it's a thrill for me to be able to hire so many talented Latino actors, singers, and dancers."
Mitchell and Trujillo have been friends and collaborators for almost 30 years, since the Tony-winning 1989 revue Jerome Robbins' Broadway. As Robbins' assistant, Mitchell gave Trujillo his first Broadway credit in the show's ensemble. "Having Sergio choreograph On Your Feet! was a huge element for me," says Mitchell. "We wanted to present that rich Latin heritage in the choreography, the real deal, not some made-up Broadway moves."
Trujillo, a native of Colombia who moved to Canada at age 12 and then to America to launch his career, feels a personal identification with the Estefans' journey. "I learned to dance salsa when I was a little boy, and my goal with this show was to capture the essence of Latin culture," he says. "One of the biggest compliments I got was when my husband [actor Jack Noseworthy] said, 'I see your family up on that stage.'"
In separate interviews, Mitchell and Trujillo use the same word — authenticity — to describe the universal appeal of On Your Feet! "There's a lot of heart and emotion in the story of Gloria and Emilio Estefan," the director says. "It's about a couple who supported each other, even when faced with the most insurmountable odds, and succeeded without bringing anybody else down. My favorite thing about them is the authenticity of their music."
Echoes Trujillo, "There is so much authenticity in this story, and what's great about taking the show on tour is being able to share the Estefans' journey with more people. It's the story of two immigrants who had to leave their country, not unlike Syrians and people from other cultures who are having to do that right now, and went on to achieve something wonderful. That's the spirit in which On Your Feet! was created."
The fact that the show boasts 26 irresistible songs — including "Rhythm Is Gonna Get You," "1-2-3," "Anything for You," and the title tune — gave Mitchell, Trujillo, and Alexander Dinelaris, the show's Oscar-winning book writer, plenty to work with. "'Everlasting Love' could be used as a metaphor for Gloria and Emilio," Trujillo points out. "They've been together for more than 40 years, they continue to love each other, and they're passionate about what they do."
And yet Mitchell and Trujillo mention a couple of less well-known songs when asked about their favorite moment in On Your Feet! "There is a song at the top of Act One, 'Tradicion,' from one of Gloria's most famous albums, Mi Tierra," Trujillo says. "It's an anthemic album for a lot of Latinos, and the song captures the essence of the dancing in our show." Says Mitchell, "The song that always breaks my heart is 'I Never Got to Tell You,' which Gloria wrote with her real-life daughter, Emily. It's sung by Gloria's mother and Emilio when she is in the hospital with a broken back, and it's the moment when they realize nothing matters more in life than family."
To ensure that the national tour precisely re-creates the Latin pop sound that helped sell more than 100 million Gloria Estefan records, Miami Sound Machine keyboard player and Broadway vet Clay Ostwald will oversee the orchestra. Trujillo associates Maria Torres, Marcos Santana, and Natalie Caruncho have signed on to make sure the quality of the dancing on the road is just as good as it was on Broadway. "My first show [as a Broadway choreographer] was Jersey Boys, and I learned how important it is never to compromise on quality," he says. "I'm a perfectionist, and I want to make sure America gets to see exactly what we did on Broadway."
The creators feel confident that audiences across the country, as well as in Spain, Italy, Germany, France, Mexico, and Japan, will respond to the warmth and supercharged entertainment value of On Your Feet! "It's a great family show," says Mitchell, "and a story that deserves to be shared today and every day — that you can be born anywhere in the world, come to America, and if you work hard and pay your taxes, you can succeed."
The 2017 Ton...
The 2017 Tony Awa...
You might also like: