Features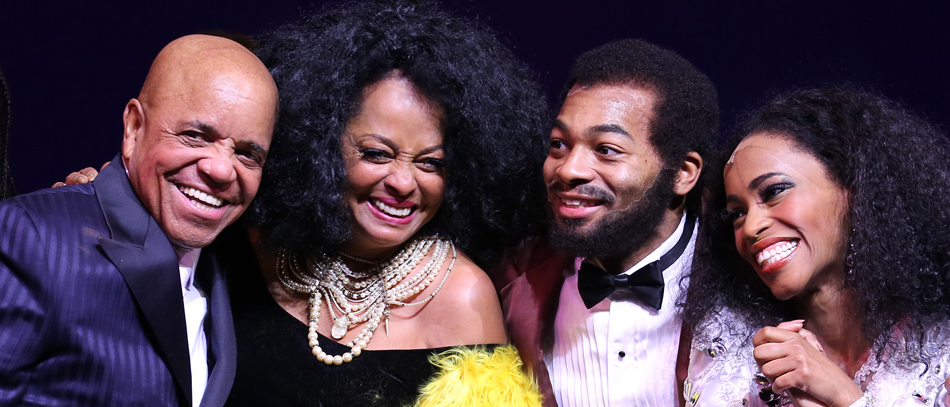 A Broadway Hit - Made in Detroit
JUN 10, 2013
Theatergoers trying to score tickets to Motown The Musical probably didn't have to learn from The New York Times that the show currently playing at Broadway's Lunt-Fontanne Theatre is the "biggest box office hit among the new productions of the 2012-13 season."
It is certainly the hottest ticket in town, breaking $1 million each week, and consistently selling every ticket available since it opened in April. Motown charts the story of Berry Gordy Jr., the young African American man from Detroit, a former boxer and automotive factory worker, who, with a loan of $800 from this family, founded the company which became Motown Records in 1959; the new label would foster the careers of a host of superstars, including Diana Ross, Smokey Robinson, Marvin Gaye, Stevie Wonder, Michael Jackson, Martha Reeves, The Temptations, The Four Tops and Gladys Knight, and create a phenomenally successful and internationally well-loved brand of music.
The genesis of Motown The Musical dates back four and half years to when Doug Morris, then head of Universal Music Group, first floated the idea about a show to his long-time friend, Gordy, the legendary record producer and Founder of Motown. Morris, currently the Chairman and CEO of Sony Music Entertainment, has been dubbed 'godfather of the music industry'; prior to heading the music divisions of Sony and Universal, he worked as top executive at Warner Music Group as well. "Berry is absolutely the best record guy in the history of the industry and I love the music," Morris explained. "This story is truly an American success story. I mean where else in the world could this have happened? He didn't come from a privileged background, he started his own company with very little money and he built it into the most unique record company in the world."
Veteran Broadway producer Kevin McCollum was invited to join the Motown project about a year after Gordy and Morris began work. "My mother worked in a television station so I grew up around music my whole life and Berry Gordy was one of my heroes," he reports. "Berry said to me, 'I just want to tell the story of the family. People don't realize that we were a real family and Motown was about the artists. I want to celebrate the artists and the fact that we built a company on talent and passion and hard work.' I said if you could tell that story I would love to be a part of it. For me, if you look at all my shows—Rent, Avenue Q, In the Heights—they are all about people trying to form a family, and how that is what really brings happiness," McCollum continues. "I think that is what is so great about Motown. The show is making people happy because we are showing what can be done with passion and talent."
Gordy used his 1994 memoir To Be Loved: The Music, The Magic, The Memories of Motown (released just last week by RosettaBooks in an eBook format) as the basis for the musical. "You know, he took a lot of time to make sure that a lot of people get their due credit," notes Morris. "It was also an incredibly fantastic period in the history of America," he adds, referring to the racial strife of the 1960s, the Civil Rights movement, the Kennedy and Martin Luther King, Jr. assassinations and moon landing. "He captured a time where the music really purposed what was going on." McCollum reports, "Berry was very much a leader on how to approach the material." There were a few occasions, he says, when he offered suggestions for one scene or another. "Berry would say to me, 'that's a good idea, Kevin, but it didn't happen that way.' He was very clear about being authentic." And judging by their remarks after the show's glittering opening night two months ago, the real-life Motown stars have embraced the musical as accurate. "He's telling the truth," said Diana Ross to the Detroit Free Press about her one-time beau. "He's trying to get past all the crap that's been said, all the tension." Singer Smokey Robinson enthused to BET.com, "…this is the accurate account and people are finally going to be able to see the real deal."
From Mamma Mia! to Jersey Boys, there has been a growing trend on Broadway to capitalize on popular music catalogs. Motown The Musical is the latest, and potentially the most successful of such enterprises, rejuvenating a cavalcade of hits for the generations that grew up with the Motown sound, and introducing the standards to a new audience. The Motown label and its catalog is now owned by Universal Music Group, which has now released the cast album, which includes classics such as "Dancing in the Street," "My Girl," "You're All I Need To Get By," "Where Did Our Love Go," "I Want You Back," as well as two new songs that Gordy wrote specifically for the musical. "I put the deal together when I was at Universal and now I am over at Sony," notes Morris wryly, adding that it was not the corporation that set this particular project in motion. (Sony now administers EMI and the Jobete publishing catalog.) However, another corporation, The Chrysler Group, saw the potential of linking their iconic automobile brand with the iconic music label that shares the same hometown. Promoting both their product and the musical, the corporation has been running a television commercial nationally featuring Gordy riding a Chrysler 300C Motown Edition sedan with the famous Chrysler slogan "Imported from Detroit" altered to read "Imported from Motown." Chrysler's chief marketing officer, Oliver Francois toldThe New York Times, "Motown is the most exported from Detroit of any music and, in this case, imported to New York. It's putting together the sound and the drive of Detroit. We were meant to meet."
"All this synergy really works, but you still need a product that people really like," comments Morris. "That's the similarity to the music business. No one buys a piece of music they don't like. I must say, the one thing I learned about Broadway is that it is much more difficult than the music industry," he adds. "There is such a melding of different talents on Broadway that it's pretty startling. I am amazed at how incredibly talented they are. And they have such a passion for it. It's such a love of being on the stage and performing. Broadway obviously is a very special place." McCollum notes that even though Morris and Gordy have not been involved with Broadway before, all three of them are not novices when it comes to entertainment. "It's all about how you capture the public's imagination," he says. "The three of us were fortunate enough to choose each other but ultimately we are not responsible — it is the people who perform it eight times a week. I mean we are blessed with a wonderful and most talented group of people working on Broadway today and it is a truly remarkable thing to watch every night."
Click here to purchase tickets to Motown The Musical on Broadway.
Watch the 67...
Making Big Fish S...