Features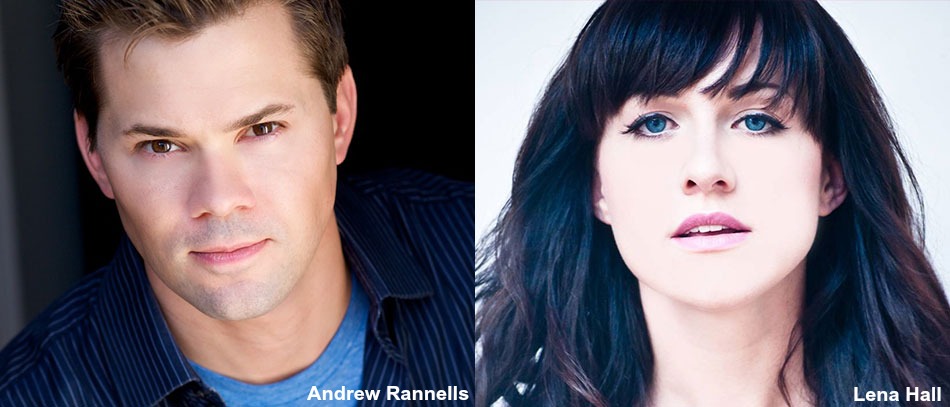 A New Hedwig Lights Up Broadway
AUG 12, 2014
On August 20, Andrew Rannells will take over the lead in Hedwig and the Angry Inch. The heroine of Stephen Trask and John Cameron Mitchell's rock musical is about to get a new lease on life on Broadway, and anticipation is running high.
Hedwig is indeed a remarkable survivor. The self-declared "internationally ignored song stylist" — an aspiring singer from East Berlin first introduced to us in 1998 — has proven to be an enduring icon for the 21st century.
Earlier this year the marvelously complicated, would-be superstar was brought vividly to life by Neil Patrick Harris in the new Broadway revival at the Belasco Theatre. Harris won the 2014 Tony Award for Best Actor in a Musical and the production, directed by Michael Mayer, received the award for Best Revival of a Musical, becoming one of the season's most critically acclaimed and commercial successes.
Rannells last appeared on Broadway a little more than two years ago. Since his Tony-nominated star turn as the ever-cheerful missionary in The Book of Mormon, the fresh-faced actor-singer-dancer with the winning smile has been building a considerable fan base on television. He played one half of a couple who had a baby with a surrogate mother in the NBC sitcom The New Normal; and after a series of well-received guest appearances in the first three seasons of Lena Dunham's popular HBO series, Girls — playing the gay ex-boyfriend of the lead character, Hannah (Dunham) — he was invited to become a regular on the series.
"I had just gotten back to New York from Los Angeles and just started filming the fourth season of Girls, and out of the blue I got a call from Michael Mayer asking if I would be interested in coming into Hedwig after Neil," Rannells reports. "I can't say that it was something that I was expecting at all, but I was so happy that Michael asked. I knew immediately that it was something that I very much wanted to do."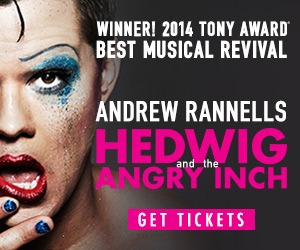 "Andrew has so many of the qualities that you look for in Hedwig," notes director Mayer. "He's a real triple threat, wonderfully funny, and has a very quirky sensibility in this very conventionally handsome package. He's a very smart performer and the audience has somewhat of a built-in relationship to him because they loved him in The Book of Mormon and they've seen him on TV," Mayer continues. "It's some of the same qualities that Neil has, but Andrew manifests these traits very differently. He has a very different physicality, and we are going to be organizing the choreography to celebrate his own strengths as a dancer. I think he will reveal elements of the character in ways that are very different from the way Neil did, but he will still honor the character with as much dedication and reverence — and irreverence."
Rannells, born and raised in Omaha, Nebraska, arrived in New York in 1997 straight after finishing high school. "I had just turned 19 when I moved here to go to Marymount Manhattan College," the actor recalls. "It has been quite a journey, and certainly harder than I anticipated, I think. I didn't know anyone in New York. My family is not in show business; nobody else does this in my family. So it was really for me to make the connections and do the work."
Although the original production of Hedwig, starring creator John Cameron Mitchell, opened Off-Broadway the year Rannells came to New York, Rannells says, "unfortunately I was young and disorganized and I never got to see him do it, which was a huge regret of mine." However, in 2002, he got an opportunity to play the role in a production in Austin, Texas. "To get this chance now to revisit this material is fantastic because obviously I have 12 more years of performance experience and life experience; there are things that certainly hit me a little bit differently at 35 than they did at 23." How does he see the role now? "I think what I naturally gravitate toward is maybe a slightly more busted version," he replies. "The Hedwig that I see is certainly a survivor, but she's a little more broken, perhaps. I love that she is so strong but also so vulnerable, and I love that she is so funny but also so hurt and sensitive. I just love all her contradictions."
"We are all looking forward to Andrew bringing in a new energy to the show," says Lena Hall, the actress who plays Hedwig's husband, Yitzhak, in the current production. "It is going to be a shift for me going from one wife to another!"
Hall (going by the name Celina Carvajal), who made her Broadway debut while still a teenager in 1999, in the long-running production of Cats, originated the role of Nicola in the musical Kinky Boots. As Lena Hall, the name she used as a singer in a rock band, she put her own stamp on Yitzhak, scoring a personal triumph and the Tony Award for Best Featured Actress in a Musical. "My challenge was to be as convincing a male as I possibly could be, because the part is written as a biological man," Hall explains. She says she worked with director Mayer and writer Mitchell to bring clarity to the relationship between the adoring roadie who is willing to do anything for his wife and the volatile Hedwig. "They allowed me to shape the storyline that is not on paper. It turned into this great silent piece that a lot of people relate to, and that's what pushed my character into the spotlight and got me the Tony Award. I know that Andrew is going to have a different take on the iconic part of Hedwig and it will be fabulous for us to develop our own relationship," Hall continues. Noting that Rannells, at 6-foot-2 in his bare feet, is going to loom ever taller than Harris did as he strides about in his heels, she adds, "I feel so like a peanut next to him!"
Director Mayer observes that Trask and Mitchell's musical has already proven as enduring as its heroine. "We are fortunate enough to have wonderful performers, like Andrew, to continue to be interested in this show, and perhaps we'll see yet another version of Hedwig with a few different interpretations. As a piece, it is so strong that it really can bear very radical reinterpretations of the character. The show is so worthy of seeing more than once. For me, I just can't wait to see Andrew do it."
Chicago: Whe...
First Person: How...
You might also like: