Features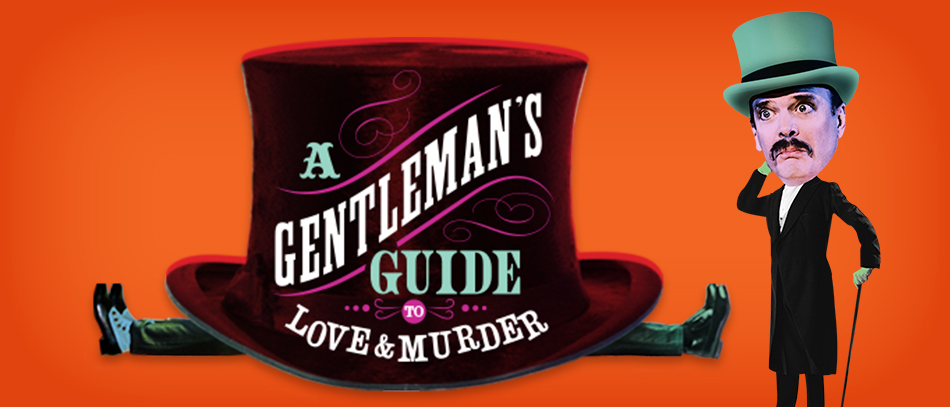 A New Musical Comedy of (Bad) Manners
AUG 5, 2013
Getting away with murder can be so much fun, and there's no better proof than the wildly acclaimed new musical A Gentleman's Guide to Love & Murder. It's like Downton Abbey, with a delightfully depraved edge.
When Monty (Bryce Pinkham), a poor relative of the aristocratic D'Ysquith clan, sets out to bump off the eight family members who stand between him and the family fortune (all played by Tony Award® winner Jefferson Mays), chances are that you'll be rooting for him to succeed.
Composer and co-lyricist Steven Lutvak had the idea some eight years ago to turn a 1907 English novel by Roy Horniman—the story of an early 20th-century homicidal social climber—into a musical. "There was something about the milieu that seemed to me to be particularly delightful," he explains. "The Edwardian era was a world in which almost no one says what they actually feel, which meant that the music could heighten and exaggerate that. For instance, our lead character – who is the murderer – actually speaks his truth only twice, and he does it in song." Lutvak, who has enjoyed a career as a cabaret artist in New York and is best known for writing the title song for the movie Mad Hot Ballroom, teamed up with Robert Freedman, an Emmy® Award nominee for Life With Judy Garland: Me and My Shadows, whom he initially met in the early 1980s at New York University's first graduate program for musical theater. Lutvak composed the score, Freedman the book, and together they shared the task of writing the lyrics. "I loved the challenge as a writer," says Freedman. "Monty is always polite and appropriate, the perfect gentleman, and yet at the same time he is killing people."
The novel, which also spawned the classic 1949 British movie Kind Hearts and Coronets, has a dark tone while A Gentleman's Guide to Love & Murder is a riotous musical romp. The author Horniman, who managed a theater and wrote for the movies, was also a part of Oscar Wilde's circle of friends. "Wilde was able to satirize society so well because he was on the inside and the outside at the same time," notes Lutvak. "Those of us who are on the outside always speak two languages – the language of the sub-culture as well as that of the culture at large. I don't know if Horniman was gay but his novel has that same outside and inside thing." For his part, Freedman says he was attracted to the "air of detachment" of the main character in the novel. "I just relished the irony and the hypocrisy of the society," he says. "A musical allows you to get inside a character's head. That's one of the reasons why you are able to care about Monty in the show. I love the juxtaposition between what he is really feeling and what he is willing to show other people."
Lutvak's influences for his score go back to his childhood memories. "My dad was an Anglophile so I grew up with the music of Gilbert and Sullivan," he recalls. "When other people were listening to Carousel and My Fair Lady, I was listening to The Mikado and The Pirates of Penzance. While I was writing the music for this show," he adds, "I only listened to Mozart because I knew in constructing the show we were going to have duets, trios, quintets and quartets." The lyrics are tightly constructed and rhyme perfectly, he explains, "to reflect the intricacies of Monty's mind and how he is always trying to stay several steps ahead of his victim." The faux classical references notwithstanding, Gentleman's Guide lies firmly within the American musical theater tradition, albeit with a skewed contemporary perspective. Although Sondheim's masterpiece about a very different sort of serial killer, Sweeney Todd, may inevitably come to mind, Lutvak says, "My original pitch was that this musical is a cross between My Fair Lady andThe Little Shop of Horrors."
Director Darko Tresnjak, who joined Gentleman's Guide five years ago, says, "From the beginning I thought it was uproariously funny, both the tunes and the lyrics stuck in my head and it has continued to be a huge source of merriment in my life. It's a very funny show, and it's also sexy and romantic." (Monty finds time to romance two women, including the sister of one of his victims, in between killings.) The director explains that because the audience knows that whenever Monty gets rid of one of his relatives, the actor Jefferson Mays will be recycled as the new victim, the death of each ill-fated D'Ysquith comes as a kind of reward. "And anyone who has watched Downton Abbey knows that there are those moments when the characters are just so insufferable that you want to bump them off. Well, in this show we do!" Visually, Tresnjak explains, the production is influenced by the English music hall traditions and Edwardian toy theaters. "I have always thought of it as a kind of jewel box—funny and exquisite," says the director, adding that the musical's tone owes much to Wilde, Noël Coward and Bernard Shaw, whose work is evoked in the text. "What I think is important," he adds, "is the combination of murder and manners."
Jefferson Ma...
Fall 2013 Broadwa...