Features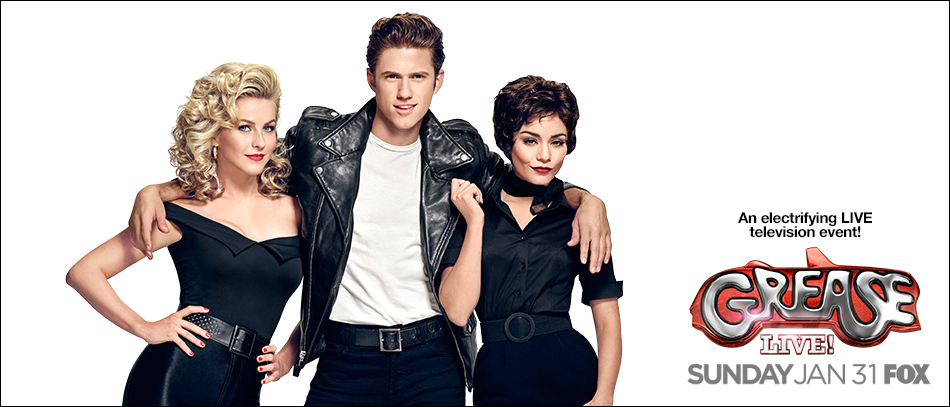 Broadway Baby Aaron Tveit on His Star Turn as Danny Zuko in Grease: Live
JAN 26, 2016
"Before I even knew what a musical was, I had seen Grease," says Aaron Tveit, echoing the experience of millions who fell in love with bad boy Danny Zuko, his angelic would-be girlfriend, Sandy, and the T-Birds and Pink Ladies of Rydell High.
The show's original Broadway production, which opened on Valentine's Day 1972, ran for more than eight years, and the blockbuster 1978 film adaptation made John Travolta a superstar. Now Tveit, the strong-voiced veteran of four Broadway musicals, is getting set to don Danny's black leather jacket in Grease: Live, a three-hour special airing Sunday, January 31, on FOX.
Joining Tveit for this live musical event will be Dancing With the Stars champion-turned-actress Julianne Hough as Sandy, High School Musical alum Vanessa Hudgens as Rizzo, pop star Carly Rae Jepsen as Frenchy and singer Carlos PenaVega as Kenickie. Masterminding the production is Thomas Kail, the Tony-nominated director of Hamilton and In the Heights, with Alex Rudzinski helming the live telecast. Broadway scribes Jonathan Tolins and Robert Cary are adapting the show for TV.
Grease: Live takes viewers back to a simpler time of drive-in movies, sleepovers, and sock hops. "The show was already a period piece when it was on Broadway in the '70s," Tveit points out, "and it's become one of those timeless musicals everyone loves." Fans can expect what the actor calls "an amalgamation of the film and stage versions," including "You're the One That I Want," "Hopelessly Devoted to You," and the title tune, to be sung by pop star Jessie J. "It's the Grease you know, but with subtle changes that make the characters even more relatable."
In a departure from NBC's live presentations of The Sound of Music, Peter Pan, and The Wiz, Grease will be staged with a studio audience incorporated into the action. (Look for them in the bleachers at Rydell High pep rallies, the famous "Hand Jive" contest, and more settings.) "It's hard to do comedy in a vacuum," says Tveit, "so the fact that we can play off the live audience will energize what's on screen. You're going to hear the laughter and the reactions, which will take the entire show to another level."
Adding to the excitement is the three-dimensional production design by Hamilton's David Korins. "We're basically doing a live movie," Tveit explains, "moving between two separate soundstages and a back lot at Warner Brothers. The cameras will be in the action, making it a 360-degree immersive experience, as opposed to putting the show in a proscenium space and shooting it. This is a brand-new thing."
Tveit laughingly acknowledges feeling comfortable wielding a comb and a tube of Brylcreem, having previously played '50s heartthrob Link Larkin on Broadway in Hairspray. "I think of Link as Elvis before he knew he was Elvis," he says. "Danny Zuko knows he's Elvis!" Growing up in Middletown, New York, Tveit divided his time between sports and theater. "I wasn't cool like Danny in high school — I was a big, silly nerd — but I'm fascinated by him. He discovers that the person he has to be at school is not who he really wants to be." Tveit adds that Grease: Live viewers will get a better understanding of why innocent Sandy seems to turn toward the wild side at the end of the show: "These two people are finally comfortable with who they are. He's not changing for her; she's not changing for him. They meet in the middle."
During his Broadway runs in Catch Me If You Can, Next to Normal, Wicked, and Hairspray, Tveit attracted an ardent female fan base cheekily referred to as "Tveitortots." Though he moved on to a recurring role in Gossip Girl and costarred in the USA network crime drama Graceland, he realizes that Grease: Live is a breakout opportunity. "They could have cast anyone, which is similar to my experience in Les Misérables," says the actor, who played rebel leader Enjolras in the 2012 Les Miz film. "Coming from a theater background, this means the world to me, and I take it as a statement of respect [for Broadway]. It's a special experience, and I'm trying to enjoy every second of it."
It can't hurt that Tveit already knows what he'll be doing after Grease: Live. In March, he's set to begin production on BrainDead, a 13-episode comic thriller from the creators of The Good Wife, debuting this summer on CBS. "I never want people to think I've walked away from theater," he says. "I got to do Assassins last year in London [as John Wilkes Booth], and I foresee many plays and musicals in New York in my future. I just don't know when."
His Broadway-bred work ethic has come in handy during the busy weeks leading up to the live show. A new Grease cast recording is already in the works under the baton of Next to Normal composer Tom Kitt, as well as intense dance rehearsals with his costar. Quips Tveit, "I said to Julianne, 'I have no idea what I'm doing, so if you see anything, just tell me.'" And yet the self-described "adrenaline junkie" doesn't even pretend to be nervous about playing Danny Zuko on live TV. "I'm not," he says, "and I mean that in the least conceited way possible. Yes, it's live, and something will go wrong, but why worry? The entire company has been working hard and preparing ourselves. On the night of the show, I'm sure I will feel the adrenaline, but I feed off that. I can't wait."
Tveit hopes Grease: Live will remind families of a time when multiple generations gathered around the TV to watch variety shows and musical specials. "Selfishly speaking, I'm thrilled that this great American art form is back in the forefront of pop culture," he says. "On January 31, we want everyone at home to have a blast, and we're going to try to do the same thing."
Forest Whita...
Zendaya's "Neverl...
You might also like: