Features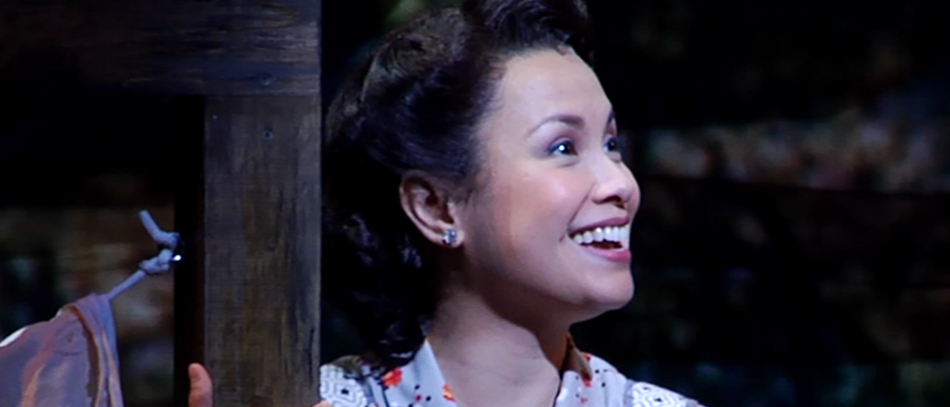 Lea Salonga returns to Broadway
SEP 15, 2015
"We just finished a run-through of the first act, and it's the most exciting first-act curtain I've ever seen," says Lea Salonga.
That's quite a statement from the actress who starred in Miss Saigon at the start and the middle of its 10-year run. For her portrayal of Kim, the mother who sacrificed everything for her child, Salonga won all five major theater awards, including the Tony.
Now she's about to return to Broadway in Allegiance, a new musical with a book by Marc Acito and a score by Jay Kuo. Previews begin on October 6 prior to a November 8 opening at Broadway's Longacre Theatre.
It's Salonga's first time on Broadway in more than eight years, since she stepped in to play Fantine in the first revival of Les Misérables. This is not to be confused with the way she spent the first three months of 1992, when she assumed the role of Eponine in the original production of Les Misérables.
"Since all that, I've been back in Manila, pretty busy being married to my husband and taking care of our daughter, Nicole," she says.
Kim, Fantine, and Eponine were all victims. But that's not quite the case with the character Salonga now plays in Allegiance. True, Kei Kimura starts out, as the actress describes her, as "a normal 30-year-old farm girl whose mother died while giving birth to her younger brother. That means she had to take on the maternal role, cook and clean, cook and clean."
But matters become far more complicated after February 19, 1942 — 74 days after the bombing of Pearl Harbor, when President Franklin D. Roosevelt was "authorizing the Secretary of War to prescribe military areas" for "the control of alien enemies." Although the word Japanese didn't show up in the 520-word proclamation, that's the group that Roosevelt primarily meant the directive for.
Soon after Kei is brought to an internment camp, however, her worldview changes. "She falls in love with Frankie, a resister who awakens her to a greater cause," Salonga says.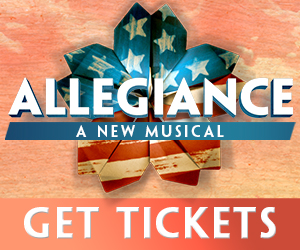 As for this chapter in American history, Salonga admits that "we didn't study this in history class," but adds that she didn't expect to. "I grew up in the Philippine Islands, where teachers didn't dwell much on what had happened in America."
So Salonga didn't know about the 120,000 Japanese Americans — the majority of whom were "Nisei" (meaning, born in the United States but to immigrant Japanese) — who were removed from their homes and told to take only what they could carry.
Says Salonga, "Only in 2009, when we all first got together to start work on Allegiance, did I get the impact of what had happened."
That may seem surprising, given that in 2004 Salonga married Robert Chien, who is half–Japanese American — and whose grandmother and grandfather were subject to the order.
"Robert didn't say much about it," says Salonga, "because what his grandparents did instead was move to Colorado where the governor [Ralph L. Carr] welcomed Japanese Americans and defied the order. That eventually led to his political downfall from voters who were very scared of Japanese Americans."
So why didn't every Japanese American flee to Colorado? Says Salonga, "Believe it or not, many Japanese Americans still had faith in the system. Even as they were sent to desolate parts of the country" — Idaho, Utah, and Wyoming were the states most chosen — "many Japanese Americans felt that going peacefully was the best way to show that they were loyal Americans. They went because they respected the law."
Lest Allegiance seem as if it's a polemic, Salonga says that "both sides are clearly shown, including the point of view of non–Japanese Americans. You see where everyone's passion is coming from."
So although Salonga didn't learn anything about Japanese American internment in grammar or high school, she's now quite the authority on the subject. But she hastens to add that Allegiance should hardly be seen as an ancient history lesson.
"This is a very timely musical, in the wake of 9/11, the distrust of Muslims, as well as all the issues that are going on now about immigration," she says. "It's an important reminder to everyone of what can happen."
The star and the initiator of Allegiance is a name known to millions:
George Takei, most famous as Lieutenant Hikaru Sulu, who helmed the USS Enterprise on the legendary Star Trek TV series and in six Star Trek feature films.
More to the point, Takei, now 78, spent ages 5 through 8 in an internment camp. Considering that he and Salonga opened Allegiance at The Old Globe Theatre in San Diego in September 2012, the show's long three-year journey to Broadway, while taking seemingly forever, hasn't been nearly as arduous as the three years that Takei spent behind barbed wire.
"Although I did see a few episodes of Star Trek when I was a kid," says Salonga, "I most remember playing with Star Trek toys that my parents bought me. What I didn't understand for a long time was what a pioneer George was. That an Asian was on a TV series didn't make any impact on a kid living in the Philippines, where I saw Asian faces on TV all the time. Not until I moved here did I realize that his being part of the Enterprise crew and an equal to everybody — and not at all an Asian stereotype — was pretty huge. What a crusader he's been."
Taking on the role has temporarily disrupted Salonga's personal life, but she's not complaining. "My home is still in the Philippines," she says, "and that's where my husband and my 9-year-old daughter are. I hated leaving them, of course, but I told them both, 'This is a story I have to do.' It's going to be especially weird in January, when Robert and I will mark our 12th anniversary — and I'll be here and he'll be there. But this is the community I married into. I feel I now have a personal stake in this."
George Takei...
The Hot List: His...