Features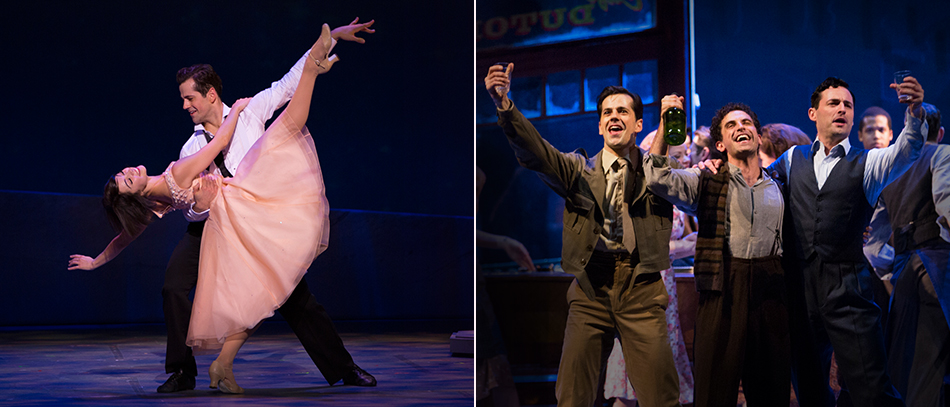 Living The Dream: The Stars of An American in Paris
MAR 3, 2015
"Living the dream" is a phrase that might have been invented for Leanne Cope and Robert Fairchild.
Both grew up loving musicals. "Gene Kelly was my idol," says Fairchild. "It wasn't until I saw him dance that I knew what I wanted to do." The moment Cope's mother took her to see her first show at the age of 5, Cope says, "I apparently left the theatre and danced down the street, singing all the songs."
Now here they are on Broadway, seeing their childhood ambitions come true. Cope and Fairchild are the stars of An American in Paris, an entirely rethought version of the 1951 movie directed by Vincente Minnelli and starring Kelly and Leslie Caron. The new show, which has had a historic out-of-town tryout in the glamorous setting of Paris itself, begins previews at the Palace Theatre on March 13.
This bold new musical, both colorful and engrossing, is directed and choreographed by Christopher Wheeldon, artistic associate at the Royal Ballet in London, and former resident choreographer at New York City Ballet. It has an original book by Craig Lucas that places the action very firmly within the realities of postwar Paris, with collaborators and bread queues, designs by Bob Crowley that whisk the viewer around the streets of the French capital, and additional songs from the Gershwins that fit seamlessly into a reworked plot.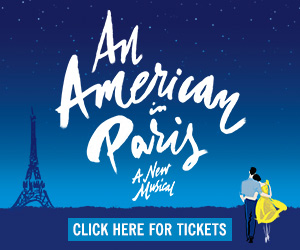 The show, marking Wheeldon's Broadway directing debut, is also making its own debut on New York's world-famous stage, but in its graceful way, An American in Paris is a love letter to the Great White Way itself — a recognition of the interplay between ballet and the musical that has existed since George Balanchine worked with Richard Rodgers and Jerome Robbins and created the groundbreaking West Side Story.
Cope and Fairchild are part of that creative exchange. She is a First Artist with the Royal Ballet; he is a principal with NYCB. Their backgrounds are balletic, yet their heads were always full of musical dreams. "I got into ballet because my sister danced," says Fairchild, whose sibling Megan is also a NYCB principal. "But I always wanted to be a song-and-dance man. I did tap and jazz and all that stuff, and even at NYCB my niche was never the most classical roles. "
Cope was exactly the same. "I was told I didn't have the right body for ballet," she says. "I just loved performing and always secretly wanted to have a go at musicals. I'd had singing lessons and always loved tap. But to be on Broadway is beyond anything that I believed could come into my hemisphere. It has been completely life-changing."
Wheeldon knew both performers from his work with their respective companies — and knew too that he had been chosen to direct because the producers wanted ballet to be as significant to the show as jazz, tap, and old-fashioned Broadway in telling the story. He sent Cope a Facebook message, asking her to sing for him. So she did, in the interval between two performances of Swan Lake in London, while still wearing full performance makeup. Six months and countless auditions later, she landed the part of the beautiful, warmhearted Lise, who wins the heart of American Jerry Mulligan, a former GI who has stayed in Paris to study art.
The producers cast their net wide to cast Jerry, auditioning more than 400 hopefuls. But for Fairchild it was also a personal invitation from Wheeldon that began the process. "I sang some Gershwin and they seemed pleased. Then they went global in their search, but I was determined. I worked really hard and tried to develop the skills that I hadn't had to use in the ballet world."
Seeing them on stage, it is clear both principals have mastered those arts. Cope has charm and a lovely singing voice; Fairchild has natural presence and charisma. "He is the quintessential American male dancer," says Wheeldon. "He has a generosity and an ease. As for Leanne, I have always felt she was a special stage creature, and this show has given her the chance to shine."
Even though the jump from ballet to musical is huge, both performers are relishing the challenge. Fairchild received some extra help: His wife, Tiler Peck, another NYCB principal, has also just starred in a musical — Little Dancer, choreographed and directed by Susan Stroman — which opened in Washington, D.C. "It was really helpful to use each other as a sounding board for ideas, and to try things out," he says. "Yet oddly, the thing I have found hardest is not the singing or the acting but the need to maintain my abilities as a dancer while pursuing those other avenues of expression. I don't have one second of the day when I am twiddling my thumbs."
Working in Paris for two months, when the show premiered at the Théâtre du Châtelet, was a huge advantage, says Cope. "You can spot a French woman from a mile away — there is just something about them. So my character grew every day; I felt I was living the life of Lise." Fairchild spent some time wandering by the Seine, imagining the places where Jerry would meet his girl. And he drank in the spirit of the city — the place where he proposed to his own wife. "It is my favorite city," he says. "The most beautiful place made by man that I have ever seen."
As they developed their roles, neither actor was overawed by comparisons to their famous film forebearers. In her dressing room in Paris, Cope had a picture of Caron smiling down from the wall. "I love the movie, but we are not replicating it. We have a new script and each character has a lot of depth, so that you want good things to happen for them when the show is over. I always say to myself that I'm not Leslie Caron: I'm Lise. But I like having her there to inspire me a little bit."
For Fairchild, Kelly is the ultimate inspiration. He doesn't feel his shadow — but he does feel his power. "I am a firm believer that no matter what role you might be doing, the only way it is going to be successful is if you make it your own. That is the best way you can pay tribute to your hero. It is like a passing-on of the baton. You take what they did and are inspired by it. I hope that if he could see An American in Paris, he would be proud of what we have done with it."
Learn more and buy tickets to An American in Paris.
Photo credit: Angela Sterling
"Playing on ...
This Season, Ther...
You might also like: