Features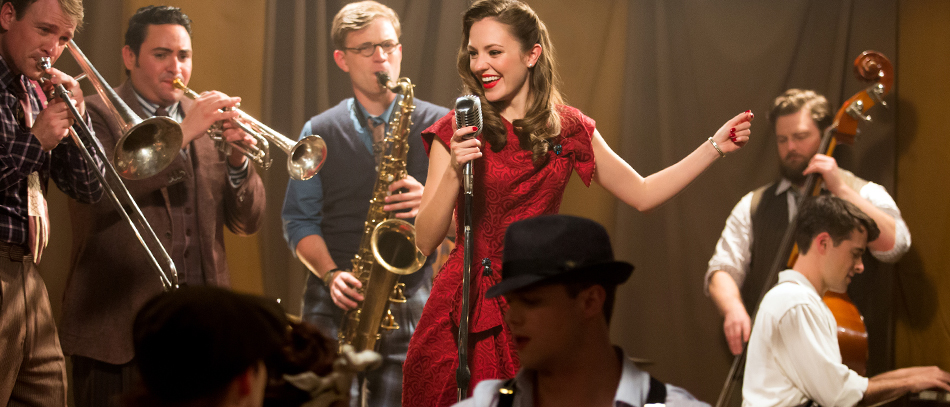 Broadway Swings to the Pulsing Rhythms of Bandstand
FEB 13, 2017
Bandstand, with music by Richard Oberacker and original book and lyrics by Robert Taylor and Oberacker, is a valentine to the movie musicals from the golden age, refracted through a distinct contemporary lens.
The new Broadway musical, which starts performances at the Bernard B. Jacobs Theatre on March 31, evokes the dynamic big-band sound of the 1940s, capturing the romance and can-do spirit of entertainment of the period. Donny, a singer/songwriter and soldier (Corey Cott), returns home to Cleveland in 1945 after World War II. He forms a band with five fellow vets and enlists the beautiful Julia (Laura Osnes) to sing with them; their goal is to compete in a nationwide radio contest to select America's next big swing band.
"We embraced the traditional old-school musical — boy meets girl, they get together and put on a show. It's actually a straightforward story but we put a spin on it," says Bandstand's director and choreographer, Andy Blankenbuehler, winner of the Best Choreography Tony Award last year for Hamilton. "We asked ourselves how we could make it unexpected, and we added some hurdles along the way." And yes, there are complications: The vets are dealing with the reality of postwar neuroses — what we identify today as posttraumatic stress disorder (PTSD) — and Julia happens to be the widow of Donny's best buddy, who was killed in combat.
"I'd rather do a period piece in a new way, so I said to the writing team from the very beginning, 'Let's think of this character Donny as Justin Timberlake,'" Blankenbuehler reports. "We are not playing music that feels nostalgic. We will play the music and dance in a way that makes it feel like they invented it right there. So when that drum plays, I want it to feel visceral, just like the street beat outside today."
When Bandstand opens in April, Blankenbuehler will be represented by three very stylistically different musicals on Broadway. In addition to the megahit Hamilton, the Cincinnati native and onetime dancer is also the choreographer for the new revival of Andrew Lloyd Webber's Cats, which opened last summer. (He has also choreographed the forthcoming television movie remake of the 1980s classic Dirty Dancing, which airs on ABC in May.) "I know I'm living the dream," says the choreographer, who also won a Tony for In the Heights. "The stakes have gotten a lot higher and the workload never gets easy, because when you learn more, you only reach for more," he adds. "Bandstand is very different from Hamilton, and the biggest compliment for me is if people will see the versatility but be able to say, 'I can see the same person did that.'"
The score of Bandstand is primarily influenced by swing music, a genre that Blankenbuehler says he is very familiar with, but one in which he hasn't worked before. "A lot of musical forms articulate things that we can't understand. Hip-hop, for instance, gives sound to a social unrest that people are feeling. That was African beat 500 years ago, that was swing music, and, in a way, that was rock 'n' roll. I find it very interesting that we have a natural tendency to want to bring to life something that we cannot understand and we use it to help us on our journey. In that way, the music in this show feels very similar to hip-hop. It is very syncopated, staccato lines, which I find very exciting. People needed to explode." He adds that, given the various forms of social and sexual repression of the day, "it comes out on the dance floor in different ways."
After Bandstand received its world premiere at New Jersey's Paper Mill Playhouse in the fall of 2015, the director/choreographer says he decided with the writers to take a more aggressive approach to the show, both musically and stylistically. "Every piece needs to have its own unique life, and we had to find that life for Bandstand," Blankenbuehler notes. "I was asking the questions: Are we a traditional musical or a contemporary musical? Is this a musical where, for example, the entire club can suspend and somebody can sing their inner thoughts? Or, Is this a musical where everybody has to be in real time all the time?" He adds, "A lot of changes have gone into the music. There were some songs we were going to do in authentic period — to sound like a jitterbug song from the 1940s, for example. And then there were other songs where we said, 'Let's just write a song that sounds like anger,' and by doing that, it freed us up to make changes. So now I feel the story has a better language that will force the audience's theatrical imagination to engage. On the choreographic side, I am now more impressionist. I wanted to do more single dancing — people as architecture, so to speak — because I find that more interesting, and I think the audience does too."
As the team gets Bandstand ready for Broadway, Blankenbuehler says he hopes for a couple of takeaways for the audience. "This show, at its heart, is about honesty," he explains. "Sometimes it is hard to admit that things are wrong or bad, or based on a lie, but you have to bring it to the surface with the belief that it will put you on a better path. So I think if people walk away from the piece thinking we have to have hope and faith, that things will improve if we deal with them honestly. The other part is a simple romantic notion," he continues. "that we should listen to music, turn it up loud, and let ourselves dance, even if we don't know what is going on. Just believe that it's going to make life more rich. That's been the basis of much entertainment throughout history — that art heals the soul."
Laura Osnes ...
Mark Ruffalo on T...