Features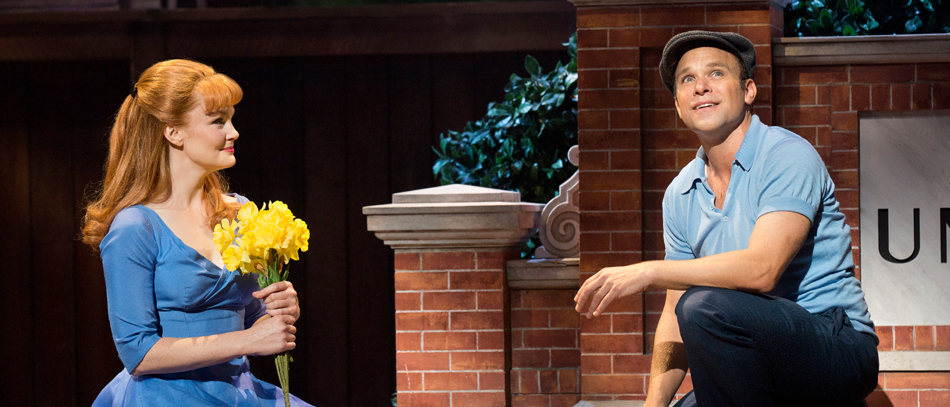 A New Achievement in Susan Stroman's Career
NOV 13, 2013
"For those of us in the theater, we are here because someone told us big fish stories when we were little," says acclaimed director and choreographer Susan Stroman. "We are storytellers, and we are attracted to storytelling."
No wonder then that the five-time Tony Award® winner was immediately intrigued when she was asked if she would be interested in directing Big Fish, the new musical by Andrew Lippa and John August currently at Neil Simon Theatre on Broadway. Stroman says she was very moved by the 2003 Tim Burton movie, which in turn was based on Daniel Wallace's affecting novel about Edward Bloom, a traveling salesman who regales his family with tall tales about his heroic exploits. But she was specifically hooked because she personally knew a real-life Edward Bloom – her own father. "My father was a salesman with a big smile and he would tell these fantastical stories that would delight me," Stroman recalls. "He's gone now, but to this day, I'm not sure if those stories were true or not!"
After making her mark as a choreographer in the late 1980s, Stroman hit her stride in 1992, winning her first Tony Award for her work in the Gershwin confection, Crazy for You. Within a decade she had firmly established herself as a leading Broadway director-choreographer, winning the 2001 Tonys in both capacities for the phenomenally successful Mel Brooks musical, The Producers. In her quarter century-long career she has worked on a string of diverse musicals – both new work and revivals of classics – but Big Fish represents something new and different in an already impressive résumé. "What makes this musical very special is it has these big fantastical opportunities to open up and create big images on stage, but also, at the heart, it is a story about this family who struggle to understand one another," Stroman explains. "It has these wonderful intimate scenes, especially between the father and the son, which is really unique in a musical."
The family drama in Big Fish comes from the conflict between Edward Bloom (played by Norbert Leo Butz) and his son Will (Bobby Steggert), who, as an adult, is still struggling to reconcile his father's larger-than-life tales with reality. He has yet to learn how to accept and understand his father for his strengths in the way that his mother, Bloom's loving wife Sandra (Kate Baldwin), has done over the past 40 years of her married life. "In most musicals you either live in more of a fantastical world, or a more serious world. This has both," says Stroman. "Big Fish deals with life and death; it is rare to have a musical that deals with loss. It is about missed opportunities and how not to have them; how important it is to try to understand each other. When I do any show I approach it as a new adventure for myself," she continues. "I feel quite lucky to have had the opportunity to tell very varied stories – something as comical as The Producers, as serious as The Scottsboro Boys, as sensual as Contact, something as delightful as Crazy for You, and now Big Fish, which is something important because it is life affirming."
Interspersed with the core intimate scenes of emotional family drama, Big Fish also offers the Broadway veteran director and choreographer a wonderful opportunity to display her much-acclaimed choreographic skills when staging Edward Bloom's larger-than-life tales. "It has brought me great joy to tap into many different dance styles because of these big fish stories," she says. Taking a cue from the story's Alabama setting, Big Fish uses different rhythm steps from the South – from country and western clogging to dance styles such as flatfooting and something called the "Alabama Stomp." In other moments, a wedding reception provides an opportunity for ballroom dancing; a mermaid's transformation into a human becomes an occasion for a ballet; a campfire comes to life and the dancing fire moves across the stage in a balletic form. With this musical Stroman also breaks new ground marrying good old-fashioned stagecraft with cutting-edge digital technology. "I feel like with every show I do I always get to learn more about the craft of the theater. For Big Fish we had something as simple as using stairs for the girls in a dance number, but then the projection would go on top of these stairs and all of a sudden those stairs would turn into a whole USO concert with red, white and blue projections." With the help of the projections, designed by Benjamin Pearcy, Julian Crouch's natural wood sets go through countless transformations to accommodate each of Edward Bloom's fantastical fish stories. "The wood absorbs the projections, and that is really what the show is about – applying fantasy to what is true," Stroman explains.
"But in the end it's the small scenes – the family scenes that resonate with the audience, more than the fantastical images, so for me getting the storytelling right in the structure of the musical was the most important," says Stroman. Now with the show up and running, standing at the back of the theatre each night during the performances of Big Fish, she gets the satisfaction of experiencing the show with the audience. "At the very end of the show you can audibly hear people weeping, so I do think this show really touches the heart of the audience. They see themselves in this story; they imagine themselves as that son, or the father or as the loving wife. I think they are entertained because of the fantasy element, that's a big part of it of course, because it will make you happy, but it is also about how one lives one's life."
See What Sta...
Song and Dance Di...