Features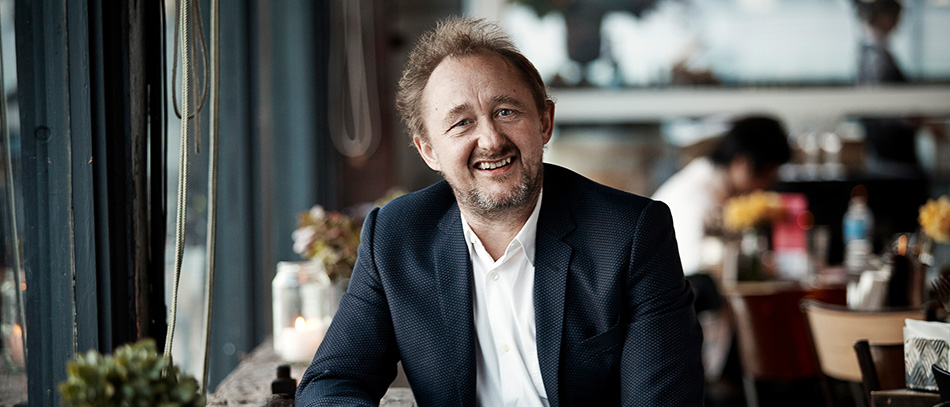 Cate Blanchett, Andrew Upton, and Sydney Theatre Company Come to Broadway
SEP 6, 2016
The lights of Broadway will shine brighter with the arrival of Cate Blanchett this winter. The Australian star of stage and screen makes her debut on the Great White Way alongside fellow Australian leading man Richard Roxburgh and members of Sydney Theatre Company in The Present, which begins previews at the Barrymore Theatre on December 17.
The play is adapted by Andrew Upton from Russian playwright Anton Chekhov's first attempt at a full-length play. Chekhov is believed to have started writing the work, often called Platonov after one of the key characters, when he was 18 or 20 years old; untitled and unedited. It did not surface until 16 years after his death in 1904.
"I consider Chekhov one of the handful of great playwrights," says Upton. "So, of course, even though it is a young work, and malformed insofar as it is unredrafted, it still has these amazing dilemmas. I think the genius dilemma is that there is this group of people who had been in love at one point earlier in their lives but had that love sequestered from them by the older generation. I thought that was a real time bomb."
Upton recently concluded an eight-year stint as artistic director of Sydney Theatre Company (STC), a subscription-based Australian state theatre. When he started the job in 2008, he shared duties with his wife — Cate Blanchett. She stepped down as coartistic director in 2013, and since then, of course, has maintained international stardom in film, winning her second Oscar for Blue Jasmine in 2013 and a best actress nomination last year for Carol.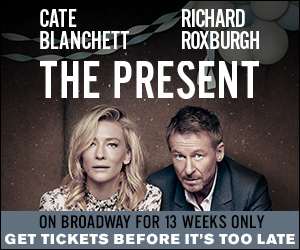 The playwright and artistic director says he wrote The Present specifically for his theater company. "I think that is one of the joys of adaptation," he explains. "I would never presume to improve or develop upon Chekhov literature, but the actual putting-on of a play, as a form, is a plastic event. Even Hamlet changes," he adds. "It changes every night, of course, but it changes with every production as well. So that sort of plasticity really fired my imagination. This adaptation is for STC, and that gives another kind of permission — to embrace the strengths of your ensemble."
In The Present, a group of friends gathers in a provincial dacha to celebrate the 40th birthday of the recently widowed Anna Petrovna (Blanchett), the brightest star in their circle. Among the guests, many of whom haven't seen each other in many years, is Anna's former romantic flame Mikhail Platonov (Roxburgh), the philandering schoolteacher who is still something of a local Don Juan. The title of the play, Upton explains, refers to the times in which we live, as well as the various gifts given to Anna for her birthday, the most significant of which is a pistol, a favorite of The General, Anna's deceased husband.
Other adaptations of Chekhov's novice work tend to revolve around Platonov, who hasn't lived up to his own potential or the expectations of others. Theatregoers may remember playwright Michael Frayn's adaptation, titled Wild Honey, which made it to Broadway in 1986 with Ian McKellen as Platonov. Unlike the previous adaptations, which keep Platonov at the center, however, Upton's adaptation is evenly balanced between Mikhail Platonov and Anna Petrovna.
Roxburgh and Blanchett (Mikhail and Anna) had played opposite each other in a previous Upton Chekhov adaptation, the 2010 STC production of Uncle Vanya. "Obviously, Richard is a terrific actor and so is Cate," says Upton. "I had seen their natural chemistry when she was playing Yelena and he was playing Vanya. That's a very different dynamic from the parts they play in The Present, but I suppose you can call it the chemistry of two great actors working together, making each other better. I thought, There's no way that Richard wants to walk around in a one-man show, he's not that sort of actor; let's get them both up there and punching."
Upton set The Present in 1990s post-perestroika Russia, moving the time period of Chekhov's original forward by more than a century. Having previously adapted Uncle Vanya as well as plays by Gorky and Bulgakov, the playwright says that one of the abiding themes of these works from pre-revolutionary Russia is the "strong atmosphere of the world about to fall apart" as well as the theme of generational change. "That appeals across time and any other culture," he notes. "There's always the lurking sense that everything could go horribly wrong, and this sense that if there were new people at the helm, maybe things could be much, much better."
"Equally important to me was the shifting into midlife crisis, which is obviously not where Chekhov set the play," Upton continues. "He had written it as a kind of late-twenties crisis, but it seemed even more potent if Mikhail and Anna and their coterie of friends were all in their forties, and really tipping toward the place where they thought they were never going to get any kind of control of their own destiny. The clash between the older generation that is not letting go: That is another reason why we set the play in post-perestroika time," he adds. "There was a complete change in the Russian system, as we all know, but I read that within 10 years, all the same people were back in power, just in a different shape. That snookering of a generation — who were probably 30 when the Wall came down — leads not only to an impotence inside that generation, but also a kind of anger. A lot of the drama really unfolds from that frustrated place."
Another of Upton's changes, which brings his adaptation closer to our present rather than to that of Chekhov's, is to squash the action of the play into a single weekend. "I normally stay within the confines of the history, but this piece took a lot of cutting and winnowing and reshaping," he explains. "I just loved the idea of putting it into 24 hours — that is a much more modern shape." (Chekhov's original stretches over two summers.) "Once I started to do that, I realized that I would be freer and have more to say if I could let the characters talk about more modern concerns and use more modern imagery. It evolved naturally,in this process of getting six or seven hours of material down to a good hefty two."
Even though the characters in The Present sound contemporary, Upton explains that he actually took his cue from the rhythms of Chekhov's Russian. "I don't speak Russian, but when we were doing Uncle Vanya, a Russian actor who I know in Australia read each scene to me in Russian. What I found fascinating is that there is a great musicality in Chekhov. It is mostly in the broad conception of the drama — each scene has this beautiful musical sound, and I'd like to stick to that. The dialogue is also quite rhythmic — not aggressive, but blunt. It is quite a percussive addition to the musical conception of this drama. I think that's where I got permission, if you like, to have a more modern language, to let them be quite blunt with each other. They are not very polite, actually. I don't know whether it's a trait of Russians or not, but Chekhovian Russians will say it like it is, and I quite like that conversation."
The Present comes to Broadway after a critically acclaimed, sold-out run last year at Sydney Theatre Company. Assessing the play that he wrought from Chekhov's unfinished apprentice work, Upton says: "I hope that it is both comedy and tragedy because that is one of Chekhov's enduring gifts to actors and audiences — a bittersweet, beautiful understanding of the transience and irrelevance of life, but also the incredible drama and pain of being stuck in the middle of it before you have got used to the idea."
Most important for him, however, is that the play has provided a great showcase for the company. "You can put an actor like Cate or Richard on stage and they get well supported, but they are also part of a group and part of a whole production," says Upton. "This company has always had a lovely ensemble voice, and I am really proud of that."
Fall 2016 Br...
Chekhov, Cate, an...
You might also like: