Features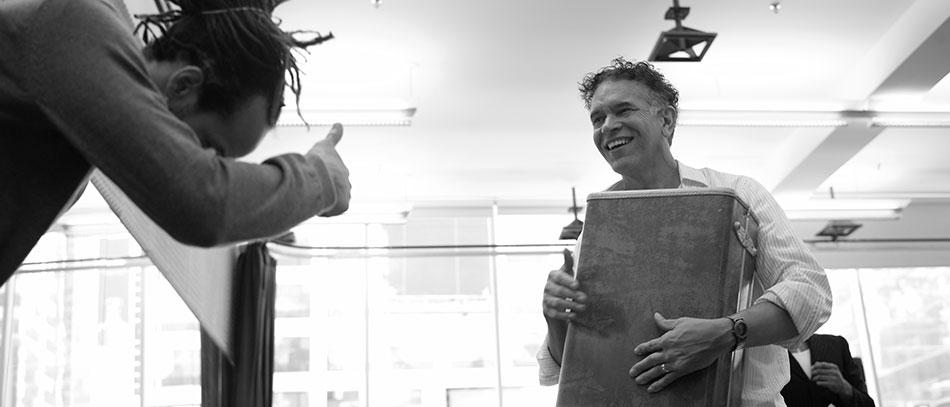 Brian Stokes Mitchell Is Back on Broadway in Shuffle Along
FEB 16, 2016
After a four-year break from Broadway, Brian Stokes Mitchell recalls, "I said to the universe: 'Well, it's about time that I do another show.'"
Just a week later, he got a call from director George C. Wolfe. "Do you know anything about Shuffle Along?" Wolfe asked. Shuffle Along was a 1921 musical assembled by a disparate group of African-American vaudevillians — including composer Eubie Blake, who sat at the piano — that, following a tortured tryout, got booked into a theatre on the fringe of the Broadway district, where it immediately became the toast of the town. Shuffle Along ran more than a year, helping usher in the Jazz Age and what is now known as the Harlem Renaissance.
Mitchell, being an eager reader of theatre history, knew enough about Shuffle Along to identify its still-familiar hit, "I'm Just Wild About Harry." But Wolfe described a fascinating saga about the show and the incredibly interesting people involved, told with great depth against a backdrop of history.
"Well, I just asked for a Broadway show," Mitchell reasoned. "And what's better than George Wolfe and Savion Glover and Audra McDonald, and all those forgotten people George was describing?"
And so here we are, with Shuffle Along scheduled to begin previews at the Music Box on March 15, prior to an April 28 opening. The show will be directed by — and feature a new book by — Wolfe, the award-winning director of Angels in America, Elaine Stritch at Liberty, and numerous other plays and musicals. Savion Glover, who collaborated with Wolfe on — and starred in — Bring in 'da Noise, Bring in 'da Funk, will serve as choreographer. (As I interviewed Mitchell during a rehearsal break, Glover stuck his head in the room and called out: "When you talk about me, make sure you pronounce the name right! It's Sayve-ee-on!")
This will mark the 10th Broadway show for Mitchell, who is known to one and all by his middle name, Stokes. While he has been a musical theater performer since he started training at the San Diego Junior Theatre as a teenager, his initial breaks were in television. At the age of 20, he moved to Los Angeles and heard that they were making the miniseries Roots: The Next Generations. "I sent in a picture and résumé just because I heard they were doing it, and I got a call from the casting director. I ended up getting a guest-starring role on the 1979 show. It was crazy. I didn't have an agent, I didn't have a SAG card, I literally just sent in a photo."
Shortly thereafter, he was hired for his first series. "I was doing a new musical at the Las Palmas Theatre called Festival, and the producers of Trapper John, M.D. came to see Gregory Harrison. In the middle of the show, producer Don Brinkley's wife turned to him and said, 'How about him for Jackpot?'" Mitchell was featured as the amusing young Dr. Jackpot Jackson, and the show enjoyed a run of seven seasons. So it wasn't until 1988 that Mitchell finally reached Broadway.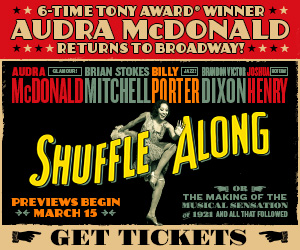 After brief runs in two musicals, plus prominent replacement jobs in Kiss of the Spider Woman (as Valentin) and Wolfe's Jelly's Last Jam (as Jelly Roll Morton), Mitchell starred as Coalhouse Walker Jr. in Ragtime. "That was the first role that I got to create, and I had a sense — literally, from the very beginning — that this was going to be wonderful, that there was going to be some major shift that happened with this show." Ragtime was followed by a Tony-winning turn in Kiss Me, Kate, August Wilson's King Hedley II, and Man of La Mancha. But Ragtime — 20 years now, since the 1996 pre-Broadway tryout — remains a milestone.
Shuffle Along marks a reunion with his Ragtime partner, Audra McDonald. "We would occasionally see each other over the years, and we just in October did a concert at the White House. I was going to sing 'Wheels of a Dream' [from Ragtime] as a solo, because Audra was singing something else. I thought, how can we not do it together?" McDonald instantly agreed.
"As we were singing, I remembered that the last time we sang that song together was at a fundraiser at the Martin Beck Theatre, during Obama's first run for the presidency. That was the very last time, and all of a sudden to be singing it for him as a second-term president — there he was, sitting with his beautiful wife 10 feet from us, at the White House — it was a pretty wonderful moment. I've often thought when I've seen Obama that that's what 'Wheels of a Dream' was about: the people whose shoulders we stand upon. Not our own children, necessarily, but their children, and the people that follow. Now Audra and I were singing our song to the first African-American president, in the White House."
And next month, Mitchell — along with McDonald, Billy Porter, Brandon Victor Dixon, and Joshua Henry — will be back on Broadway together, and from all reports it sounds like it will be wildly entertaining. "All shows are fun when you're doing them, but certain shows have something magical about them. Ragtime was one of those shows: We could feel from the very beginning this show's got something special. Sitting here in the rehearsal room with George and Savion and this incredible cast, that's how we feel about Shuffle Along."
Learn more and buy tickets to Shuffle Along.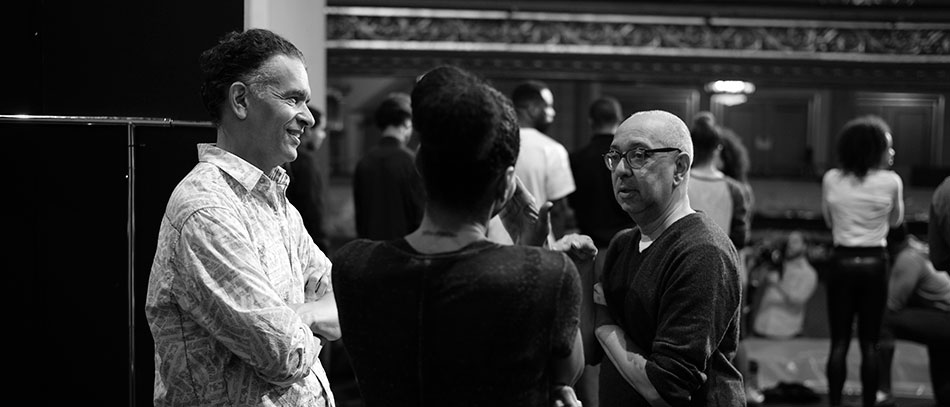 Jesse Tyler ...
Watch a Sneak Pee...
You might also like: