Features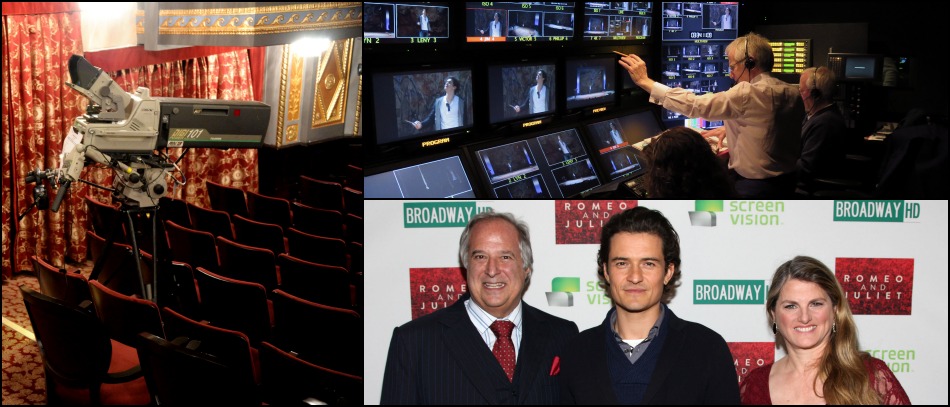 Broadway on the Big Screen
FEB 11, 2014
For theater fans, there's nothing like settling into an aisle seat just before the curtain goes up. That same thrill can now be felt at the local multiplex, thanks to a new generation of stage-to-screen entrepreneurs making use of high-definition digital technology.
The latest example: a gorgeously produced screen transfer of Romeo and Juliet, starring Orlando Bloom and Condola Rashad, which closed on Broadway in December but debuts at 600 movie theaters February 13–19.
"We had an international movie star in a limited engagement of a classic play," Tony-winning producer Stewart Lane says of his decision to preserve the Main Stem debut of heartthrob Bloom, including the star's striking entrance on a motorcycle. Romeo and Juliet is the first release of BroadwayHD, a new stage-to-screen venture from Lane and his wife and producing partner, Bonnie Comley. Meanwhile, on February 27, the National Theatre production of War Horse is headed to 350 U.S. screens linked by Fathom Events, which has built a loyal audience for its Metropolitan Opera Live series.
Across the Atlantic, Digital Theatre in London is attracting audiences with a combination of big-screen releases and online rentals of enticing shows such as Sondheim's Merrily We Roll Along and Coward's Private Lives. On Valentine's Day, the company will host a "Global Watchalong" of Much Ado About Nothing, starring David Tennant and Catherine Tate, at 7:00 PM in London, 2:00 PM in New York and 1:00 PM in Chicago. The idea is to gather a virtual viewing party for Shakespeare's romantic comedy and tweet reactions to @DigitalTheatre with the hashtag #MuchAdoOnScreen.
All of this activity is great news for theater fans who want to see shows not headed to their cities — not to mention students who can enjoy a Broadway or West End production for $20 or less. "Broadway is on the precipice of a very big opportunity to be showcased in movie theaters," says Dan Diamond, senior vice president of Fathom Events, which branched out from the Met, sports, and concerts to distribute the Tony-winning musical Memphis as well as live London performances of The Phantom of the Opera and its sequel, Love Never Dies. "We've seen attendance grow exponentially as audiences embrace what we do. Broadway has a diverse fan base, and I firmly believe it can become 'appointment theater,' as the Met has."
Lane and Comley have been preserving theater performances on screen since a 1991 satellite broadcast of The Will Rogers Follies. In the last decade, they've shepherded Legally Blonde to MTV and Broadway revivals of Company (with Raul Esparza) and Cyrano (with Kevin Kline) to PBS, but achieved the most promising financial success with the theatrical release of Neil Patrick Harris' New York Philharmonic Company concert. They view Romeo and Juliet as an opportunity "to open the stage-to-screen concept of entertainment as an art form for traditional movie audiences to follow," explains Comley. "If Orlando Bloom can expose younger people to Shakespeare, it may inspire them to see another live performance."
What's exciting is the huge leap in quality from static, "stagey" films, thanks to discreetly placed multiple cameras and HD projection. "It's not theater, it's not film, it's a unique middle ground," says Tom Shaw, cofounder and executive producer of Digital Theatre in London. "A well-directed theater piece will almost shoot itself because the director is telling the audience where its gaze needs to be, and the camera can accentuate that. We don't cut away at the end of each line, because you don't watch a play like that. The key is really the edit — to capture the nuances and the emotional narrative of the play — but when you've got great actors on a great set with great lighting, you're ready to go. And it's very important that it's live."
Everyone agrees that the presence of an audience is a key ingredient in making a stage production compelling on a huge screen. "That's the whole point of live theater," notes Comley. "The actors are feeding off the audience." Asked about NBC's recent broadcast of The Sound of Music, which was performed on a soundstage with no spectators, Lane says, "That concept might work on TV, but when it comes to the big screen, a live Broadway production is perfect. You get the scope, but you also get a nice intimacy — you can see the tears in Juliet's eyes."
Now that movie theaters have gone digital, it's much easier and more affordable to present alternative content, says Darryl Schaffer, executive vice president of Screenvision, which is distributing Romeo and Juliet and previously distributed Company starring Neil Patrick Harris. "For producers to get their arms around the fact that a limited [movie theater] engagement is not going to cannibalize ticket sales to the live event is very positive. There's a ton of momentum around capturing Broadway shows now for the movie theater and other distribution platforms."
Schaffer touches on a sticking point for many Broadway producers, who believe that a screen version of a hit show will discourage theatergoers around the country from buying tickets to see it live. Distributors insist that's not the case. "When art is exposed in a big way, people come back to the Met or to Broadway in larger numbers," says Diamond of Fathom Events. "We provide a 'front-row experience' in strategically placed locations, and when fans leave the theatre, they tell their friends to see the live show."
Lane, who is co-owner of Broadway's Palace Theatre, has a vested interest in making sure every stage-to-screen event helps extend the life of the show. "In the case of Legally Blonde, which was on MTV, the road company did better than the New York company because the show was known out there," he says. Theatrical unions are beginning to see the value in digital broadcasts, especially in preserving a short-lived production, such as Romeo and Juliet, or one at the end of its run, like Rent.
So, what can we expect 10 years from now? A global marketplace for the best of Broadway and U.K. theater, available on the big screen as well as on mobile devices, at home and on the go. "The appetite for theater is huge," says Shaw of Digital Theater, who has filmed 20 U.K. productions in the past four years and distributed dozens more. "There's a convergence of digital technology and a willingness of the industry to use it to extend their audience. Beyond that, it's a privilege to capture signature pieces like Merrily We Roll Along. The fact that we are building a library and a legacy is exciting."
Play It Agai...
Daniel Radcliffe:...