Features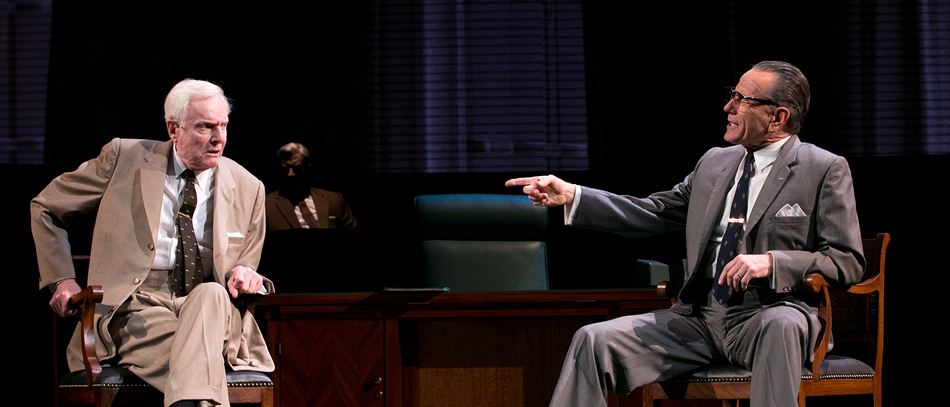 Bryan Cranston Goes All the Way
MAR 11, 2014
Before he was one of Hollywood's most respected actors, Bryan Cranston was a kid with misguided ideas about the 36th president of the United States.
"As a boy, I remembered LBJ in a completely different way," Cranston told the website Broadway's Best Shows, describing his initial impression of Lyndon Johnson. "To me he was a very laconic, measured, metered type of man who was very careful about what he said. That's not him at all. He was really a s--t-kicking, back-slapping, story-telling country man."
Cranston's new insight into Johnson came about as he was researching the man for his first big role after wrapping the critical and audience smash Breaking Bad, for which he won Emmy Awards in three consecutive years for his role as Walter White.
All the Way, by Pulitzer Prize-winning playwright Robert Schenkkan, depicts Johnson in the wake of John F. Kennedy's assassination, as he employs every trick in the book to ram the Civil Rights Act of 1964 through a reluctant Congress while simultaneously waging a bold and aggressive campaign to win the presidency in his own right. It's a huge story, and Schenkkan tells it on a Texas-size scale: The play was born in 2012 at the Oregon Shakespeare Festival, which specializes in large shows with large casts, and Schenkkan filled the stage with everyone from Martin Luther King Jr. to J. Edgar Hoover and George Wallace.
The play then traveled to the American Repertory Theater at Harvard, which is where Cranston joined the production. The cast is massive by the standards of a Broadway play. 20 actors portray over 60 roles, and the company includes such stage veterans as John McMartin and Michael McKean.
In preparing for the role, Cranston read numerous biographies of the president, including the acclaimed Robert A. Caro series. But he said an even bigger help came from listening to Oval Office recordings of Johnson at work. "It was very intriguing to listen to LBJ's tenor, demeanor, and the way he would drop down in his depression and then rise above it instantaneously," he said. "It was also interesting how he treated people and how he massaged things over the phone."
Even with all this preparation, Cranston said he has no idea where his performance is going — and he prefers it that way. "In film and television, you're expected to deliver a finished performance the day you arrive," he said. "It can create a lot of bad habits. Getting back to the theater . . . gives you permission to 'not know,' to try things and experiment. And that's the fun part."
The fun part? There are no nerves involved in making a Broadway debut as the above-the-title star of a show with 20 actors in it?
"Certainly there are trepidations and nerves, but those are good because I use those conditions and tingling sensations toward my role. You have to go through it and trust that process."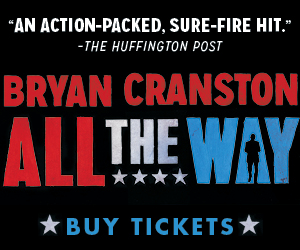 One highlight of this All the Way production, Cranston said, came in seeing people younger than he is learn about the tumultuous period of history being covered, when a newly sworn-in Johnson capitalized on the swirl of emotions around John F. Kennedy's death.
"There were a lot of actors in the company who were not alive then, nor during the famous March on Washington," he said. "One of the topics that I raised was: If the assassination of President Kennedy never happened and he was still alive, do you think the civil rights bill could have been passed anyway? Johnson was astute and he knew that he had this so-called 'honeymoon period' after Kennedy's death to be able to get this bill passed. It's odd to think of history in that way, but there is a silver lining in everything."
While he said the craftsmanship of Schenkkan's script was what first convinced him to sign on for the play ("When I decide on doing something, the most important factors are the story and how well the text supports that story"), the back-slapping pragmatist at its center was also a major factor. "The character himself is enormous," Cranston said. "He's Shakespearean. Like King Lear, he has moments of rage, insanity and love."
King Lear has long been considered the preeminent role for actors of a certain age, and while Cranston is a decade or two away from that role, perhaps All the Way will whet his appetite for a return appearance. So far, the indications are favorable: "This is a remarkable experience, and I'm grateful for it. We're gonna give them a helluva a show on Broadway!"
The critics have concurred, with Charles Isherwood of The New York Times calling Cranston's portrayal of Johnson "terrific… a heat-generating, jet-fueled performance" and Mark Kennedy of the Associated Press hailing the actor's performance as "one of the highlights of the Broadway season."
An Affair to...
What Heathers Gai...
You might also like: