Features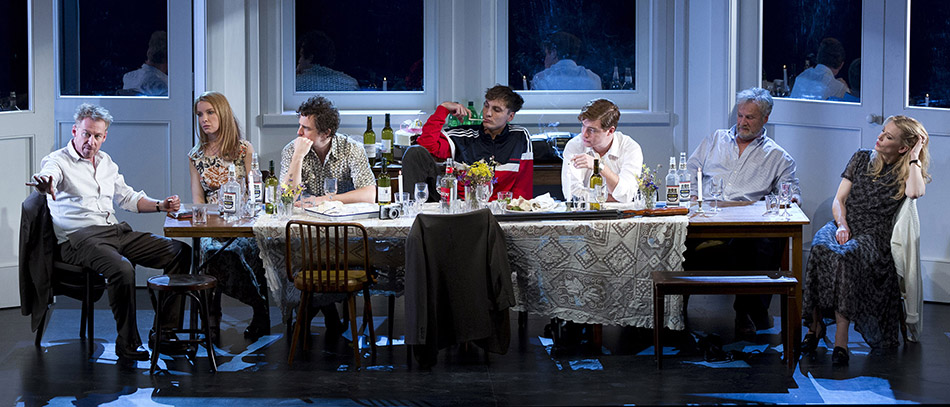 Chekhov, Cate, and The Clash: John Crowley Directs The Present
SEP 6, 2016
John Crowley was hooked the moment he read the first draft of Andrew Upton's The Present. "It had the most wonderful, dynamic energy. The writing was alive from the inside out," recalls the director, who received a Tony nomination for The Pillowman in 2005. "Reading it, I got that warmth in the chest, the feeling one gets when you read an authentic piece of writing."
Sydney Theatre Company's production of The Present, Upton's bold update of an early, unfinished work by Anton Chekhov, directed by Crowley, with Australian stars Cate Blanchett and Richard Roxburgh making their Broadway debuts, begins previews at the Ethel Barrymore Theatre on December 17 for an opening on January 8, 2017.
Crowley's commitment to do a project with Sydney Theatre Company dates back some eight years ago, when Cate Blanchett and husband Upton took over the reins as coartistic directors of the Australian company. "I suppose our real attraction to his work as a theater director is that it has a restraint and a delicacy, and yet it is strong and very clear," says Upton of Crowley. "Most importantly, for Cate as an actor and me as a writer, he loves to land the punch."
The Irish director was just finishing work on his Oscar-nominated movie, Brooklyn, when Upton asked if he had any interest in the adaptation of the Chekhov apprentice work known as Platonov. "You can do an adaptation of a work by a great writer and be very true to the writer, but it can have a degree of worthiness about it and be somewhat literary. Or, you can rip it apart, take it in a different direction, and not care about the original," notes Crowley. "But it felt to me that Andrew was pulling off something which seemed impossible, which was to stay absolutely true to the spirit of Chekhov and totally updating it to the 1990s in a way that felt like he was creating something new. There was this fantastic, rich conversation between time periods."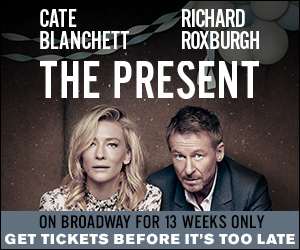 "It feels like a perfect meeting between two writers," Crowley continues. "I think Andrew's instinct to be bold and to update it also gave the play a freshness and an energy, and pointed out more political elements, which is about this generation that has not stepped up to its responsibilities in the country. So there is a cocktail that you often do get in Chekhov — this mixture of nostalgia and teasing, of regret and romance, a lot of drinking, and then a sudden argument, and then maybe some tears — all of those things are fully present and sit alongside each other in the most glorious kind of tapestry."
"The other thing about the play is that it is extremely funny and witty; there is a whole sequence toward the end where it is almost pushing toward farce — there are a lot of people coming in and out of doors — except what is going on is far too real. I thought that the comedy was always pointing toward pain in a way that was thrilling. As director, you go, 'Oh, God! That is such a gift!' And then, we weren't starting with a shoddy pair, with Cate and Richard, either. Boy, can you work with that!"
What was it like working with Blanchett? "I would say she is restlessly playful," offers the director. "I was surprised at how much of an instinctive clown there is in her. She's completely nonintellectual in the play — and I say that because she is phenomenally bright. She'll take any moment in a scene and try and prod it from dozens of different directions; oftentimes she'll be extreme with something in order to try and open it up, or to open up a certain kind of moment with another actor. The quality of what goes on between her and another actor in the moment is everything to her, really. She is also unfailingly generous toward other actors on the stage and is very hard on herself. She is totally comfortable to be another member of the ensemble."
Directing Sydney Theatre Company for the first time, Crowley has high praise for the ensemble of actors in his production. "What is very special here is that Cate is working with a company she has worked with so many times — especially with Richard Roxburgh. The quality that you get in moments of their scenes together has a degree of history to it — I don't know that you can direct that. So when a company like this is led by Cate and Richard, who are both almost uncomfortable being center stage, there is no shortage of great character actors around them on that stage. In the first act, and certainly in the fourth, when you have pretty much everybody on stage, there is a vibrancy and energy that come from a number of conflicting points of view on the stage simultaneously, which is really thrilling. It reminds you of when you see Russian companies who have worked on a play for years and years and years together; that much time working together, that much time knowing each other, that much time doing different things, you cannot short-circuit that process."
It may seem an unexpected choice for a Chekhov play from pre-revolutionary Russia, but for The Present, which is set in the post-perestroika world of the Russian oligarchs, Upton and Crowley have threaded the production with evocative music from the world of punk rock. "Andrew's first draft referred to a couple of lyrics from a Garage track and a Joy Division track, so we looked at what the musical scene would have been when the characters were young, when Platonov would have been going to university," Crowley explains. The playwright and director then settled on the music of The Clash, the English punk-rock band of the mid 1970s, to underscore the production.
"When they first came out, those Clash songs were quite punchy and raw and sort of threatening," notes Upton. "But hearing them now, there is sweetness that time has put over. To me, that completely captures that sensation of Platonov being a really dangerous, charismatic young man who has sort of aged well, but has also lost a bit of his bite or something. Is it just that time has passed? There's no explanation, but it is caught quite nicely in the music."
Cate Blanche...
Nick Kroll and Jo...
You might also like: