Features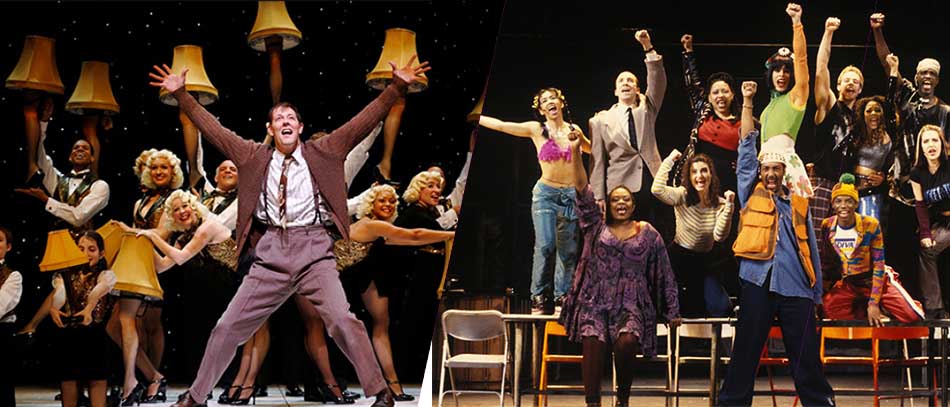 A Christmas Story and Rent to Receive Live TV Productions
MAY 16, 2017
The live-musical phenomenon appears to be catching-on.
Hot on the tail of the announcement that an NBC television version of Jesus Christ Superstar is in the works for next Easter, two more live-musicals have been announced for the coming year. First to arrive will be the holiday favorite A Christmas Story, slated for December of 2017. The second will be an adaptation of the 1996 blockbuster musical Rent, with dates and details to be revealed later. Both live-productions will air on Fox. Acclaimed film, television and theater producer Marc Platt (Grease: Live, La La Land, Wicked) will produce both live events. Additionally, the estate of writer/composer Jonathan Larson, will co-executive-produce the live-television version of Rent.
Based on the writings of Jean Shepherd found in the book In God We Trust: All Others Pay Cash, the stories were adapted into the beloved 1983 holiday film A Christmas Story. The tale, set in the early 1940s, follows a little boy's wishful anticipation of Christmas, his witty observations of his family and their holiday traditions, and his efforts to secure his dream Christmas present: A Red Ryder BB Gun. The film has become a perennial favorite of the holiday season where it is often played in repetition.
A Christmas Story: The Musical opened on Broadway in 2012 where it played a limited engagement. Benj Pasek and Justin Paul, recent Tony Award nominees for the musical Dear Evan Hansen, and lyricists of La La Land's Academy Award-winning song, "City of Stars," also scored A Christmas Story: The Musical and will compose several new songs for the LIVE television event, with Jonathan Tolins and Robert Cary adapting the book. A Christmas Story: The Musical was nominated for three Tony Awards, including Best Musical, Best Original Score (Pasek and Paul) and Best Book of a Musical. The original Broadway production of A Christmas Story: The Musical opened Nov. 19, 2012.
Rent, the long-running, Pulitzer Prize and Tony-winning musical, features a book and score by the late Jonathan Larson. The musical opened on Broadway in 1996 where it had a successful run of 5,123 performances at the Nederlander Theatre. The original Broadway cast featured Adam Pascal, Daphne Rubin-Vega, Idina Menzel, Anthony Rapp, and Taye Diggs.
A re-imagining of Puccini's "La Bohème," and set in New York City's gritty East Village, Rent tells the unforgettable story of seven artists struggling to follow their dreams during a time of great social and political turmoil. Rent celebrates its 20th anniversary this year, as it continues to offer an inspiring message of hope and friendship.
Jesus, Christ Superstar, Rent and A Christmas Story join the already planned live-musical version of Bye, Bye, Birdie (set for December of 2017) in a list of live-television productions that have, in recent years, included The Sound of Music, The Rocky Horror Show, Peter Pan, The Wiz, Grease and Hairspray.
Mark Robinson is the author of the two-volume encyclopedia The World of Musicals and maintains a theater and entertainment blog at markrobinsonwrites.com.
Tony Countdo...
Tony Winner Idina...