Features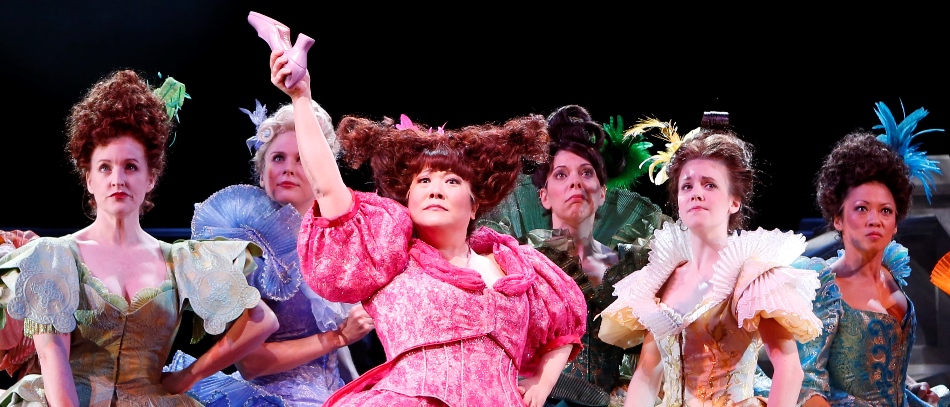 Creating the World of Rodgers + Hammerstein's Cinderella
MAY 2, 2013
The first thing you notice are the trees in the new Broadway production of Rodgers + Hammerstein's Cinderella.
"We wanted the forest to remain prevalent on stage, and natural elements to exist from beginning to end," says set designer Anna Louizos. The omnipresent trees which help propel the story through the various interior and exterior scenes are the key visual motif in the production. "We have trees that move across the stage to form different relationships," Louizos explains. You can even glimpse the trees in the spaces between the walls inside Cinderella's house in the woods and in the sumptuous ballroom where Cinderella dances with her Prince, the arches are extensions of trees and vines.

For the new production of the Rodgers & Hammerstein musical, which has arrived on Broadway over half a century since it originally premiered on television, playwright and librettist Douglas Carter Beane devised a new book using elements from the original 17th century French tale by Charles Perrault while infusing it with a 21st century awareness. "I wanted to do a story for my daughter where Cinderella was a real heroine," says Beane. "Oscar Hammerstein was always committed to social change. If Oscar were around today doing a Broadway show he would want it to be about social responsibility." But its modern sensibility notwithstanding, Cinderella is still a fairy tale. "We knew it wasn't a matter of building upon the television version or the Disney world. We gave ourselves the freedom to create a whole new world," says director Mark Brokaw.
"We threw the doors wide open in terms of possibilities and just started sharing and bringing in information visually that we thought was potentially in the world of this story," says Brokaw. "We looked at hundreds of images from painters to photographers to illustrators and described what we responded to when we looked at the images," explains designer Louizos. For Brokaw, two images in particular caught his eye: one was a picture of a woman in a beautiful gown standing in a forest with a series of mismatched chandeliers hanging over her head, and the other, a small house in a northern European landscape, surrounded by trees whose tops were not visible. The latter had a "very idyllic fairy-tale feel," notes Brokaw, while in the former, the "juxtaposition of nature with elegance" served as the visual centerpiece of the story. "I think that's how we ended up setting the whole story in the forest," says Brokaw.

"I started with sketches and then did rough models of everything to scale so that we could carve out the space on stage – to see how much room we would have for the trees and to create the house," says Louizos. "For me, it is not creating pretty pictures. I also have to be able to shift scenery from one location to another without stopping the show," she notes. The creative team spent nearly ten months working almost exclusively on Rodgers + Hammerstein's Cinderella. The staircase, where our heroine conveniently loses her glass slipper so the Prince can track her down, was particularly challenging, Louizos reports. "It fills the stage, but getting there is a journey. A number of segments need to track from offstage to onstage, and then telescope out. To get them to fit on the stage is like a big puzzle. I can't tell you how many times and how many versions I built of models of the house, the staircase and the trees before we arrived at something that worked. "
Of course, like any good fairy tale, Rodgers + Hammerstein's Cinderella abounds with magical transformations. A fox and a raccoon change into human footmen, the heroine's drab clothes get an instant makeover, and a pumpkin becomes a gilded carriage. Brokaw says the creative team had to make a critical decision very early on. "We had a meeting with all the designers together, even before we looked at any research: we could tell this story through theater magic or through technology. It could be more like The Lion King or War Horse, or on the flip side, we kept saying we can tell it like Avatar. All of us felt very strongly that theater magic was the way to go." Costume designer William Ivey Long proposed that the costume transformations happen in full view of the audience. "I wanted the old crone to transform into the Fairy Godmother dead center before your very eyes, purely in a self-contained costume," he explains. Actress Victoria Clark literally pulls strings within her bag-lady dress to turn it into a glamorous fairy costume, without the help of a blackout or the cover of smoke. For the two other eye-popping costume transformations – the shimmering ball gown and the banquet dress that materialize out of Cinderella's drab garments -- Long wanted it "to look like the Fairy Godmother had designed them, so there is swirl and a sort of whoosh as they get transformed."

Rodgers + Hammerstein's Cinderella's stage illusions require a close collaboration between set, costumes and lights. "One particular transformation involves a tree and a dress and I will speak no more of that!" says Louizos laughing. "It is a combination of diverting the audience's attention, lighting areas where you want to want to focus and devising some technology that allows things to happen quickly," she explains. But there are no hydraulics or projections in this production. Every effect requires a human to initiate the stage-craft. The magical appearance of the pumpkin carriage was achieved with "old-fashioned sleight of hand," says Louizos. "One of the things that is unique about the theater is that you can leave some space so that you can tie things together in your mind. To me, theater works best when the audience's imagination is engaged."
Sketches by Anna Louizos/Photos by Carol Rosegg

Click here to purchase tickets to Rodgers + Hammerstein's Cinderella on Broadway.
A Chat With ...
Orlando Bloom and...