Features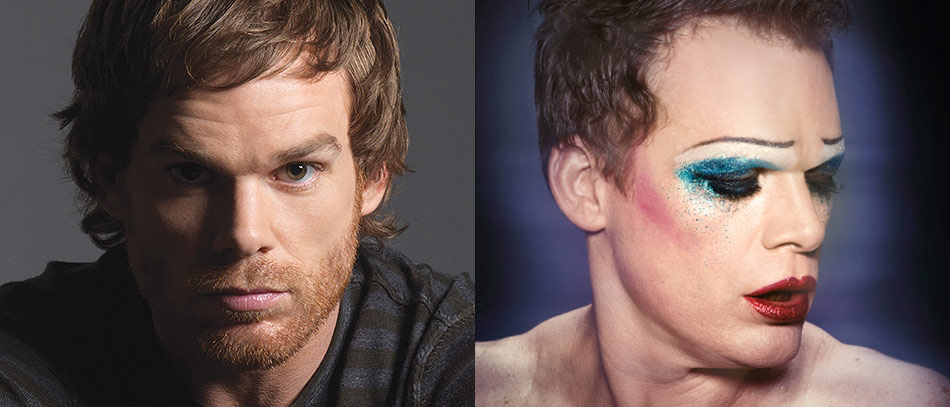 Dexter Star Michael C. Hall Takes a Walk on the Wild Side in Hedwig
OCT 14, 2014
Michael C. Hall is a master at creating characters who hide their emotions, most famously as a repressed funeral director on HBO's Six Feet Under and the secret serial killer on Showtime's Dexter. In a total of 12 seasons on the two series, Hall racked up six Emmy nominations and won a Golden Globe as mild-mannered, murderous Dexter Morgan.
So how does this classically trained, classically handsome leading man feel about taking on the flashy, platinum-wigged transsexual star in the Tony Award–winning revival of Hedwig and the Angry Inch? "I'm excited and really, really honored," says Hall, who will begin an 11-week limited engagement at the Belasco Theatre on October 16. "It's a huge assignment, my first — and maybe last — chance to pretend to be a rock star while telling a beautiful story."
Hall's casting as glam rocker Hedwig Schmidt isn't really as unexpected as it might appear: He made his Broadway debut 15 years ago as the Emcee in Cabaret, complete with eyeliner, rouged nipples, and lewd dancing with the Kit Kat Girls and Boys. "I'm returning to my German androgynous roots," he jokes, "but this time I'm wearing a wig and high heels all night long." Hall's Cabaret run coincided with the original Off-Broadway production of Hedwig, which he saw and loved. "I thought John [Cameron Mitchell, the show's author and original star] was incredible, I loved the movie, and I loved the current production, but I never anticipated that it would become part of my life."
Composer Stephen Trask predicts that audiences will be mesmerized by Hall's performance. "Michael has this natural, instinctual rock star quality, with his Bowie-esque vocal sound and Iggy-styled physicality," the composer says. "It was fun watching JCM [Mitchell] be blown back in his chair the first time he heard him sing. More impressively, after seeing this thing performed God knows how many hundreds of times, at least half of Michael's line readings are not only entirely new to me but instill this sense of 'Of course that's how that goes.' It's kind of revelatory."
For his part, Hall praises Trask's score for succeeding both as a collection of irresistible rock tunes and, as he puts it, achieving "everything you want a traditional musical to do. There's such a breadth to the landscape of the music, and every song takes the characters and the story to a new place. It's very much its own musical world, but there are references to so many artists I grew up loving — Lou Reed, Iggy Pop, David Bowie. It's an amazing rock 'n' roll fantasy."
In the same way that Hedwig's music crosses genres, the title character is much more than a joke-spouting "girlieboy" singer. "She's trashy, in a way," says Hall, "but she's also a bit of an intellectual. She's very intelligent and has a hard-won philosophy about her life and her place in the world. And that view evolves over the course of the show — her armor disintegrates as she states her case to the audience. For me, it's a return to the dynamic of Cabaret, which is a big part of why it's exciting."
Since its Off-Broadway bow at the funky Jane Street Theatre (now a hotel bar) in 1998, Hedwig has attracted a fervid fan base, which doesn't surprise Hall. "It's the beauty of the show's core message," he says. "Hedwig is an extreme character, but her journey toward self-acceptance and celebration of her humanity appeals to all of us."
A native of Raleigh, North Carolina, Hall had a much more conventional upbringing than the character he is stepping into on Broadway. His mom was a college guidance counselor; his dad, who worked for IBM, died when Michael was 11. "I was in a boys' choir and did choral singing and musicals when I was in high school and college," he recalls. After graduating from Earlham College in Indiana, Hall earned an MFA from New York University's graduate acting program. In the two years that followed, he appeared in four Shakespeare productions for the Public Theater, three of them in Central Park.
His early career goals were simple: "To support myself as an actor, work with talented people, and tell stories that meant something to me. It really didn't go beyond that. As far as the TV stuff, I didn't even know those jobs existed — in part because hadn't [in the past]. Thankfully for me, the emergence of cable television as a place for complex and imaginative storytelling coincided with my becoming a professional actor. The Six Feet Under and Dexter scripts challenged me in ways I hadn't been challenged before. I'm very thankful for that."
When Hall won his best actor Golden Globe in January 2010, he was in treatment for Hodgkin's lymphoma and accepted the award wearing a knit cap. Now cancer-free, he says his illness "made me a lot more conscious of and grateful for my health. I felt lucky to have discovered [the lymphoma] at the stage I did, and to have successfully treated it. As far as my life goes, it was a confirmation that I love what I do and want continue doing it."
Once Dexter ended in September 2013, Hall felt free to return to the New York stage for the first time in almost a decade. He joined Toni Collette, Marisa Tomei, and Tracy Letts in the critically acclaimed dramedy The Realistic Joneses. Then came the offer to join Hedwig. "I get a lot of energy from being surrounded by people," he says of Manhattan. "I'm recognized, but it's in passing; everybody is on their way to do something!"
Reflecting on the power of shedding his straight-arrow image to play Hedwig, Hall says, "I think we all have aspects of male and female, and it's very freeing to get to explore that in ways that 99 percent of roles wouldn't allow. It's liberating! I recommend this experience to everyone."
The Magic Me...
Postcards from Lo...
You might also like: