Features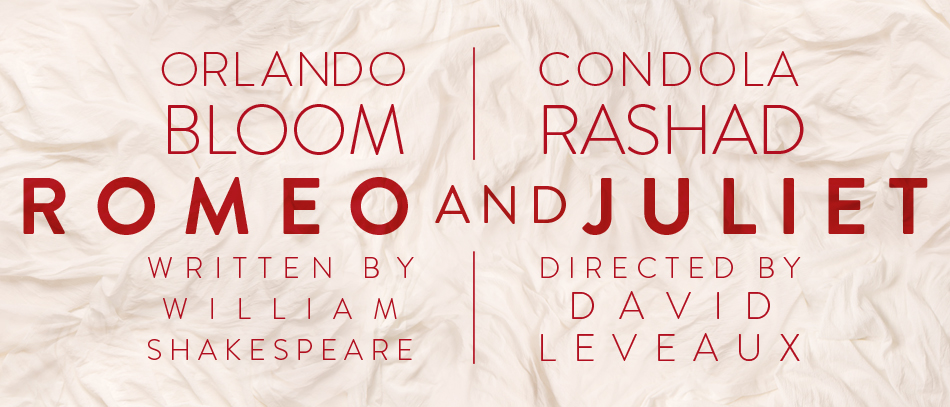 Director David Leveaux Brings Fire to Romeo and Juliet
MAY 13, 2013
David Leveaux's prime consideration for the first Broadway production of Romeo and Juliet in over three decades is ensuring that the 16th century Shakespeare classic feels contemporary.
"At the end of day, Romeo and Juliet is about a miracle of love between two young people, and in these very cynical times we need to address the play with as much heat and directness as possible for a modern audience," says the British director. And, of course, there was the question of who would play Shakespeare's famous star-crossed lovers. Leveaux's production, which begins performances at Richard Rodgers Theatre on August 24, with a September 19 opening, will star Orlando Bloom as Romeo and Condola Rashad as Juliet.
Movie star Bloom, internationally famous for The Lord of the Rings trilogy and The Pirates of the Caribbean series, was the first of the two leads to be cast. "I was just so fascinated by his passion and his absolute boyish love of this language," says Leveaux. And Rashad, a Tony nominee this year for The Trip to Bountiful, was a perfect fit for the role, he says. "Once I had seen her and we had several working sessions together, I realized that this is our contemporary Juliet. She has comedic and passionate qualities, and she's just hugely charismatic." Given the ethnicity of the leads, Leveaux then decided that Juliet's blood relatives, the Capulet clan, would be black and Romeo's clan, the Montagues, white.
Color-specific casting for the two feuding families makes a vivid statement, but Leveaux says he doesn't intend imposing an "ethnic commentary" on the play. "We all know that the chief reason to enter Romeo and Juliet is to be swept up by this impossible and brilliant love story," the director continues. "But it exists in the context of some very potent ideas and experiences of how family-- and loyalty to family -- works. These two very different family units operate according to their own laws and rules. They are highly cultivated but they have forgotten the original cause of the quarrel that exists between them; it is simply being repeated generation after generation, being handed on down to the young again and again and again without ever being interrogated. The notion of a young scion from the Montague family falling in love with the prized daughter of the Capulet family is a brilliant and miraculous transgression that changes the rules of the way that society exists."
"A modern version of Romeo and Juliet doesn't mean updating it," Leveaux explains. It is the young lovers' contravention of familial strictures and bonds that makes this new production of Romeo and Juliet "reverberate very immediately" for 2013, in New York, he suggests. "The play actually addresses the issue of fundamentalism--what happens when young people press against rules that are handed down to them, written in stone as it were, and why that leads to such violence. I feel very strongly that Shakespeare evoked a world which was only civilized to a degree," he adds. "There is only about an inch deep of civilization upon miles and miles of profound barbarism. So it is always a very dangerous and, in some ways, a very primal world. We like to call our contemporary world civilized as well, but it is not always so."
Leveaux, a five-time Tony nominee, says that Romeo and Juliet shares something in common with the revivals of plays by Tom Stoppard (The Real Thing, Jumpers, Arcadia) and Harold Pinter (Betrayal) he directed over this past decade on Broadway. "Those are writers who changed the way we hear the English language," he notes. "And Shakespeare is the ultimate example of somebody who takes your expectations of the English language and gives you a new way to use the language to describe the world you live in. This play contains some of his most thrilling language. There is no one in Shakespeare who speaks like Juliet. She has a unique way of picturing the world." One could experience Romeo and Juliet the way one might a great jazz concert, he offers. "It's the thrill of watching two people, who, in part, fall in love because they both find in each other an equal excitement in their ability to conjure images and to reinvent a world that is different from the way their parents and elders see it. I think part of the pleasure and the fun of the play is that joy of experiencing what the English language can do. Young people are always pushing at the borders of language, particularly now with new techniques of social communication."
Taking a cue from Juliet, who describes the pace of events in the play as "too much like lightning," Leveaux believes that Romeo and Julietmust "have real fire and speed" to engage a contemporary Broadway audience. "I had an idea that if we were to cover the stage with sand and set it on fire, that would convey the sensual and emotional temperature of the play," he says. "Broadway is a gladiatorial place, so whatever you do there has to have a sense of event." Years ago, Leveaux recalls, one of his mentors, Joseph Chaikin, a pioneer of avant garde theater in the 1960s, passed on to him the most enduring discovery from that era of experimentation: there's no excuse for an audience to leave the theater with less energy than they came in with. "Being near this play when it is being played in full heat can be an absolutely rapturous experience," he promises. "There's no excuse for not giving people the night of their lives."
Orlando Bloo...
Spider-man: Turn ...