Features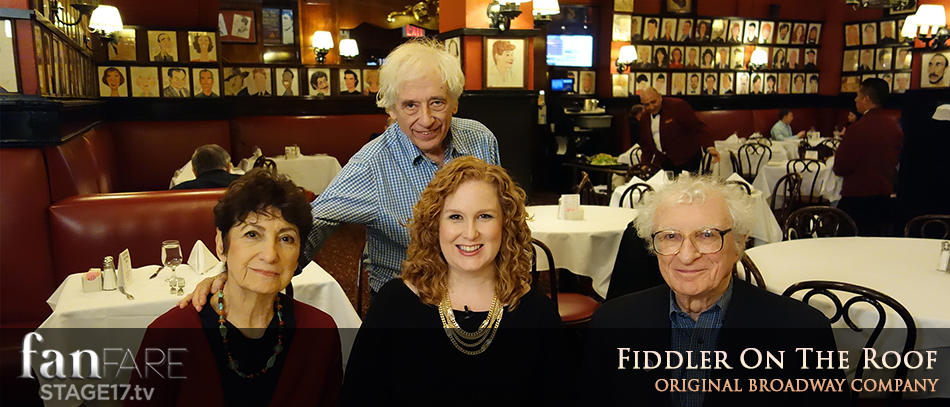 Fan Fare: Fiddler on the Roof
AUG 11, 2015
"It's the only musical that's brilliant on absolutely every level. Emotionally, spiritually, intellectually." -Austin Pendleton, from "Fan Fare," about Fiddler on the Roof.
How do you top a comment like this? Especially coming from original Fiddler on the Roof cast member Austin Pendleton, who has led an extensive and hugely successful career in theatre. He reflects on Fiddler's brilliance in "Fan Fare", a web series produced by Stage17, a new digital entertainment platform that bridges the gap between theater and the digital world. It's hosted by Sirius/XM Radio personality Julie James. Stage17 reunites casts and creatives from beloved Broadway productions at the legendary Sardi's in New York City to share their personal journeys through auditions, rehearsals, opening nights and more! Along with fellow cast member Joanna Merlin and award-winning lyricist Sheldon Harnick, Austin discusses reviews, ups, downs and rewrites that made Fiddler on the Roof a hit. Watching these experts reflect on the early days of their careers is an inspiration, and reminds us all that perseverance and commitment is essential on the road to success. Check out "Fan Fare" Season 2, Part 1 to learn about all of the great stories behind the creative development of Fiddler on the Roof from the legends who made it happen!
Part 1: For five decades, original cast member, Joanna Merlin had a question for lyricist, Sheldon Harnick. She finally got her answers in Part 1 of Fan Fare: Fiddler on the Roof.
Joe Allen Re...
A Dazzling New Sp...
You might also like: