Features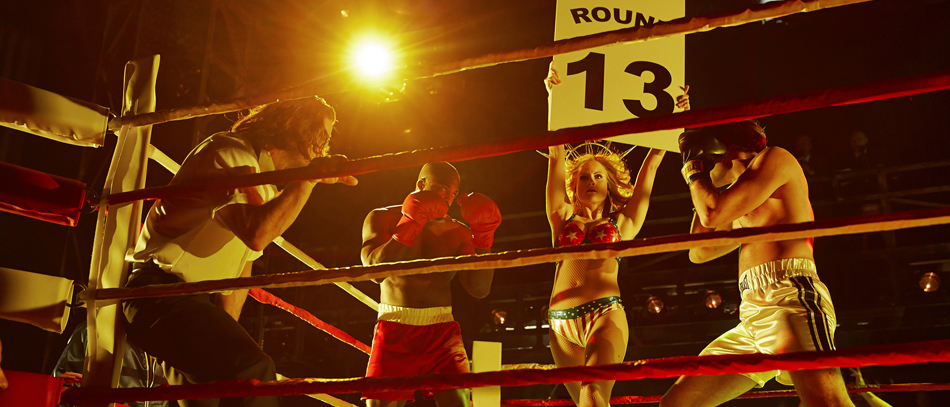 From The Heart: Rocky From Screen to Stage
SEP 10, 2013
Rocky on stage? Like many others involved with this project, director Alex Timbers was initially skeptical.
Rocky on stage? Like many others involved with this project, director Alex Timbers was initially skeptical. "It sounded like it might be a spoof on Forbidden Broadway — you think of a kick line of boxers or something like that!" he says, laughing. But Timbers quickly changed his mind after attending a reading of the work written by Stephen Flaherty (music), Lynn Ahrens (lyrics), Thomas Meehan (book), and Sylvester Stallone (book). "I was completely blown away by it," he reports. "What I loved is that it is really a love story. People misremember it as a boxing story. It is this beautiful underdog story about two damaged people — Rocky and Adrian — who, through their love for each other, find hope and dignity. And when you think of it as a love story, why it lends itself to being a musical suddenly becomes really clear. The story is so successful and the marriage of Lynn and Stephen's music with it is so incredible, I just knew I wanted to be a part of it." The production begins performances in February at the Winter Garden on Broadway, following a hugely successful world premiere last year in Hamburg, Germany.
The impulse to adapt Rocky for the stage came from the author of the original story, Sylvester Stallone. The actor wrote the screenplay for the Oscar-winning 1976 movie as a vehicle for himself at a time when he was finding it difficult to get acting work. He doggedly held out against studio offers to buy the script for big-name stars at the time, eventually getting the opportunity to play his creation, Rocky Balboa, the Philadelphia boxer who gets an unexpected shot at the world's heavyweight championship title. It became Stallone's own big break: he received an Academy Award nomination for his performance, launching a lucrative career that would, in time, include five Rocky sequels. Talking about his ideas for the stage version in an interview with The New York Times, Stallone said, "I imagined it in the style of a West Side Story or a Saturday Night Fever, with these almost childlike characters who the audience will want to root for."
Stallone secured the talents of three-time Tony Award winner Meehan (Annie, The Producers, Hairspray) to write the book, and then hired the award-winning lyricist-composer duo Ahrens and Flaherty (Ragtime) to write the score. Timbers joined the team in 2011, some five years after work on the project began. Over the past decade, the young director has established a reputation, both on and off-Broadway, for his cheeky and experimental approach to unusual literary and historical subjects. He received an Obie Award for A Very Merry Unauthorized Children's Scientology Pageant (based on the writings of L. Ron Hubbard), a Tony nomination and a Drama Desk Award for the book of Bloody Bloody Andrew Jackson (a musical that presented the seventh president as a proto-rock star), a Tony nomination last year for directing Peter and the Starcatcher (a Peter Pan backstory), and a Drama Desk nomination this year for Here Lies Love (a rock musical about the Marcos' rise to power in the Philippines). Rocky marks the first occasion that Timbers is working with a veteran Broadway writing team. "In high school we were performing Ahrens and Flaherty and Tom Meehan shows; I have looked up to them for years," says the director, now in his mid-thirties. "When I went up for this, I thought, If they choose someone like me it is because they want something a little left of center in its approach, someone unexpected. They are truly heroes, so it feels like a very cool moment to be working with them."
To create the gritty world of Rocky on stage, Timbers says he looked to Trainspotting and the movies of David Fincher for visual inspiration. "I really wanted to understand the physical danger of this part of Philadelphia," he explains. "It is a world of thugs and fight clubs — it has to be this dark world, which rubs against someone like Rocky, who has a pure heart." The mid-1970s time period in which the story takes place, Timbers notes, was "an incredibly tough time to be a young American male. You have Vietnam, which had become a disaster, but the bicentennial celebrations were also happening at the same time, so there is a level of irony to it. I remember reading comments about Rocky's unlimited ability to absorb punishment in the movie. And that's not only a physical thing — that's an emotional thing as well. In the first hour of the movie he is just kicked like a sad dog over and over again until he finds his dignity and his will in the second half. So that was also important to conjuring the world of the musical," he adds.
Then, of course, there is the boxing. "One of the things I said when I was pitching the show was that I want the fighting to look real," says Timbers. "I want the boxers to connect; I don't want it to look like they are pulling punches." The fights in Rocky are staged by Steven Hoggett, whose previous work on Broadway includes Once (2012 Tony nominee) and American Idiot. Well-known for his brand of extreme physical theater, Hoggett received a 2011 Drama Desk nomination for his work on Beautiful Burnout, which took place in a boxing gym. "I wanted Steven because he endows movement with character and he can endow violence with character," says Timbers. "It is full-contact fighting, but he obviously has certain tricks and things so that actors don't get hurt." The director explains that, to get better acquainted with the world of boxing, he watched a lot of footage and consulted with the show's book writer, Meehan, who is a boxing buff. "We did a lot of work to make sure that it is authentic and that it captures the pleasure principles of boxing, the brutality of it as well as the excitement and the sense of triumph that is so inherent to it. Someone who really knows a lot about boxing, obviously, is Stallone," he adds. "After opening night in Germany, some of his notes had to do with 'You might want to think about an uppercut here, or this move there.' They were really smart comments."
The climax of Rocky is the big fight against the reigning champ, Apollo Creed. "You want to deliver an experience of what it is like to be at a boxing match," notes Timbers. To achieve the authentic effect, the director says that he plans to draw from his experience with his own recent production Here Lies Love, where the audience became a participant at a funeral and a political rally. "One of the cool challenges has been working with the designers on how to cast the audience as spectators at the Balboa–Creed fight," he says, without revealing the exact nature of the coup de théâtre he is planning for this production. "The most fun is figuring how the fights work, because if we pull them off it will really feel visceral and fresh."
But there is something even more important, he adds. "The most challenging thing is how you keep a sense of intimacy, how you keep the heart and sensibility and deliver on the same promise of those beautiful close-ups that Rocky the film delivers, where you connect with the characters on a really personal level. We remember the fights, the running up the stairs, the training montage, but there are also these long poetic scenes — the ice-skating scene, the scene in Rocky's apartment where he tries to get Adrian to take off her hat and her glasses," he continues. "There is this lovely metaphor that Adrian works in a pet store with birds in cages and turtles in terrariums. It takes the love of Rocky to drag her out of that, to give her confidence and an expanded self-worth. These are the moments when the show feels like a musical drama, like a play with songs, and there is a lot of real meat for the actors to work with. I think what is going to really surprise people about the show is that these beautiful scenes are all intact."
Exclusive: P...
Rocky: Ahrens & F...