Features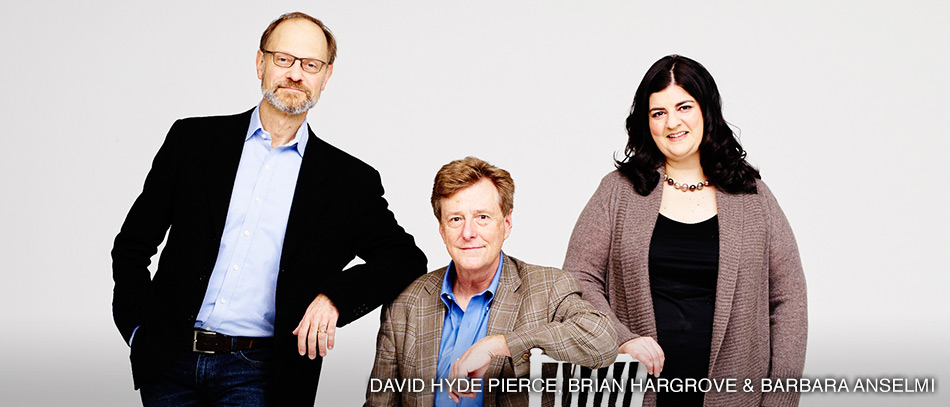 Here Comes It Shoulda Been You, Directed by David Hyde Pierce
JAN 6, 2015
By the time a radiant bride makes it down the aisle to her groom, you can bet both families have been through hell on the road to this heavenly event.
The quest for the perfect wedding offers the kind of built-in conflict needed in a musical comedy, and that's exactly what's on tap in It Shoulda Been You, which begins previews at Broadway's Brooks Atkinson Theatre on March 17 in advance of an April 14 opening night.
Acting as the Great White Way equivalent of wedding planner is David Hyde Pierce, the Tony- and Emmy-winning actor who will make his Broadway debut as a director. A wedding, he muses, "is a place where emotions and personalities and conflicts get heightened because of the pressure cooker of very different people coming together on what is supposed to be the perfect day. You almost can't find a more pressurized situation in human life. Maybe war — but, frankly, I don't know if there is much difference in doing a musical about a war and one about a wedding."
It Shoulda Been You centers on the prenuptial mayhem that ensues when the unmarried older daughter in a family decides to throw a storybook ceremony for her sister, hoping to avoid interference from their overbearing mother. This dynamic trio is played by Tony winner Tyne Daly as the matriarch, Sierra Boggess (The Little Mermaid) as the bride-to-be and Lisa Howard (The 25th Annual Putnam County Spelling Bee) as the selfless sister. The groom will be portrayed by David Burtka (who married Neil Patrick Harris in real life on September 6), as the son of an equally strong-willed mother (Tony winner Harriet Harris).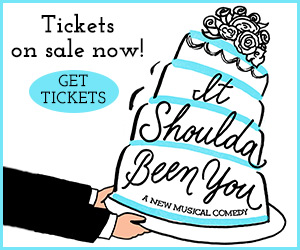 The show starts in a traditional way, then takes some very interesting paths," explains Pierce. "There are two families, one Jewish and the other Protestant, but those differences are the least of their problems. A lot of the complications you might expect to happen at a wedding happen, but in unexpected ways. And a bunch of things you and the wedding party didn't expect also happen. It's the sort of show where nothing is exactly as it seems." The tone, he adds, is "very funny, but it's also really beautiful in its physical production and in what it has to say about how families come together, and how we go about accepting each other and ourselves."
Adding an extra layer of romantic realism to It Shoulda Been You is the fact that the book and lyrics are written by Pierce's own husband, Brian Hargrove, a television scriptwriter and producer who has been developing the show for more than eight years with composer Barbara Anselmi. Pierce joined the team in time for a sold-out 2011 run at New Jersey's George Street Playhouse, a move that "could have been a huge mistake," he now admits with a laugh. "I didn't realize that picking an original musical as my first thing to direct was insanity. But ignorance is bliss, and this is a piece I love and believe in."
It helps that Pierce has filled the cast with a roster of supertalented Broadway pros. "A core group has been with us since George Street: Tyne Daly, Harriet Harris, Lisa Howard, and Edward Hibbert," he ticks off. "And we've added Sierra Boggess, David Burtka, Montego Glover, Josh Grisetti, Anne Nathan, Chip Zien, and Michael X. Martin. What I love about this company is that it has such a rich history in the theater, even the younger ones. These are bona fide musical stars, which gives the show the kind of sparkle and luster it deserves."
Pierce is particularly excited to introduce the work of a new composer to Broadway audiences. "Barbara Anselmi has written a score that is uniquely hers," he says. "She has a wonderful melodic sense that is fleshed out by orchestrator Doug Besterman and music director David Loud. The sound is very lush and beautiful."
Since the 11-season run of Frasier ended in 2004, Pierce has concentrated on theater, appearing on Broadway in Spamalot, Accent on Youth, La Bete, Vanya and Sonia and Masha and Spike, and a Tony-winning star performance in Curtains. "I've worked with some of the greatest directors in the business," he says. "Mike Nichols, Scott Ellis, Peter Brook, Dan Sullivan, Mathew Warchus, Nicholas Martin, and on and on. I've learned a lot from them — and hopefully will remember some of it."
As an undergraduate at Yale, Pierce directed student productions of Gilbert and Sullivan, "but the roots of my directing were in fourth grade when I would direct my friends in scenes from Julius Caesar," he says, recalling his childhood in Saratoga Springs, New York. "I always made sure I played Julius Caesar and got to die!"
Kidding aside, Pierce has deep stage roots, dating from his 1982 Broadway debut in Christopher Durang's Beyond Therapy at the Brooks Atkinson, future home of It Shoulda Been You. "I came to New York right out of college," he says, "and I did theater for as many years before Frasier as I was on Frasier. This is my artistic home." Back on the small screen this fall as Julianna Margulies' political opponent on The Good Wife, he adds, "I'm having a great time working on television again, but there's nothing like the visceral thrill of being part of Broadway theater."
As for the challenge of perfecting a piece written by his own husband, Pierce is sanguine. "We've been together for more than 30 years," he says of Hargrove, "and from the beginning, I've given him notes on what he was writing and he's given me the best possible notes on my acting. We've had a long history of collaboration, and this show, to use a wedding metaphor, is the icing on the cake."
Oh, and in case you were wondering, the plot of It Shoulda Been You was not inspired by the couple's own wedding, which took place on October 24, 2008. "Exactly the opposite," Pierce says with a chuckle. "Having looked at the show and all the things that can happen, we decided we wouldn't have any guests, no wedding planners, no flowers — it was just me and Brian, a friend who married us, a friend who was the witness, and our two dogs. And it was very, very nice."
Tyne Daly Re...
#ThrowBackThursda...