Features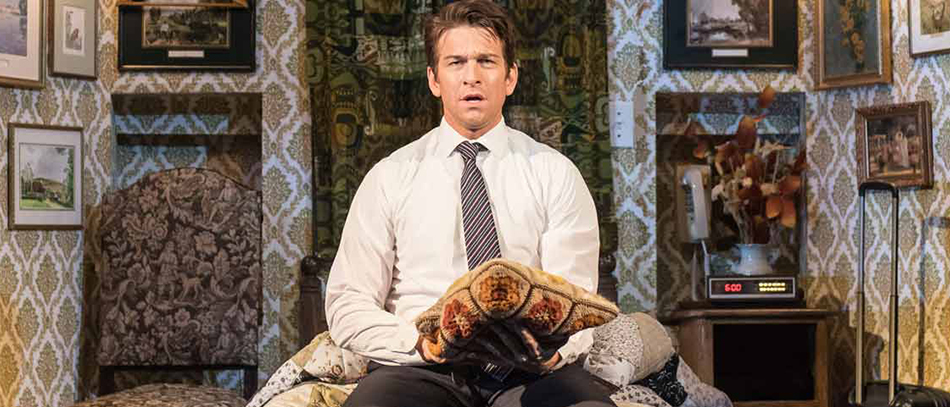 Turning a Hit Movie Into a Smash Musical
NOV 15, 2016
Danny Rubin has waited a long time to see Groundhog Day, the 1993 film that he cowrote with director Harold Ramis, turned into a musical. But his patience — and all the hard work it took to get it to the stage — has paid off.
His own deeply original idea to write about a story about "a person reliving the same day over and over again," as he puts it, was pursued by a number of people as ripe to be adapted for musical theater. In a public interview between Stephen Sondheim and Frank Rich, former drama critic of The New York Times, in 2006, Sondheim had said, "I think Groundhog Day would make a really good musical. Now somebody will do it and I'll be sorry I said it, although I suspect I'm not the first person to have thought of it. It's a wonderful movie, and it's a wonderful idea for theme and variations, which is a kind of musical I want to do."
Rubin picks up the story. "I called him up, and I said, 'Really?' And he said yes. We had a meeting and he said that he wanted to work with his own people if he pursued it, but I felt that I ought to be connected to it, so I made a decision that I'd rather work on it myself than hire another writer, and we parted ways."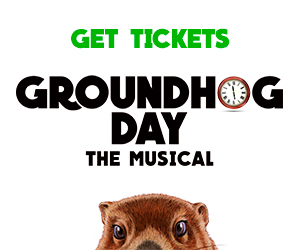 It was Matthew Warchus, the award-winning West End and Broadway director whose previous shows have included the long-running comedy Art and the musical Matilda, who finally got the process moving to make it a reality. "He got in touch with me to see if I'd be interested in working on an adaptation of the film, and I let him know that there were a lot of people trying to get in on it and I'd been working on it for some time! But I was happy to talk about it, and I liked everything he said. He suggested Tim Minchin as the composer, who I looked up on YouTube and, like everyone else does, I fell in love with him immediately. And I thought he was a very good idea for the show."
Rubin came to London and saw Matilda, the previous collaboration between Warchus and Minchin, "and it exceeded my expectations, and I realized what I was looking for in this musical, which is something that had a lot of texture and intelligence and easy likability to it, but with more depth to it. Then the next day I met up with Matthew and Tim, and we didn't even to stop to decide whether we were going to do it — we just started talking and were up and running!"
How did the collaboration work? "Tim and Matthew and I were all throwing in ideas. I had been thinking about it for a long time and I even had a script drafted that informed me of the things that were important to me, but I ditched it. We had to start from scratch, not assuming anything, other than wanting to retell the story in a way that takes best advantage of the fact that it's in a different medium now. So we just pitched ideas to each other, and then Tim and I worked on the outline together, to see where the songs should go and what they were about. We shook it all out and found out what we liked best. The writing was a really beautiful experience — it was so ego-free, and we had a really good time."
Rubin says they made an early pledge not to bring in outside producers or investors until they were ready: "We agreed after the first few days of working together to do it amongst ourselves so we could get it the way we wanted it before the commercial forces started interfering."
That way, they maintained creative control throughout the process. "And we got a huge amount of confidence in each other and the material," he says. "That's the way you hope to do anything, of course, but in the movie business it's very difficult to get all the way to the end of a huge collaborative process without a lot of politics and fingers in pies."
They developed it through a number of private workshops. "That was new to me!" says Rubin. "I wish I had a team of actors and choreographers to follow me around all the time now to act out what I've written today to see how it is working." And then came a short summer public tryout run at London's Old Vic: "We knew we were writing something that we'd really liked ourselves, and that seemed to work. But you don't know till you've got it in front of its first audience that we were right, and that it did!"
Now he's very excited to bring it to Broadway. "It's so much fun. I came in assuming that all the montages and quick cutting that was the language of the film, you couldn't do onstage. But — without giving it away — Matthew said that I should imagine what I wanted to see, and they'd see if they could do it. And of course the joy of the film, and now the stage version, is being surprised in different ways."
Reliving the...
Everyday Heroes T...
You might also like: