Features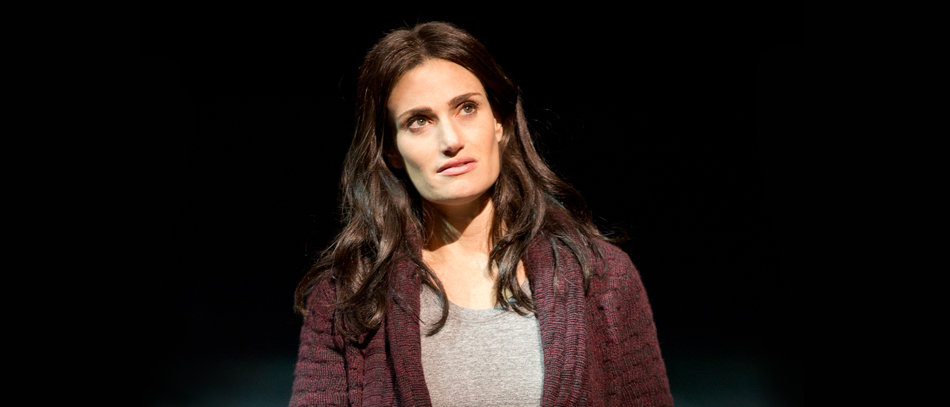 Idina Menzel Returns to Broadway
JAN 22, 2014
It has been a long wait for Idina Menzel's multitude of fans. Nearly a decade has passed since she bewitched audiences as the emerald-green Elphaba in Wicked — but now she's back. The award-winning actress returns to Broadway on March 5 in If/Then, a brand-new musical created by Tom Kitt and Brian Yorkey, directed by Michael Greif.
"I waited for the right thing that was special and challenging," says the actress, who most recently received rave reviews for her performance voicing Elsa, the Snow Queen, in the animated feature Frozen, in which she sings the Oscar-nominated song "Let It Go." "In the downtime, I have become a mother — I have a 4-year-old son," Menzel explains. "And I have changed a lot of my expectations and priorities, so I just wanted to make sure that I am doing something that I love and with people that I love."
Menzel is already associated with two of the biggest hit musicals of the last two decades. Prior to Wicked, for which she won the 2004 Tony Award for Best Actress in a Musical, there was Rent, her Broadway debut, for which she received a best supporting actress Tony nomination in 1996. She became involved with If/Then some three years ago when Kitt and Yorkey's previous musical, the Pulitzer Prize–winning Next to Normal, was still playing on Broadway. The new musical took shape after she sat down for drinks with composer Kitt and librettist Yorkey, along with that show's producer David Stone (who had also produced Wicked) and the show's director, Michael Greif (who also directed Rent). "We were like family, and we all wanted to work together so badly. Tom and Brian had this embryo of an idea and I said, 'Sure, I'm in,'" Menzel reports. "The shows that have worked the most successfully for me are the ones that were completely original — ones I have had to take a risk on, and those in which I got in on the early developmental stage."
"I play a woman named Elizabeth who is turning 40 and has chosen to return to Manhattan from Phoenix to start her life over," says Menzel about her role in If/Then. "She has enough courage to make that choice but it is still a terrifying move. We follow Elizabeth's choices and her circumstances, and how fate and chance all play within and around each other. She is a city planner, which is kind of cool, because the city is a very wonderful character in the show itself," adds the actress. Elizabeth is faced at the start of the show with a choice between two actions that will take her on diverging paths that unfold almost simultaneously. "We also follow how her choices affect her friends' lives as well in each parallel universe," Menzel explains. Elizabeth's friends — new acquaintances in addition to those from her former life in New York City — are played by Anthony Rapp, Menzel's castmate from the original production of Rent; Tony Award winner for The Color Purple LaChanze; and James Snyder (Cry Baby). "It is this idea of how we are connected and disconnected in the city as a community and how with every little turn we take — a right or a left turn — our lives can change in an instant."
Reflecting on an If/Then moment from her own life, Menzel recalls how, prior to Rent, she once auditioned for director Michael Greif for a role in a show and got turned down. "He didn't think I was right for that role, but he remembered me later, so I guess if I hadn't gone in for that audition and sung for him, I would not have had the experience of the whole journey of Rent, and now this new project." Greif, who had already directed a very early workshop of Rent at that time, remembers making a note on Menzel's rejected audition sheet: "Great for Maureen," the breakthrough role of the lesbian performance artist, which provided Menzel her first professional job in New York. "Idina has been a great inspiration, and I think that is often how wonderful shows get made," notes the director. "When we first worked together, it seemed that she was working completely on her instincts, which were spectacular. This time, I was really excited about both the things that have remained the same and the changes about the way she worked. I am sure with Wicked — with the amount of discipline required to carry that show — there was a lot of on-the-job training. You can tell she takes very seriously what she does in terms of vocal production and that she really knows what the actor's craft is now. But all this is in the service of being remarkably open and available in the course of our rehearsals. It is a very spectacular combination, all of that preparation and then all of that willingness to try anything and be open to anything."
Much like the 42-year-old actress who inspired her, the character of Elizabeth in If/Then too is open to change and opening a new chapter in her life. "I think there is something so commendable about someone having the courage to start their life over. There is such a risk involved to leave the status quo," notes Menzel. She says she hopes that the musical will inspire people to realize their full potential and search for a way to really enjoy their lives. "There is only so much we can control in the choices that we make. Sometimes you have to just be in the moment and live and love. And the right people and the right circumstances will find us — or we find them."
Spring Broad...
If/Then: A Musica...
You might also like: