Features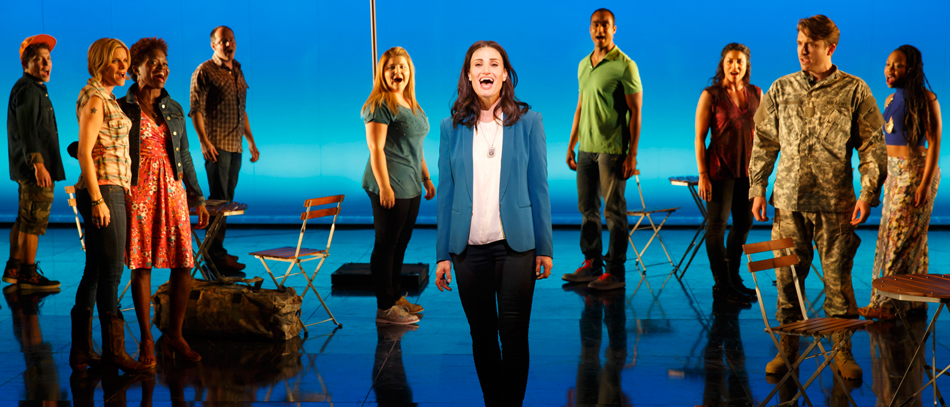 If/Then: A Musical About Choice and Chance
JAN 22, 2014
If we knew the effects of the random choices we make in life, would we go about our daily lives any differently? Well, in the world of the musical theater, at least, we might find some answers.
Elizabeth, the heroine of the new Broadway musical If/Then, gets to experience two alternate realities, which unfold simultaneously, based on a simple decision: Should she go with a friend to meet community organizers, or listen to some music in the park with another friend instead? Tony Award winner Idina Menzel plays the woman facing these innocuous but life-altering choices in an original work written by Tom Kitt and Brian Yorkey, which starts performances at the Richard Rodgers Theatre on March 5.
"I have always been interested in the themes of choice and fate — us finding our lives, and our lives finding us. Presenting that in theatrical way, I thought, would make for an exciting and emotional project," says composer Kitt. He pitched the idea to book writer and lyricist Yorkey, his collaborator on Next to Normal, the acclaimed Tony Award–winning musical about a woman with bipolar disorder. Yorkey was equally enthusiastic. "We also wanted to craft something that was contemporary, about people of our generation," says the librettist. "The musical is about the challenges and the questions that we, and our friends, are facing in our lives. When you start to hit your late thirties, early forties, you look back at some of the choices you made: Maybe you regret some and maybe some were great choices and you didn't even know it at the time." At the start of If/Then, the 39 year-old Elizabeth has recently left a life and a marriage behind her in the Southwest; she has now moved back East to work as an urban planner in New York City. "It is a city full of possibility, with so many people you can meet on purpose or by accident," Yorkey explains.
When the writers hit on the idea of making Elizabeth a city planner, the profession turned out to be a perfect fit for If/Then. "Urban planners are all about creating environments where happy accidents can happen — for people to have fruitful collisions, mixing business and personal life, pedestrians and vehicles," says Yorkey. An urban planner, Kitt explains, is someone who has the power to affect people living in a city. "In a musical about choice and change, I think it is interesting to see how Elizabeth's choices affect not just her own life, but also the lives of many other people."
It shouldn't be a surprise that Kitt and Yorkey, who received the Pulitzer Prize in 2010 for Next to Normal, share a common interest in the arbitrary encounters that can determine one's fate. Their own lives and careers, as it turns out, were also shaped by pure chance. "I like to say that I met both my spouses at Columbia University," laughs Kitt, recounting the random set of circumstances in 1993 that led to his relationships with Yorkey, as well as with Rita Pietropinto, the woman who would become his wife. That fateful semester, the three students had remained on campus after regular classes ended in order to participate in the year's alumni weekend. Yorkey, as writer, and Pietropinto, as an actor, were part of the 99th edition of the Varsity Show, Columbia's annual variety entertainment. When the show's composer had to suddenly leave town, Kitt, who was a member of the Kingsmen, the Columbia a cappella group also performing that weekend, stepped in as musical director.
"I was able to learn the show from a cassette tape and perform with the cast, and that was the thing that made Rita finally take notice of me," Kitt continues. "I had tried all year without any success!" Pietropinto suggested that Kitt work with Yorkey on the 100th edition of the Varsity Show the following year. The duo have been working together ever since; Kitt and Pietropinto were married seven years later. "It's kind of terrifying how easily things could have been completely different," reflects Yorkey. Kitt adds, "It was only through collaboration with Brian that musical theater became a dream of mine." There is also an interesting footnote to that chance encounter from two decades ago: The Varsity Show composer who left town is Eric Garcetti, the current mayor of Los Angeles. "So Eric probably has an alternate reality where he is writing musicals . . . and I am the mayor!" laughs Kitt.
The story of how If/Then came into focus for the two writers is not one of mere chance, but one of those showbiz encounters between artists that bears remarkable fruit. Kitt had known Idina Menzel, the acclaimed star of Wicked, previously, but Yorkey was introduced to her for the first time by Next to Normal (and Wicked) producer David Stone on the night she attended a performance of that show. That evening, the whole group, which included Next to Normal director Michael Greif, who also directed Menzel in Rent, went out for drinks together. "We started dreaming about doing a show together. That quickly evolved into taking a project that we had started to work on with David and turning it into something we could do with Idina," Yorkey recalls. "It is actually really wonderful to have someone's voice in mind when you are writing," says Kitt. "She is remarkable in what she is able to do and I want to take advantage of that, and also to collaborate with her and find maybe unexpected places to go that excite both of us." Adds Yorkey, "Idina is not only an absolutely unique talent, with this amazing voice, but also a really beautiful human being. She carries our show with this glowing energy that runs through the whole thing. It has really been a joy to do this with her."
Idina Menzel...
Broadway Welcomes...