Features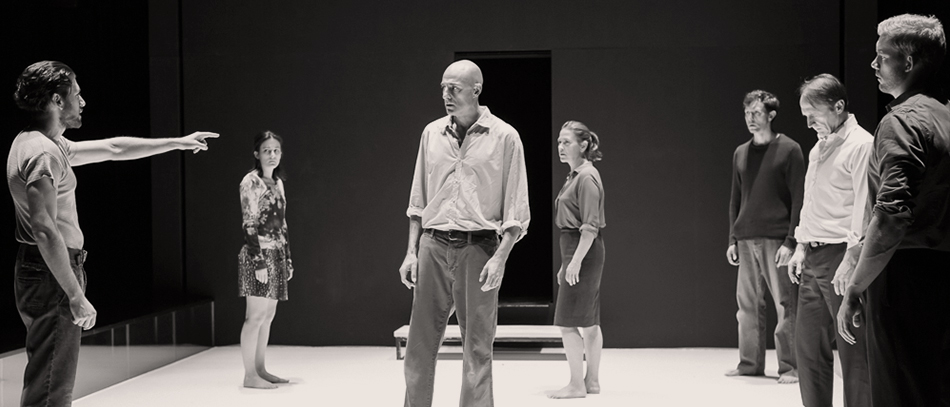 Director Ivo van Hove Talks About Arthur Miller
JAN 12, 2016
Ivo van Hove's stark Broadway revival of A View From the Bridge keeps you on edge until its bloody climax and finally leaves you exhilarated and gasping for breath.
First seen in London two years ago, the stripped-down, tightly focused production of Arthur Miller's 1955 tragic drama — about a Brooklyn longshoreman whose obsession with his niece brings devastation to his home and community — is currently playing at the Lyceum Theatre. It won Olivier awards in London for best revival and best director as well as a best actor award for its lead actor, Mark Strong, who reprises his role on Broadway.
Van Hove is no stranger to New York. His reexaminations of classic texts, often controversial, have been staged regularly Off-Broadway since the late 1990s. His most recent production was Lazarus — a new work by David Bowie and playwright Enda Walsh, which sold out its entire run in a matter of hours. A View From the Bridge marks his debut on Broadway.
"Broadway is like a mythical place," explains the Amsterdam-based Belgian director. "As a young boy growing up in Europe, when I wanted to be a director, Broadway seemed like the biggest dream. The lucky thing is that I came here with a production that I was totally satisfied with, and something that I deeply loved."
The great success of van Hove's production of A View From the Bridge on both sides of the Atlantic augurs well for this birth centennial of the great American playwright. A week after View ends its limited run in New York, van Hove will return to Broadway with a second Miller revival: a new production of The Crucible, featuring a stellar cast that includes Ben Whishaw, Sophie Okonedo, Saoirse Ronan, and Ciarán Hinds, which begins performances at the Walter Kerr Theatre February 29.
Until now, the American playwright in whom van Hove has professed the most interest has been Eugene O'Neill; van Hove has frequently directed his work both here and in Europe. The director says he was initially reluctant to take on his first Miller play: He had to be prodded into it by his artistic collaborator and life partner of 35 years, scenic and lighting designer Jan Versweyveld. "I admit now very publicly that I was totally wrong about Miller," he says. "I always thought that his plays were a little too politically correct about good and evil. Jan pushed me to read and think about A View From the Bridge again, and I discovered this very rich, layered play. Now I am preparing The Crucible and it's the same — it's a mixture of very ambivalent feelings when you read it. Arthur Miller is my new American hero!"
The key to van Hove's production of View was Miller's comment that he wanted to write a contemporary Greek tragedy based on a story he had heard about an incident that took place in the Italian community of Red Hook, Brooklyn. "It starts a little bit like a domestic drama but it becomes this huge tragedy," notes van Hove. "But if you just get the scenes of naturalism on stage, it takes us a little bit away from the central catastrophe."
To serve the elemental aspects of Miller's drama, van Hove stages the play on a bare, white rectangular platform bounded by a low Plexiglass ledge. "It's a kind of house — the footprint, almost the ruin, of a house," says the director. One of designer Versweyveld's influences, van Hove explains, was a common memory from childhood: "Jan remembered that first time as a young boy when he lifted a rock and discovered all the insects crawling underneath. We all want to know what is underneath. And when you put the stone back, it is gone again." Seating some members of the audience onstage, in tiers on either side of the boxing-ring-like playing area, not only evokes the feeling of a Greek amphitheater (the rest of the audience is conventionally seated in the auditorium), it also heightens the intensity of the action, says van Hove. "It is very near to the actors so it becomes very voyeuristic — it becomes like a community looking at themselves."
The impulse to look under the stone seems to inform a good part of van Hove and Versweyveld's artistic collaboration in general as well. "Our ambition is always to try to bring a text to stage in the most extreme way possible, so that it is revealed in its total truth," says van Hove. This approach has led to some eyebrow-raising stagecraft in some previous van Hove productions: live video following actors outside the auditorium in The Misanthrope, or the notorious bathtub that featured prominently in A Streetcar Named Desire, both produced in New York. Most famously, he brought live cows on stage in his Dutch production of O'Neill's Desire Under the Elms. But the director firmly dismisses those who would label him as a provocateur. "That is never my intention because I am far too serious in my life," he responds. "I live my life only once; just to be provocative would be very superficial for me."
"It always starts from the text, for both Jan and me," van Hove continues. "We not only read the dialog but we read the stage directions very carefully. Eugene O'Neill writes long stage directions, and I love them. But we don't do them literally. You know, authors like Tennessee Williams and Arthur Miller were innovators in their time, in the 1940s and 1950s — not only in the themes that they dealt with but also by their stage directions. But if you do those stage directions these days, they become very old-fashioned. I think a director now has the obligation to — and should — reinvent those stage directions for our time and make them innovative today."
Noting the contemporary resonance of the two plays he is directing, van Hove says, "The issue of immigration is one of the major themes in A View From the Bridge. That's important not only in Europe, but I have followed it in the Republican debates as well. And in The Crucible, there is this mass hysteria, which comes from some very personal and economic reasons. It is not always from the religious reasons that they pretend it to be. You have a society that lives according to very strict rules and people who want to get out of it. You see this all over the world at this moment."
The Crucible was based on Miller's research into a rash of incidents in 17th century Salem, Massachusetts, when several women were put to death after being accused of witchcraft. The play, which Miller wrote in 1953, is viewed as an allegory of Senator Joseph McCarthy's anti-Communist "witch hunts" that were in full swing at the time. Miller himself refused to name names at the committee hearings, but his close friend Elia Kazan became a friendly witness. "Of course, for Miller it was a very personal thing. Everybody knows that — well, my generation knows it, I am 57 now — but that's not a good reason to do the play today. The strength of Arthur Miller is that he was capable of making something that was very personal to him at the moment into something that is universally important even now, over 60 years later."
"He writes about wanting to be a part of a society. That's always what is at stake for him," the director continues. "There is a fabulous line in A View From the Bridge, but also in The Crucible: 'I want my name.' You don't want to lose your public identity. People make fatal mistakes in their private life, and that influences their political lives and ambitions."
When we spoke, van Hove had yet to commence rehearsals proper for The Crucible and he wasn't ready to talk specifics about the upcoming production. But you can bet you won't be seeing reproductions of 17th century New England costumes and settings. "I've never done a historical production, so, no. It is difficult to talk about because it is very abstract," he adds. "The music is by Philip Glass, who has worked a lot in the theater. He looks at the text and he inspires himself of the time when it was written, but he makes his own music out of it. That's the same way I work."
We can perhaps glean a clue to what particularly interests van Hove in The Crucible when he talks about the character Abigail, the 17-year-old who leads a group of girls to testify against the alleged witches in the community; she also has had an illicit affair with John Proctor, the man who stands at the moral center of the story. "She is a very interesting character because, of course, she creates this whole mass hysteria, but she is also a girl in a society that doesn't allow young girls to be themselves," notes van Hove. "Abigail feels that in her relationship with Proctor she was totally respected as a young woman. And then it becomes interesting for me — not just that she wants to destroy the wife of Proctor, which she does at the end, but because there is a very strong psychological reason to do that. And there is Proctor: He wants to be the most virtuous man in the world, but he has this passion for this girl, which he doesn't want to allow himself to have. That is already a very complicated emotional situation. Arthur Miller's characters are not one-sided. Even the small parts are always complex. He really knows what the actors need, I can tell you."
Even if he doesn't exactly know where his rehearsals will take him at this point, van Hove is certain of one thing: "I would like to create a night in the theatre they will never forget," he says. Acknowledging that A View From the Bridge and The Crucible are constructed very differently, he adds that he will have to build "a different kind of energy" for The Crucible. "It is not only about one man, John Proctor. This play is a tragedy about a whole community that really has to look into the mirror and use this crisis to come to terms with itself. That's what I want to achieve: that you are in the middle of this community and you feel deeply connected with it. It is not a story from a long time ago, somewhere in the 17th century, or in the time of McCarthy. It is happening now. And you are part of it."
Mark Strong ...
Spring Preview 20...