Features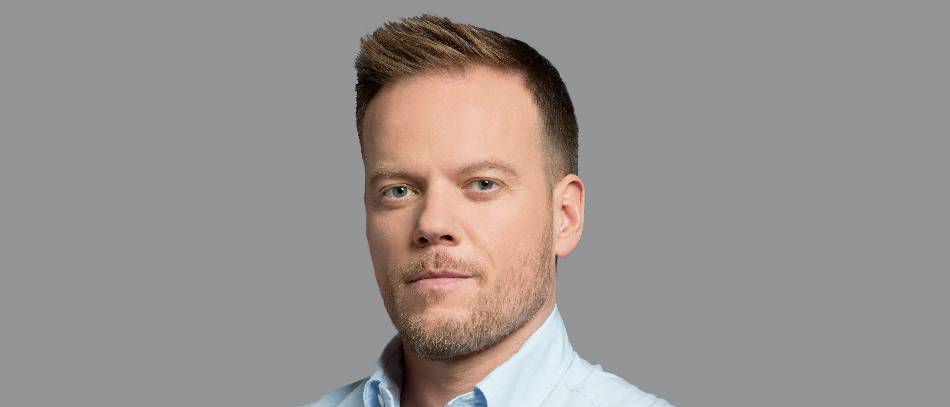 Avenue Q & Pitch Perfect Director Orders Up Laughs in Fully Committed
FEB 9, 2016
Director Jason Moore's comedic vision transformed a show about naughty puppets into the Tony Award–winning musical hit Avenue Q. That same gift turned Pitch Perfect, a small-scale film comedy about a cappella groups, into a surprise smash with a breakout performance by Rebel Wilson. Film success kept him away from Broadway for eight years, but the multitalented Moore is thrilled to be teaming up with Modern Family's Jesse Tyler Ferguson for a 15-week engagement of the tour-de-force comedy Fully Committed. Performances begin at the Lyceum Theatre April 2.
"This is a really fun night at the theatre," Moore says of Becky Mode's script, "a play that makes the audience laugh out loud." Set in the cramped reservations office beneath an ultra-exclusive Manhattan restaurant, Fully Committed centers on Sam, an out-of-work actor who juggles calls from would-be diners as well as the demands of a narcissistic chef, needy coworkers, and his widowed dad. Ferguson switches gears in rapid succession to play a total of 40 roles, including the restaurant's French maître d' and Lebanese business manager and a collection of imperious Park Avenue matrons.
Fully Committed won raves when it debuted Off-Broadway in 1999, and Moore notes that restaurant culture has become even more frenzied — and therefore ridiculously funny — since then. "Chefs now have their own TV shows and restaurant chains," he says, "so we've updated the play to reflect the notion of celebrity dining." The show's fictional restaurant is too upscale for Open Table, leaving tourists and snooty foodies at the mercy of Sam and his reservation book. "The humor comes from observing how people behave under duress," Moore says of competition to snag a coveted reservation. Suffice it to say that socialites such as Mrs. Sebag (pronounced "Seabag") and Mrs. Vandevere do not like to hear the sentence "We are fully committed," a euphemism for "You can't get a table."
Adding to the hilarity are asides about the exotic ingredients and cooking methods favored by 21st century chefs. "Knowing how fast your salmon swam to the restaurant can yield healthy, beautiful food," quips Moore, "but there's also something funny about it. All the crazy things people do with foam and infusions — we want to take advantage of the fact that the culinary arts are advancing in ways that can be funny." As research, Moore and Ferguson have enjoyed a few five-star dinners of their own around town at restaurants Daniel, Jean-Georges, and Eleven Madison Park. "We people-watch and have some lovely food and wine," Moore says, adding with a laugh, "It's been rough."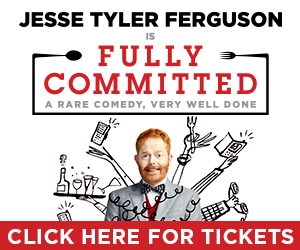 Of course, even the wittiest one-liners ring hollow if the audience doesn't care about the star, and that's where five-time Emmy nominee Ferguson comes in. Having seen the actor's charming performance as 12-year-old Leaf Coneybear in the 2005 musical The 25th Annual Putnam County Spelling Bee, Moore had no doubt that Ferguson could handle "the virtuosic nature of the performance" required in Fully Committed. "Jesse brings an honesty to everything he does. Viewers identify with Mitchell, his Modern Family character, who is similar to Sam in our play. He tries to do the right thing, but every so often he explodes in a fit of rage that's quite funny."
Moore sees Fully Committed as the latest in a series of compelling solo shows on Broadway, including Whoopi Goldberg's starmaking turn 31 years ago at the Lyceum. "It was filmed for HBO, and I became obsessed with it," says the director, a native of Fayetteville, Arkansas. "Whether it's Whoopi or Lily Tomlin or John Leguizamo, a one-person show allows the audience to develop a strong relationship with a performer. It's an intimate experience to see an actor create a character. In Jesse's case, that means watching him change from role to role to role. The audience is going on the journey of the play with him, which is a special experience."
In a career that spans Broadway (Avenue Q, Shrek the Musical), television (Trophy Wife, several pilots in development), and feature films (Pitch Perfect and Sisters, the holiday hit starring Tiny Fey and Amy Poehler), Moore's gift for making audiences laugh has been an enormous asset. "The core of good comedy is finding something everyone can relate to," he explains. "That's what Modern Family does so well: The characters are larger than life, but the situations are universal and make you laugh. Even a show like Avenue Q told a story that was relatable, which sounds ridiculous because the characters were puppets!"
Reflecting on his success, Moore says, "I grew up listening to Les Miz and had the poster on my wall, but I never got to see it until I was 20 and came to New York for the first time." Appropriately enough, after graduating from Northwestern University, he got his theatrical start as resident director of the show he had idolized as a kid. And he always aspired to combine theater and movies, musicals and plays. "The directors I admire most — Rob Marshall, Stephen Daldry, Sam Mendes — work in both theater and film. Twenty years ago, it might have been harder to convince [producers] you could do both, but I think people understand it more now."
Fully Committed allows the bicoastal director to spend a few months in New York, getting reacquainted with the Broadway community and working with an actor he admires. "This is such a great gig," he says. "I get to show up, watch Jesse work on accents and gestures, and laugh all day. It's the most fun rehearsal process I've ever had, and audiences are going to love it."
Hollywood an...
Jesse Tyler Fergu...