Features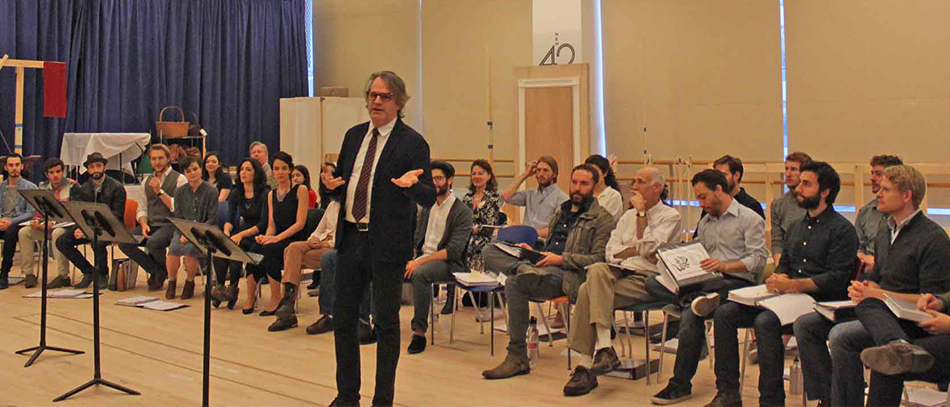 L'Chaim! to an American Musical Theater Classic
OCT 27, 2015
Director Bartlett Sher already has two acclaimed Broadway revivals of classic American musicals under his belt, so it's no wonder that expectations are running high for his upcoming production of Fiddler on the Roof.
Sher's 2008 Tony Award–winning revival of Rodgers and Hammerstein's South Pacific and his current hit The King and I (winner of this year's Tony for Best Revival of a Musical) abundantly display his flair for bringing contemporary relevance to definitive hits from the Broadway musical golden age while also showcasing the elements that generated their lasting audience appeal.
Fiddler on the Roof has proven to be one of the most popular musicals in the American canon — with a score that includes such perennial favorites as "Sunrise, Sunset" and "Tradition." The beloved theater work, with music by Jerry Bock, lyrics by Sheldon Harnick, and a book by Joseph Stein, is based on characters in the short stories written by Sholem Aleichem during the turn of the last century. Its central figure is Tevye, who has five daughters and a disapproving wife. Life for everyone in his little village, a shtetl called Anatevka in 1905 Imperial Russia, is undergoing a radical and catastrophic change. Fiddler became an instant success, going on to win nine Tony Awards and enjoying a record-breaking run of nearly eight years. In the intervening decades it continues to endure as a musical staple both here and abroad.
We recently caught up with Sher during rehearsals for the upcoming production, which begins performances at the Broadway Theatre November 20 and stars Danny Burstein as Tevye and Jessica Hecht as his wife, Golde, with a sizable cast of 38 and a full-scale 22-member orchestra.
As a director, Sher has worked on a wide range of material including classic plays, new musicals, and opera. For him, rehearsals are a means of discovering the historical and cultural context for the work at hand. "I set up all the things that I want to explore and then use the rehearsal process to keep asking question after question, push further and further, and hope that I have made enough big choices that will support the smaller choices and discoveries as I go," he explains. "It does mean that you have to be capable of a lot of quick changing, because you can't totally know in advance, in your preparation, all the things that you are going to be surprised by and discover as you go along."
"The main thing I am always searching for is what is the immediate significance of the revival right now, what makes it important to look at a work of art again," the director continues. "In South Pacific I was exploring our own identity when it came to race; The King and I has a lot to do with the education and repression of women, and the transition from traditional to modern culture. In this case, with Fiddler on the Roof, it really started with the train station in Budapest: this very intense refugee crisis that's going on in Europe right now." The dilemmas faced by Syrian refugees who end up in various European cities echoes the plight of the villagers from Anatevka a full century before, Sher explains. "What happens when you are forced out of your country and you find yourself pushed away from your own culture, lost in the world and trying to find a new place to live?"
"The other major question that I have stumbled upon is transformation," he continues. "Europe is going through an enormous transformation now. People are on the move, ideas are changing quickly, structures are being set up differently, and new alliances are being formed. Fiddler is about how immigrant populations experience their identity. And it is how the succeeding generations re-ask the questions about their identities. What appeals to me is the truth at the center of the stories that can be rediscovered and rethought in terms of who we are — that can really be exciting."
"Tevye is very much an iconic figure because he has a foot in both worlds. He is a deeply religious man, but he has five daughters and he is concerned about their well-being. He sees that the world is changing around him and he has to figure out very quickly how to adapt to those changes."
Much of the preparation that Sher is doing is geared toward transporting the actors (and the audience) to the universe of the Eastern European shtetl of the early 20th century. (He is aided by the same design team he worked with on both South Pacific and The King and I.) "I really would like people to feel like they are going into another world," he says. To that end, he invited experts to talk to his cast and production team: Columbia University's Associate Professor of American Jewish history Rebecca Kobrin, who talked about village life in the Pale of Settlement in Catherine the Great's Russia; Alisa Solomon, author of Wonder of Wonders A Cultural History of Fiddler on the Roof, who discussed Sholem Aleichem and what people in that period were reading and thinking; and Rabbi Lawrence Hoffman, professor of liturgy at Hebrew Union College, who talked about the religious practices and how people thought about God at the time.
The 56-year-old director, the son of a Catholic mother and Jewish father, says he has a very personal connection to this the world of Tevye and Fiddler and the Roof. "I was raised in one of those weirdly assimilated households and I didn't know I was Jewish until I was 14," he explains. "My father was a kind of second-wave immigrant who was in complete denial — he didn't want anybody to know because he didn't think he would succeed in business in America." As Sher steeped himself further into the exploration of the world of the musical, he says, he began to get a better understanding of his own family history.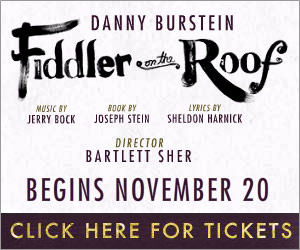 "I had always heard in the family folklore that my grandfather was a horse trader in a small village outside Vilnius in Lithuania, and that he had to leave because the Russians had been oppressing him," Sher recounts. "But I think that industrialization also changed the job by 1922 or 1923, and he was not able to make the same living. So he had to figure out a better way. He moved to Southern California, changed his whole way of making a living, and became a barber. Then he made enough money to bring his whole family over. My father was born in the shtetl in 1920 and arrived in America at the age of 3. He did really well in school and went to Stanford University. That's a huge transformation from 1920 to 1940."
"A lot of things weren't what I thought," Sher continues. "My grandmother spoke fluently in five languages but she never learned to read or write. I used to think that was because she was a very stubborn woman. Now I think it was much deeper than that: I think she felt she shouldn't. She was so traditional that she thought it was wrong, and it was never her place to learn to read or write. That would never have occurred to me before."
When taking on so iconic and popular a work as Fiddler on the Roof, Sher acknowledges "you are always interacting with people's memories, in a good way and in a bad way." He also inherits an indelible template laid down by Jerome Robbins, the director and choreographer of the original production. "I think the piece forever will be dominated by Robbins; I'm in sort of daily conversation with him," he says, gesturing to the open script on his work table. Up until now all productions of Fiddler have been obligated to use the original Robbins choreography; now that has changed. "The Robbins estate has been extremely generous," reports the director. "We are not tied to the choreography at all. But I think Robbins's real impact on the show is more structural and more at the heart of what the story is."
The choreographer for this new production is Israeli-born Hofesh Shechter, who will be making his Broadway debut. "Hofesh was trained at Tel Aviv's Batsheva Dance Company, says Sher. "He is also an extraordinary contemporary choreographer, like Robbins, who has worked with ballet companies all over the world and worked in opera. So he represents this beautiful balance. In 'L'Chaim,' for instance, when you get to the section where Lazar Wolf and the boys are excited, it's very ecstatic Jewish dancing. When we look at the bottle dance, which has become iconic — Robbins actually kind of made that up — we'll preserve that. But we'll be a bit freer with other parts."
Sher says that he is also mindful of how far one can push a musical as classically structured as Fiddler. "This is a piece that is being done in the presence of its creator," he notes, referring to lyricist Sheldon Harnick, the only one of the original creators still alive. (Bock and Stein both died in 2010.) "For now we are there to respect, honor, and elevate his work, so we have to be clear about what its original intentions were. I think he is brave about going to new places, but he also has his own strong feelings about it. That just makes him an extra-great collaborator to have."
Working on Fiddler is "a great exploration of the lessons of our artistic heritage as Americans," Sher continues. "We have had some extraordinary artists working in this form — the American musical — who were very powerful thinkers about what was possible with music, language, and ideas, and who were experimental and kept pushing envelopes. So whether you are talking about Rodgers and Hammerstein, Jerome Robbins, Jerry Bock, Joseph Stein, or Sheldon Harnick, it's a lot of truly extraordinary work."
As he keeps rehearsing the work, Sher says he keeps discovering the strengths of Fiddler on the Roof. "I'm only five songs in, but when you start with 'Tradition' and then do 'Matchmaker,' then 'If I Were a Rich Man,' and then you get to 'L'Chaim,' followed by 'Miracle of Miracles' — it's just an incredible score! The book is very subtle and surprising in its dramatic structure; it goes through turns and corners that you don't expect. And it turns quickly. Right after 'L'Chaim' there is this very interesting scene with the constable, which is quite dark and complicated, and then suddenly you are back in a scene that feels like Chekhov, and then you get 'Miracle of Miracles,' and then you are in the Dream — that's quite impressive structure."
It is possible to draw a common thread through these musical classics that Sher has tackled. South Pacific, The King and I, and now Fiddler on the Roof: They all deal with a shift in traditional thinking. "Yes, they are about enduring change," Sher concedes. "I mean, one of the real great qualities of the best musicals is learning. You can be Nellie Forbush and learn that you can't look at people the same way, or you can be the King of Siam and learn that you have to make deep changes to both protect your culture and to move it ahead. You can be Tevye and you can maybe give up your own world and move to a new place, and still bring who you are with you."
10 Reasons T...
Dressing for Exce...