Features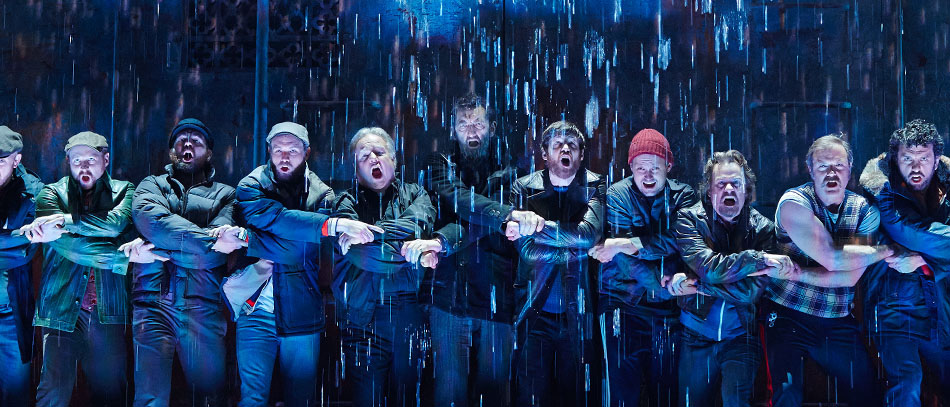 Launching The Last Ship
SEP 30, 2014
Broadway's newest musical, The Last Ship, marks 16-time Grammy Award–winning musician Sting's maiden effort at composing for musical theater.
Producer Jeffrey Seller talks to us about the exhilarating five-year odyssey that brought the musical to its current berth at the Neil Simon Theatre.
"I was the lucky person who Sting and his manager Kathryn Schenker sought out when Sting hatched this idea," says Seller. He and Schenker had previously become instant friends when they first met socially several summers ago. "As I remember it, I said, 'If Sting was ever interested in writing a new musical — a proper one and not a jukebox musical — let me know.'" Less than three months later, he reports, Schenker called to say that Sting was ready to write a musical: He'd been inspired by an article he'd read about shipbuilders in Gdansk, Poland, who built a ship just for themselves. The composer's idea was to make a musical set in his own shipbuilding hometown of Wallsend, in the northeast of England. The workers, whose shipyard is about to be closed, are rallied together by their local priest to make one last ship, this time for themselves, and for their own salvation. "I was moved by that idea and I wanted to know what happens to those men," says Seller, who encouraged the composer to follow his instincts and forge ahead.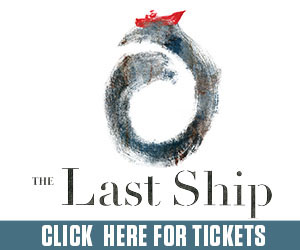 For Sting, writing music and lyrics for a stage musical represented uncharted waters. Seller, on the other hand, is no novice when it comes to navigating musicals successfully to Broadway. Among his credits, he counts three original musicals — Rent, Avenue Q, and In the Heights — all of which received the Tony Award for Best Musical in their respective seasons. "It's not easy to write original musicals," the producer notes. But apparently Sting had developed an understanding and appreciation of the genre at an early age. "If you scratch me I'm a bit of a show-tune queen," he said in a 2013 interview with The New York Times, explaining that he constantly listened to Broadway cast albums when he was boy. (Later, he also played Macheath in the 1989 Broadway revival of The Threepenny Opera.)
"He talked from the beginning about his love for Rodgers and Hammerstein, for Carousel, for Oklahoma," Seller continues. "So from our first meeting together it was clear to me that his comprehension of the musical theater oeuvre was powerful. Soon after we got to work, when he started fleshing out the characters and creating the story, he sent me the first song, 'Shipyard.' It's the song in which all the men in the shipyard introduce themselves and sing very passionately about why shipbuilding is so important to them. I knew then, immediately, that this man can write a musical. He knew how to write a song that tells a story and that illuminates a character; it had some of the qualities of 'Tradition' from Fiddler on the Roof. It stirred me."
Sting has said that writing The Last Ship opened the floodgates of his creativity after going through a long spell of writer's block. "I think, for him, writing for characters other than himself was liberating and inspiring," says Seller. "I am delighted to have played some small part in that," the producer adds, explaining that one of his roles in the ongoing development of the project was finding Sting the right collaborators. "It is putting those artists in the room — a book writer, director, choreographer — in the hope that their chemistry will cause something to be made that is greater than anything any of them could do on their own."
Brian Yorkey, the Pulitzer Prize–winning co-creator of Next to Normal, was the first creative team member to come on board. "Brian was fantastic for Sting," Seller reports. "He worked through with him on the first two drafts of the play, creating the superstructure, the basic plot outline, and the characters." The story now included a second strand: the son of one the shipbuilders who flees the town as a teenager to avoid following in his father's footsteps and returns home, 15 years later, on the death of his father. "He goes through his own healing through that process," Seller explains. "He must come to terms with the world as it is and not as he wishes it to be."
At the same time that he was working on The Last Ship, Yorkey was also busy with writing the book and lyrics for If/Then. When it became clear that the two projects were too big to be handled simultaneously, he parted ways with the The Last Ship, which by then was helmed by director Joe Mantello, a three-time Tony Award winner for direction (Take Me Out, Wicked, Assassins). Playwright and screenwriter John Logan, a 2010 Tony Award winner for Red, then took over the book-writing duties as the musical continued its journey onward.
Describing his feelings about taking on the job, Logan says, "Most of all, I loved Sting's score: It's rich, varied, and very theatrical. Also, I savored the chance to work on a musical with Joe Mantello and explore a story I found moving." (Two seasons before, Mantello had directed Logan's play I'll Eat You Last: A Chat With Sue Mengers.) Logan also felt a personal connection: "The characters in The Last Ship are very real to me. My father went into the shipyards in Belfast when he was 16. When you were poor in Belfast that's what you did; it was a way of life. Those traditions and the passing of that industry have always been a part of my life and, because of our shared history as the sons of shipbuilders, Sting and I both feel the concerns of the show rather deeply."
Both Seller and Logan speak admiringly of the newbie musical composer. "Sting is a student of musical theater, he's a listener, he's passionate, and he is willing to hear the words 'it's not good enough,' or 'it's not the right moment,' and he's willing to go back home and write a new song for the next day. Not willing — he is possessed by a demon to go do it!" says Seller. Adds Logan, "Sting's a total workhorse. He's there all the time and dives in instantly to the new challenges of working on the show."
Following a five-week tryout in Chicago, The Last Ship just arrived in New York for previews with opening night set for October 26. The cast includes Michael Esper as the young man who returns home; Rachel Tucker, his boyhood girlfriend; Fred Applegate, as the priest who inspires the workers; and Jimmy Nail as the shipyard foreman. "I think we've built a musical with a big heart and without winking irony. It's adult and emotional," says Logan. Tracing a common theme that links the current show with his previous three musicals — Rent, Avenue Q, and In the Heights — Seller says, "I'm always attracted to stories about community and the power of community to affect and change for the better our lives. One of the qualities of the show — this is a personal opinion — is that it is a traditional theater score, but is unmistakably Sting. I think the way he threaded that needle is exemplary because it has as voice of its own. For me as a producer I'm always looking for a sound I have never heard before. That is thrilling."
#ThrowBackTh...
#TGIFTunes - Broa...