Features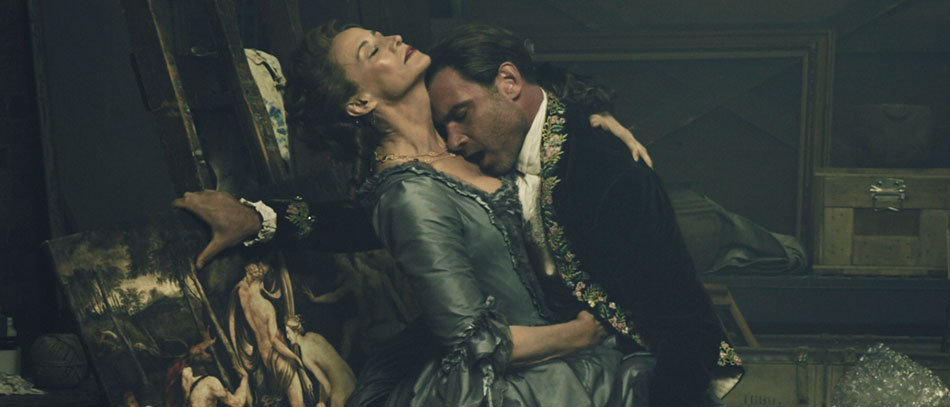 Les Liaisons Dangereuses Makes a Sizzling Return to Broadway
OCT 13, 2016
Love is a battlefield for the two bored French aristocrats played by Tony Award winners Janet McTeer and Liev Schrieber in the current revival of Christopher Hampton's Les Liaisons Dangereuses.
Director Josie Rourke's Donmar Warehouse production from London, which began performances this week at the Booth Theatre, marks the third staging of the sexually charged drama on Broadway since its acclaimed debut three decades ago.
In Les Liaisons Dangereuses, the Marquise de Merteuil and Vicomte de Valmont, former lovers and experts at elaborate games of sex and revenge, plot the seduction of a virgin as well as the moral undoing of a respectable married woman.
Casting McTeer as the scheming Merteuil and Schreiber as the licentious Valmont was a "no-brainer," says Rourke, who is also the artistic director of London's Donmar Theater. (McTeer played the role in the London production as well, receiving an Olivier nomination this year for her performance.) "They are the two best actors on the planet; why wouldn't you want them?" says the director. "Also, they are both titans, in terms of their acting athleticism, expertise, flexibility, presence, and size — they are very tall. There's something incredible about matching them on stage that is thrilling to me."
Playwright Hampton adapted the drama from an 1782 novel written by Choderlos de Laclos, which scandalized the ruling elite of pre-Revolutionary France. Hampton says he fell in love with the book when he was 19 years old. "I think it was the psychological acuteness of it," he recalls. "As a young man reading it, it felt like an education manual about sex, apart from anything else. It really was very precise and profound about the subject one is most interested in at that age. The other thing was the unprecedentedness of the character of Merteuil. I mean, there are lots of male villains in literature, but she was really the first female Iago — a formidably intelligent, scheming, destructive woman."
"It's wonderful to be able play such a rounded, complicated, amazing character," says McTeer. The English actress recently captivated New York audiences when she played Petruchio in an all-female production of The Taming of the Shrew in Central Park this summer. "To go from strutting around pretending I've got balls, hunching my shoulders, jutting my chin, and feeling like I could punch anybody, to this very feminine physicality in every sense — it still makes me laugh every day," she says. "It is extraordinary that I'm doing these two things in one year. I mean, what a playground!"
And, of course, McTeer has lots to play with in Les Liaisons: "Merteuil is so playful, so damaged, and she is witty and yet, at the end, she is also tragic. Because she is controlling and damaged, she ends up destroying herself and the man she loves. And you get to wear great clothes. And the language is just so amazing! She absolutely is the person who is manipulating everybody else. And so is Valmont," the actress continues. "He goes off trying to sleep with everybody, trying to have his cake and eat it. They are both so dreadful to everybody else, and yet, somehow you feel sorry for them. That's why it is such a great play."
Hampton's piece is regarded as a modern classic today; the playwright also won an Oscar for his 1988 screen adaptation, Dangerous Liaisons. But he says he faced an uphill struggle to get it staged in the first place. He proposed a stage adaptation of Laclos's epistolary novel to London's National Theater in the mid-1970s, but he was turned down because the two main characters never actually meet in the book. Hampton did, or course, intend for them to have scenes together in the play, but it would take another eight years before he could interest anyone in his dream project.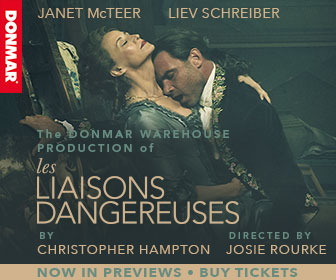 Eventually, after receiving a commission for an unspecified work from the Royal Shakespeare Company, he grabbed the opportunity and delivered Les Liaisons to them in 1985. "The play had been marinating for a really long time — I had been making notes and so forth — so I actually wrote it pretty fast, in about seven weeks," he recalls. He met the challenge of dramatizing a book of letters, he explains, by creating a gigantic chart to show where everybody was at which point in the novel. "It sounds sort of silly now, but I just shifted the characters around and made a new timeline in which the characters would meet and play the scenes that they described to each other in their letters. There was a great freedom about having this wonderful plot so I could focus all the energy into the dialogue."
Despite Merteuil and Valmon's lethal sparring, director Rourke describes the play as a "deep love story" between them. "It's a profound argument, pretty visceral and often cruel but also very beautiful, about the devastating power of love," she notes. Hampton recounts that Laclos had actually defended himself against critics by claiming that he had written a very moral book because the wicked got punished, and that his intention was to describe a woman who was incapable of love. "But I don't think he was telling the truth," Hampton argues. "I think the tension and drama of the whole thing is that really she is in love with Valmont and can't help it," he explains. "It is the one flaw in her armor, just as the thing that destroys Valmont is that he actually falls in love; he does something decent and it destroys him. I mean, they have this perfect system and both of them are undermined because they deviate from the system. They both fall in love."
Les Liaisons turned out to be a surprise hit when it made its debut in London, going on to enjoy a five-year run in the West End. Hampton speculates that the play may have tapped into the zeitgeist of the 1980s: "It was Thatcher and Reagan and really a time of institutionalized selfishness, where people were told it was right to grab everything they could." It's tempting to draw contemporary parallels. "I have a feeling that we are slightly in that phase now — if we are looking at Donald Trump saying, with a completely complacent face, the fact he didn't pay any taxes shows how smart he was," says Hampton. "Interestingly, when we did the play this time round in London at the beginning of this year, it suddenly seemed more specifically about the 1 percent."
"I think what's hardwired into the whole play is the unsustainability of the pace and the wealth in the life that the characters lead," notes the director. "I'm interested in that unsustainability being really a big metaphor for the unsustainability of this relationship Merteuil and Valmont are trying to hold together — this arrangement, which maybe is in some sense a denial of their love for each other."
A World of P...
The Showman and t...
You might also like: