Features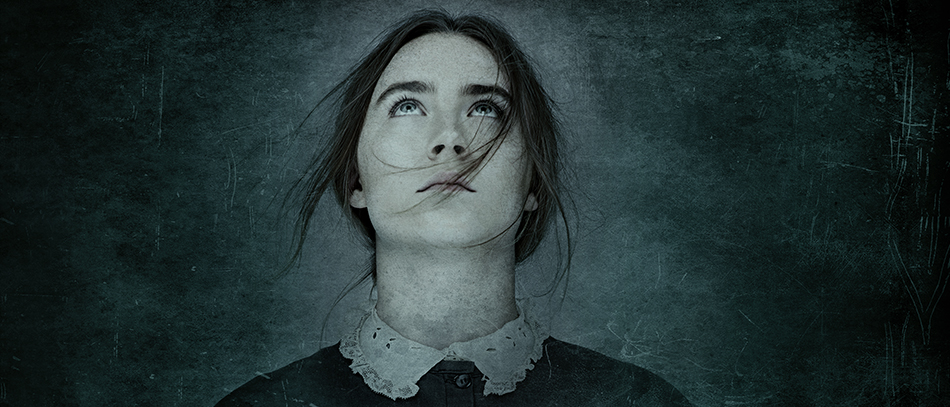 Mark Strong and Saoirse Ronan on the 21st Century Power of Arthur Miller
JAN 12, 2016
When Mark Strong and Saoirse Ronan were approached to star in revivals of A View From the Bridge and The Crucible, they felt an immediate connection to Arthur Miller's modern classics. This is great news for audiences who get to see these charismatic stars make their Broadway debuts in productions that reveal the visceral heart within two classic dramas.
"Coming to New York in this play has been an incredible experience," says Strong, who won London's Olivier Award for his shattering performance as Eddie Carbone, the Brooklyn dockworker whose romantic obsession with his teenage niece leads to catastrophe. A View From the Bridge opened to universal acclaim at the Lyceum Theatre in a limited engagement through February 21, a week before The Crucible begins previews at the Walter Kerr Theatre. Helmed by visionary Belgian director Ivo van Hove, both revivals are a bracing reminder of the 21st century relevance of a playwright born 100 years ago.
Staged in a white box set with no scenery, the actors barefoot and in modern-day street clothes, A View From the Bridge keeps the audience in suspense even as it speeds toward a tragic conclusion. "People think, Oh, I know that play," says Strong, "but by laying the story bare, we can present the emotion of the characters in a new way. There's something fundamentally epic in this little tale of a man and his wife and his niece, which is a testament to Arthur Miller's writing."
Prepping for her professional stage debut in The Crucible is Saoirse (pronounced SER-sha) Ronan, the 21-year-old Irish actress currently collecting best actress awards and nominations for her luminous performance in the feature film Brooklyn. Twelve-time Tony Award–winning producer Scott Rudin approached Ronan about the pivotal role of Abigail Williams more than a year ago, after working with her on the hit film comedy The Grand Budapest Hotel. "The timing was perfect," she says in her lilting accent. "I had always said I would be ready to do theater when I was 21 or 22, and The Crucible is an incredible piece."
Inspired by Miller's dismay over anti-Communist hysteria in the early 1950s, The Crucible centers on the 1692 Salem witch trials. Abigail, the orphaned niece of the town minister, becomes the leading accuser of witchcraft after farmer John Proctor (to be played on Broadway by Ben Whishaw) ends their romantic dalliance.
"When I first read the play, Abigail reminded me of a character I played years ago in Atonement," says Ronan, referring to her Oscar-nominated performance at age 13 as a girl spurred by jealousy to accuse her sister's lover of a crime he didn't commit. In this case, however, Abigail is fully aware of the consequences of inciting a frenzy among the devil-fearing folks of Salem. "I like the fact that she's got this strong spirit and will do whatever she has to do to achieve her goal," Ronan says. "She's the antagonist, but with so many layers to explore."
Eddie Carbone also becomes a villain, but Strong sees the character as a protector of his niece rather than a predator. "We were asked to learn our lines before the beginning of rehearsal," he explains, "and by studying the play in isolation, all I could see was a man who had promised his dying sister-in-law that he would take care of her child. He doesn't have the education or the emotional understanding to realize he is destroying everything while trying to make it better."
A familiar face from films including The Imitation Game, Kingsman, and Zero Dark Thirty, the British-born Strong, now 52, met Arthur Miller in 1996 while playing Biff in a London revival of Death of a Salesman. "He read the characters with us one afternoon," the actor recalls, "and we kept asking, 'How should this be done?' He always answered, 'Do what you want with it.' In a way, I feel like I have his blessing now."
Though he's giving a mesmerizing lead performance in A View From the Bridge, Strong insists, "I see myself as a character actor. I've never taken parts because I think they'll help my career, so I've ended up doing science fiction characters like Sinestro in Green Lantern, the head of the Jordanian Secret Service in Body of Lies, and a very British spy in Tinker Tailor Soldier Spy. The mix has been great, and that's what I always wanted as an actor." He and his wife, film producer Liza Marshall, and their two sons have loved living in New York while he plays a quintessentially New York character.
Ronan, meanwhile, laughingly marvels at her good fortune in jumping from Brooklyn, a moving film about an Irish girl's quest for a new life in America, to The Crucible, a very different immigrant story. "It's mad that these two huge things are happening at the same time," she says of awards-season hoopla. "I have a great stylist who has planned [outfits] months in advance, and my mom is making me cups of tea and keeping me on the straight and narrow."
More seriously, Ronan explains the pull she feels when reading The Crucible. "The idea of the American Dream has always fascinated me," says the actress, who was born in the Bronx to Irish parents and retains dual citizenship. "Like fame, it's not real, but that's what the people who made their way over to Salem were trying to create. They counted on religion to give them answers and felt threatened by things they didn't understand."
Joining an international cast — including Ben Whishaw, Ciaran Hinds, Tavi Gevinson, and Tony winners Sophie Okonedo and Jim Norton — under van Hove's direction is especially exciting to Ronan. "It's a lovely group," she says, "and I can't wait to go into a rehearsal room and work on the play with them and with Ivo. I saw A View From the Bridge in London, and I was amazed at little moments that put the audience on edge. Imagine what he's going to do with The Crucible!"
As Ronan gets set to experience the connection with a live audience for the first time, Strong savors "doing this character in this play" on Broadway. "Theater often can be 'OK or 'interesting,' but occasionally something comes along that justifies why we still need to go into a room, switch the light off, and watch a bunch of actors pretend to be other people. In Miller's plays, you look at the characters and think, Is he doing the right thing? What would I do? You're exploring your own morality, your own ethics, and what it means to be human."
Steve Martin...
Director Ivo van ...
You might also like: