Features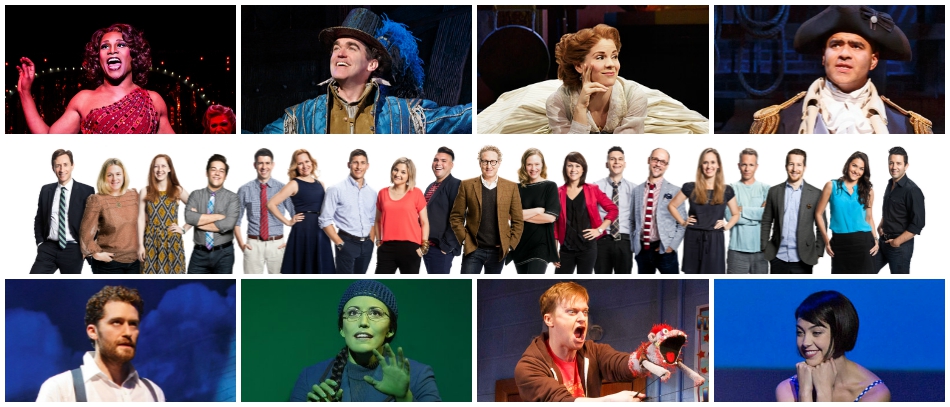 Masters of Casting: Behind the Scenes at Telsey & Company
AUG 18, 2015
On a steamy summer morning, the waiting room at Telsey & Company is packed with actors holding head shots and flipping through scripts.
Auditions for Wicked, Kinky Boots, the forthcoming Broadway musical Tuck Everlasting, and Ikea are currently in progress in separate studios within the headquarters of this top casting outfit, founded in 1988 by Bernard Telsey. A whopping eight current Broadway hits (Hamilton, Something Rotten!, The King and I, Finding Neverland, An American in Paris, Kinky Boots, Wicked, and the play Hand to God) feature actors assembled by Telsey casting directors, who juggle assignments on and off Broadway and in regional theatres, film, television, commercials, and voiceovers.
Amid the would-be Elphabas and scampering child actors, Bernie Telsey and his associates Will Cantler and Tiffany Little Canfield take a break to chat about the excitement of discovering new talent. "I don't know if I pictured this," Telsey says of his bustling office and staff of 22, "but I did picture working in all areas of entertainment. I come from the theater, but I didn't want to get pigeonholed. By casting in every medium, we get to know more actors, and that's how we stretch ourselves."
To succeed as a casting director, an encyclopedic knowledge of actors obviously is helpful, but even more important, says Cantler, is "a passion for the art. We go to the theatre, we watch a lot of movies and television, and we are constantly falling in love with new projects and performers, as well as discovering new things about actors we already know. It's that passion and willingness to fall in love over and over again that drives us."
Film comedies tend to parody casting directors as stone-faced meanies who lord over terrified actors, but Telsey and his associates give off a much more sympathetic vibe. Tiffany Little Canfield, whose résumé includes the feature film Into the Woods, TV's Masters of Sex, and Broadway's Rock of Ages, strives to demystify the audition process. "Being open to the actor is a huge part of our job," she says. "I try to warm up the audition room and make it positive so that actors are not walking into a scary place."
There's a freewheeling atmosphere at Telsey & Company, as staffers seated in an open floor plan trade ideas for each other's projects. "I might be working on a Broadway play," says Cantler, "and the person next to me is working on an Off-Broadway play, Tiffany's working on a TV show, and Bernie's working on a movie. None of this is happening in an isolated way."
Of course, in an office where literally tens of thousands of résumés are on file, there's no getting around the long odds of landing a coveted role. "We're in a field where rejection is going to happen nine times out of 10," notes Telsey. "Actors have to accept it as part of the job. But we tell them not to feel [personally] rejected." Adds Little Canfield, "We've had directors cry when they've fallen in love with the top four people, but only one can get the job."
Telsey himself began as an actor more than 30 years ago when he understudied Matthew Broderick on Broadway in Brighton Beach Memoirs. After interning in a casting office, however, the NYU grad concluded he was better suited to helping more talented performers find work. (In a full-circle moment, Cantler recently cast Broderick in the fall 2015 Broadway production of A.R. Gurney's Sylvia.)
In 1996, Telsey cemented his reputation for identifying potential stars when he cast the original Off-Broadway production of Rent, featuring Anthony Rapp, Adam Pascal, Idina Menzel, Taye Diggs, Jesse L. Martin, and Daphne Rubin-Vega. More recently, his company has championed Annaleigh Ashford, who rose from the ensemble of Legally Blonde to Glinda in Wicked, a Tony-nominated turn in Kinky Boots, and 2015 Tony win for You Can't Take It With You. Next up: the title role in Sylvia. "We joke that we've put her in every movie we've cast, even if it was one line," Telsey says of Ashford. "Everyone knows her now as the Tony-winning star of Masters of Sex, but I felt the same way about her when she was in the chorus."
Since branching into television with the Emmy-winning casting of Ugly Betty, Telsey & Company has brought dozens of theater actors to the small screen in NBC's Broadway-centric Smash and live presentations of The Sound of Music and Peter Pan. On tap for the coming season are NBC's The Wiz and Fox's Grease: Live, with Telsey discovery Aaron Tveit (Next to Normal, Catch Me If You Can) as Danny Zuko. "It's been a producorial and directorial learning curve," Telsey says of live TV musicals, "but it's great that the networks are reinventing the form and bringing these shows to a national audience."
In addition to their busy lives as casting directors, Telsey and Cantler serve as co–artistic directors (with Robert LuPone) of MCC Theater, a leading Off-Broadway company that presents contemporary plays by Neil LaBute, Simon Stephens, Michael Weller, and many others. "They're completely separate jobs, but they feed each other," Telsey says of running a theater company. "We work with actors and directors differently at MCC, which helps us grow as artists and collaborators."
Reflecting on why casting is crucial to the success of any project, Telsey explains: "It's the way the audience connects emotionally with the show. The story, the direction, and the design are important, but it's the characters who go on the journey that the audience is supposed to follow. If the actors don't hook you in emotionally, it's over."
That constant search for the perfect marriage of actor and character keeps these casting pros engaged even in their second (or third) decade on the job. "Sometimes when I head to the elevator at lunchtime, I look at the people in our lobby and get excited," says Cantler. "There's Jessica Hecht talking to Betsy Aidem about a play; girls are lining up to audition for Wicked; Stark Sands is waiting for a meeting about a film. They're all in this room, and it's just thrilling."
An American in Paris
,
Behind the Scenes
,
By Kathy Henderson
,
Finding Neverland
,
Hamilton
,
Kinky Boots
,
Something Rotten!
,
Stars
,
The King and I
,
Tuck Everlasting
,
Wicked
American Ido...
Matthew Broderick...