Features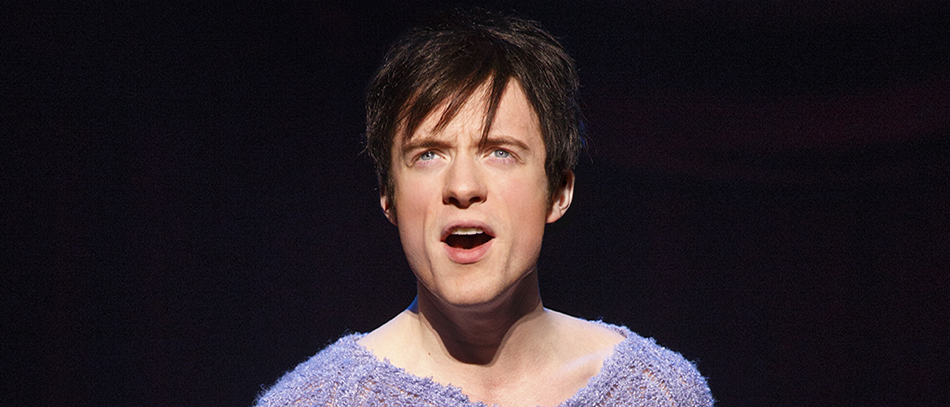 Meet Broadway's New Pippin: Matthew James Thomas
FEB 4, 2013
"Sorry, are those piano notes bothering you?"
Matthew James Thomas is having his piano tuned. And he wants to make sure he can be heard over the plinking sounds.
That piano will get a workout over the next few months. This is where Thomas, an open-faced 24-year-old from the United Kingdom, will prepare for the title role in Pippin. That beloved 1972 musical will get its first Broadway revival starting March 23 at the Music Box Theatre.
He's also writing a new musical with a partner back in the United Kingdom ("Skype has been a big part of my life") and working on some new pop songs with the Spring Awakening composer Duncan Sheik. But his main job will be preparing to play Pippin, a role he performed during the revival's pre-Broadway run at the American Repertory Theater in Cambridge, Mass.
It was at A.R.T. that the director, Diane Paulus (Hair, The Gershwins' Porgy and Bess), developed her new concept for the Stephen Schwartz/Roger O. Hirson musical. Paulus has melded an approximation of the famous original Bob Fosse choreography with a dizzying array of circus stunts – trapeze work, tumbling, tightropes and much more – created by the acclaimed Montreal circus troupe Les 7 Doigts de la Main, or 7 Fingers.
As a result, this Pippin, the firstborn son of Charlemagne, has more to worry about than performing a believable role and singing such well-known Schwartz songs as "Corner of the Sky" and "Morning Glow." "I have such a crazy, fun time on this show," Thomas says. "I climb poles, I get thrown about, I walk this tightrope. This is a lot more about physical strength" than his previous role, which was playing the title role twice a week in Spider-Man: Turn Off the Dark.
Even with all the physical derring-do at A.R.T., Thomas promises that "they have a few more thrills to add." Still, he says Paulus and the entire creative team have made sure not to lose sight of the piece's human element. "The first thing we did in rehearsal was have a big group-talk about what this Pippin was going to be. Diane had all of us do a group presentation on who our player was and what his goals were. And everyone did it, from [co-star] Terrence Mann to the dancers to the acrobats. You don't stop learning as you do this piece."
Despite knowing much of the music – "I mean, who doesn't know those songs?" he asks – Thomas had had little exposure to Pippin when he was asked to audition for the A.R.T. production. "I told a fellow cast member, Luther Creek, about the audition backstage at Spider-Man one night. And he almost missed his cue! That's how excited he was to describe the character and the show and the plot and everything else."
Thomas can relate to that level of excitement. Long before he appeared on the British television series "Britannia High" or Spider-Man, he was a child actor who appeared in a number of West End shows. His first big role was as one of the urchins in a West End revival of Oliver! "I was 8 at the time," he says, "and I still remember the thrill of my first appearance on stage, of standing under a trap door and waiting for the red light to turn green and the stage manager to say, 'Get up there, go!'"
"And that thrill still hasn't gone away."
Click here to purchase tickets to Pippin on Broadway.
Broadway Mee...
Broadway Goes Gre...
You might also like: