Features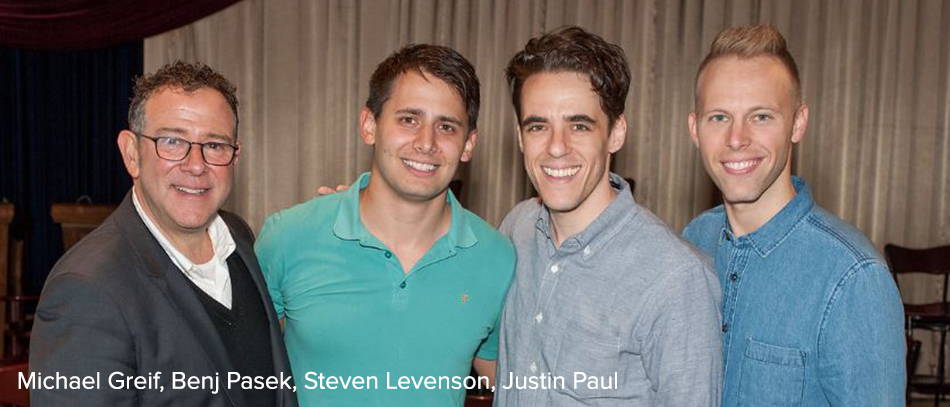 Michael Greif on Directing the Thrilling New Broadway Musical Dear Evan Hansen
NOV 1, 2016
Dear Evan Hansen is a remarkable musical on multiple levels, boasting a gorgeous contemporary score, a funny and moving script, and a star-making title performance. But the real miracle of this completely original show, which begins performances at Broadway's Music Box Theatre on November 14, is the multigenerational appeal of its emotion-packed story.
The show centers on 17-year-old Evan, who feels invisible, "on the outside always looking in," as he sings in the poignant ballad "Waving Through a Window." When a letter he writes to himself falls into the wrong hands, thrusting him into a central role in another family's tragedy, Evan's response sets in motion a series of life-changing events. Luckily for the creative team, three-time Tony Award nominee Michael Greif, a specialist in directing new musicals, guided Dear Evan Hansen through two acclaimed productions on the way to Broadway.
"Actually, I interviewed for this job and felt really fortunate to get it," says Greif, a startling admission from the director of two musicals that received the Pulitzer Prize for Drama (Rent and Next to Normal), as well as Grey Gardens, the twisty tuner If/Then, and the forthcoming Broadway bow of War Paint starring Patti LuPone as Helena Rubinstein and Christine Ebersole as Elizabeth Arden. "It's wonderful to go through an interview process because, by the time you start working, you've already made connections with the writers and can proceed with confidence that everyone sees the piece in the same way."
In the case of Dear Evan Hansen, Greif found himself drawn to the plight of the show's anxious young hero. "What spoke to me was how we all yearn to create better lives for ourselves," he says. "Some of us have the ability to make those changes; some of us aren't as fortunate. But I thought that everything Evan does in this play had real emotional credibility. The most attractive aspect of his personality is that he wants to do better. He recognizes his limitations and actively works on them."
In a spectacular marriage of actor and role, Evan has been played from the beginning by Ben Platt, known to moviegoers for the a cappella musical Pitch Perfect and to Broadway fans for his stint as a wide-eyed missionary in The Book of Mormon. "It's already a cliché to talk about Ben's great instincts," Greif says of Platt's beautifully sung and acted performance, one that balances humor and longing. "He can find the truth in any comedic moment and also navigate the darkest terrain. His performance is like an unpeeling: Layer after layer is taken away until Evan has to confront his greatest truth and his greatest fear. Ben does all that with naturalness, spontaneity, and generosity to the other people on stage."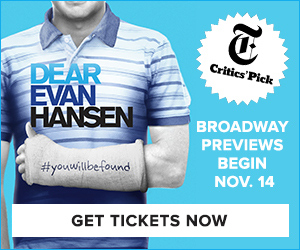 Far from a one-man show, Dear Evan Hansen gives plenty of stage time to Evan's overworked single mother; his dream girl, Zoe, and her family; and a couple of colorful classmates. Greif marvels at the ability of composers Benj Pasek and Justin Paul (Tony nominees for A Christmas Story) and book writer Steven Levenson (a playwright and staff writer for TV's Masters of Sex) to craft characters every audience member can relate to. "It's uncanny how they've been able to get into the minds and the hearts and the motivations of these people," observes Greif, in real life the father of a 17-year-old daughter and a 20-year-old son. "As I watch the show, I alternate between identifying with the children and the parents. Justin and Benj have managed to find the appropriate musical expression for each character, with an incredibly fresh, contemporary sound."
Dear Evan Hansen arrives on Broadway 20 years after the electrifying instant success of Rent, which Greif developed with writer/composer Jonathan Larson, who died the morning of the show's first Off-Broadway preview. "What Rent afforded me was the opportunity to pursue projects I really wanted to pursue," the director says now. The through line that links Rent, Grey Gardens, Next to Normal, and Dear Evan Hansen is Greif's affection for shows about outsiders. "Identity stories," he clarifies: "I'm interested in pieces about how you become yourself. And I've come to understand that for a musical to succeed, the emotional stakes need to be at a peak. What I find so extraordinary about this musical is that, at the same time those peaks are achieved, your mind is always engaged and teased, and you're aware of two things happening at once."
Indeed, Greif and the Dear Evan Hansen creative team pull off the neat trick of keeping the audience in suspense as to how the young hero's dilemma will be resolved. "I enjoy being the audience's link and guide through a complicated story," says the man who directed a show in which a lead character turned out to be dead (Next to Normal) and one featuring story lines that played out in two alternate universes (If/Then). "I'm attracted to material that needs to be clarified, and this script keeps turning and twisting in a very sophisticated way."
By the final scene, Dear Evan Hansen has explored universal themes of love, loneliness, grief, forgiveness, and the desire to belong; pondered the power of social media; and examined the limits of parental love. "This material is so rich," says Greif, "and I'm pleased that more people will get to see it on Broadway. Everyone who comes will recognize themselves in it, and recognize the modern world. It's a life-affirming story about how to withstand great crisis and move on."
Alain Boubli...
Dear Evan Hansen:...