Features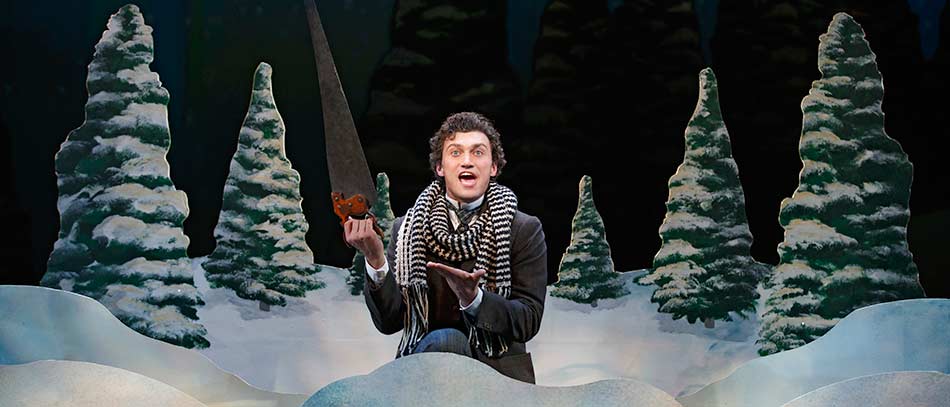 Murder Most Fun
MAR 18, 2014
Bryce Pinkham is the most loved serial killer on Broadway.
Every night, Bryce Pinkham kills off a bunch of English aristocrats while the audience happily cheers him on in the hilarious new Broadway musical A Gentleman's Guide to Love & Murder. (The current death toll is 1,000 and counting.) And when he's not plotting or committing murder in the show, Pinkham is busy romancing not one but two ladies on stage during the course of the evening's entertainment.
In the musical comedy written by Robert L. Freedman (book and lyrics) and Steven Lutvak (music and lyrics), Pinkham plays Monty Navarro, a disinherited scion of the wealthy D'Ysquith clan who is determined to eliminate the eight heirs who stand between him and the family title. His victims — both male and female — are all played by the irrepressible Jefferson Mays, who employs a dizzying succession of lightning-quick changes to portray each doomed aristocrat.
On stage for almost the entire length of the performance, it's no surprise that Pinkham says that by the end of the show, he feels like he has just completed a sports event. "It's quite a workout," says the actor when we catch up with him in his dressing room at the Walter Kerr Theatre. "It reminds me of playing a soccer game. There are two halves, both straight through for 45 minutes. And you come off the field feeling, 'Wow! I just left it all out there.' So it is a challenge, when getting ready to do the show, to find the right balance of not warming up too much but also warming up enough so that I am ready to sustain the next two and half hours."
The writers of Gentleman's Guide once described their show as a cross between My Fair Lady and Little Shop of Horrors; Pinkham has his own take on the confection of murder and manners, which is inspired by a 1907 English novel by Roy Horniman. "I always tell people it's as if Gilbert and Sullivan were bored one night and got Charles Dickens to come over and watch the entire first season of Downton Abbey with them. Then they take a hit of laughing gas and write a musical all through the night," he says, laughing. "Jefferson has a more eloquent way of saying it, which is that it's a love letter to musical theater traditions on both sides of the pond," he adds. "I think it has influences of Gilbert and Sullivan, Sondheim, certainly opera — there is Rossini, some Mozart — and then, of course, Edwardian stage drama as well. But what is so great is that it feels fresh and written in our time period. The lyrics are clever and engage a modern audience. The show demands your wit and that you actually lean forward and listen to the story and the words, which we find the audiences are actually doing with great delight every night."
Born and raised in the Bay Area, Pinkham says he didn't initially plan on being a professional actor. When he was a kid, however, he was sent to a theater group on the recommendation of a first-grade teacher, who told his parents that they might want to find some outlet for "Bryce's reckless creativity," he reports. Later on, he says, "doing musicals was fun — it was where all the girls were — but I never imagined that I was on a professional track. But then halfway through my undergraduate experience, I said to myself, I'm going to regret it if I don't this seriously." So he went to Yale School of Drama, from which he graduated a little more than five years ago. By coincidence, Mays went Yale College. Since graduation, Pinkham's New York theater credits have included Horton Foote's nine-hour marathon, The Orphans' Home Cycle; the Broadway transfer of Bloody, Bloody Andrew Jackson; and Ghost: The Musical. "If you had asked me five years ago what actors I would want to emulate, work with, and whose careers I would die to have, Jefferson Mays was without a doubt on the top of that list. So to be able share the boards with him at all, let alone in this way, where he's supporting me and I'm supporting him, it really is a dream come true."
Describing his partnership with his costar, Pinkham says, "Jefferson and I have really worked very hard to make sure that we are working in tandem to tell the story and that our styles match up in a nice way. We have really found our sense of camaraderie on stage. To use another sports reference — I played a lot of sports growing up — I think of myself mostly as the pitcher at the home run derby who just has to send these beautifully timed, perfectly paced and placed fastballs for the slugger to knock out of the park. It's about finding the right balance in the comedy: when to support Jefferson and when to take the lead. And that usually has to do with where we are in the show, what game we are playing at that moment, etc. We each have a fair share of the burden to bear, and it is nice — I mean, it is beyond nice. It is an embarrassment of riches to be able to turn upstage and have Jefferson Mays take the punch line and knock it out of the park."
When he's not sharing the stage with his chameleonlike co-lead, Pinkham is playing love scenes with his mistress, Sibella (Lisa O'Hare), and his fiancée, Phoebe (Lauren Worsham). In one memorable second act musical number, he juggles both women at the same time, keeping them apart in adjoining rooms with all the dexterity of a classic door-slamming farce. "The staging, the characters, the story, the lyrics, and the music all meet in this unavoidable collision of events — only a song could take place there," he remarks. "That song is a perfect example of when musical theater works the best and I look forward to that moment every night."
"Physical comedy is something that I have always been drawn to," the actor continues. "I think that has to do with my growing up as an athlete." Pinkham says he also has a love for clowns and he teaches a clown class at New York University's Meisner Studio. Charlie Chaplin is one of his idols and a poster of Buster Keaton hangs on the wall of his dressing room in the theatre. "It's really more the European tradition, sort of in the realm of Bill Irwin," he explains. "And it's perfect for me in this part. My goal is to make the audience root for Monty. I think they will do it naturally, but I want to help set up from early on that Monty is on their side and the D'Ysquiths are on the other. The clown is always in contact with the audience and he knows he's doing well when he gets the feedback that sounds like this: ha, ha, ha, ha, ha! Also, there is a certain joy that I think the clown brings out with him every time, and that comes in very handy for Monty."
"One of the things I try to impart to my students," he continues, "is that if you are enjoying yourself, the audience will enjoy you enjoying yourself. So if you can bring that spirit to a production and if it fits the part, as this one does, it's a perfect match."
---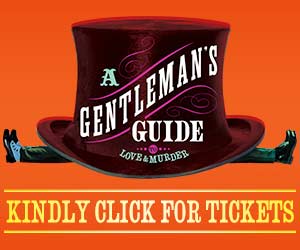 What Heather...
Tricks of the Tra...
You might also like: