Features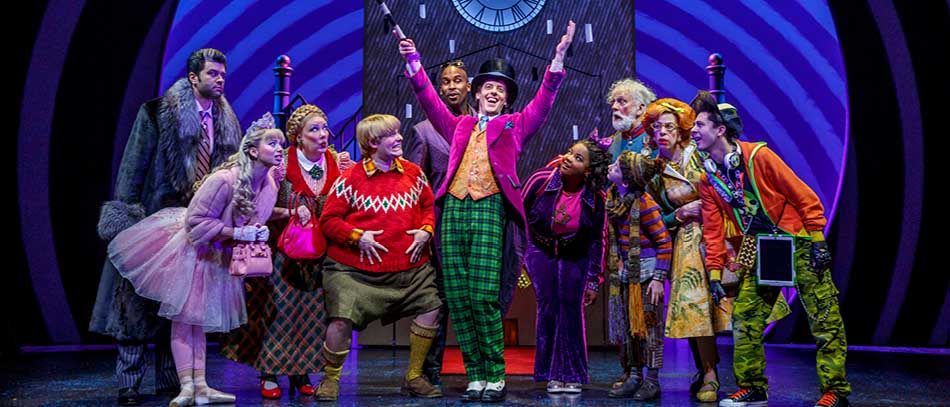 Oompa-Loompa! All About Charlie and the Chocolate Factory's Wee Workforce
MAY 8, 2017
Among the many delicious elements in the hit musical Charlie and the Chocolate Factory, Willy Wonka's loyal Oompa-Loompas inspire waves of delighted laughter every time they take the stage at Broadway's Lunt-Fontanne Theatre.
Roald Dahl's army of diminutive candy workers comes to sophisticated life thanks to the visionary collaboration of director Jack O'Brien, choreographer Joshua Bergasse, and puppet designer Basil Twist.
"Two things were important to me in creating the Oompas," says O'Brien, Charlie and the Chocolate Factory's three-time Tony Award–winning director. "I wanted the audience to see what we're doing — to show them the trick so they can play along. And I wanted to build on the personalities of the performers and let their talent shine through. The minute we got into the rehearsal room with Basil and Josh, I knew we could do it. The entire process was filled with joy. I have never laughed so hard in my life!"
Broadway Direct was sworn to secrecy on the details, but it's safe to reveal that the Oompa-Loompas are played by "humanettes," a clever and wildly imaginative hybrid of puppet pieces crafted for use by the show's average-size ensemble members that truly must be believed to be seen.
Before Twist (yes, that's his real name), a MacArthur "genius" grant recipient, came on board, Bergasse began choreographing musical numbers for the Oompas set to four new songs by Tony winners Marc Shaiman and Scott Wittman, as well as the "Oompa Loompa" song from the beloved 1971 film adaptation. Later, the Tony-nominated choreographer of On the Town "puppe-fied" the routines, explaining, "We realized that there are certain things a human being can do that a puppet can't, and vice versa. That was part of the challenge."
In Dahl's beloved tale, first published in 1964, the Oompa-Loompas keep Willy Wonka's sweets factory humming while slyly chiding the four spoiled children who arrive bearing "golden tickets" alongside endearing young hero Charlie Bucket. (Gluttony, gum-chewing, bratty behavior, and TV addiction are among the ills denounced in song by the Loompaland natives.) Says O'Brien, "Willy is the dreamer, and the Oompa-Loompas keep everything going. They're part of the mystery of the chocolate factory, where no one goes in and no one comes out. We've made them the moral conscience of the piece, but we also wanted the audience to fall in love with them."
As Bergasse points out, "Everybody in the theater knows that the Oompa-Loompas are going to appear at some point, and yet the audience always seems joyously shocked when it happens. And every time they appear, you see a different side of their personalities. The 'Ooompa Loompa' song is pretty moralistic, but [the new number] 'When Willy Met Ooompa' is really fun."
Basil Twist came to Charlie and the Chocolate Factory after creating acclaimed theater pieces set to Symphonie Fantastique and The Rite of Spring, as well as Drama Desk Award–winning puppet designs for Broadway's The Addams Family. "I've been working in ballet for the past few years," he says, "so I'm used to dealing with the fears that non-puppeteers have. I try to make [my designs] intuitive so the actors can see results immediately." The Charlie ensemble got comfortable playing humanettes in rehearsal, cracking each other up as they tried out bits of choreography from previous shows such as Kinky Boots and On the Town in character as Oompa-Loompas.
"It was interesting to see the cast start to take on the personality of these creatures," Bergasse observes. "Even on rehearsal breaks, they would get so wrapped up in inhabiting the Oompa-Loompas, they would keep trying new movements in front of the mirror. By the time we got to the stage, they had created fully fleshed-out personalities."
As the performers were embracing the challenge of morphing into a fictional tribe, Twist surprised them with a very special field trip to Jim Henson's Creature Shop in NYC's Long Island City, where the Oompa-Loompa pieces were built. "It was a dream for me to work with such an outstanding company, and very exciting for the actors to be fitted at the place where Elmo and Big Bird are made," he says. "Everything was customized for them, which is important, because they need to love these objects and physically meld with them."
With three acclaimed theater creators on board, a clash of egos might have been expected, but O'Brien, Bergasse, and Twist agree that the process was seamless. "The level of detail involved [in a Broadway production] is incredible," says Twist. "It's a luxury to have time to rehearse and get everything right, working with skilled people in every area." Bergasse, who danced under O'Brien's direction in the 2002 production of Hairspray, says simply, "It was a thrilling collaboration because everyone was 100 percent focused on making it work."
Every night on Broadway, the excitement builds the moment those mischievous little laborers burst onstage singing "Oompa-Loompa doom-pa-de do, now we appear from out of the blue." In response, "the audience whoops with delight because they've been waiting for this," says O'Brien. "They may not have known exactly what they wanted the Oompa-Loompas to be, but they love what we've come up with."
Plans Underw...
Broadway Shows to...