Features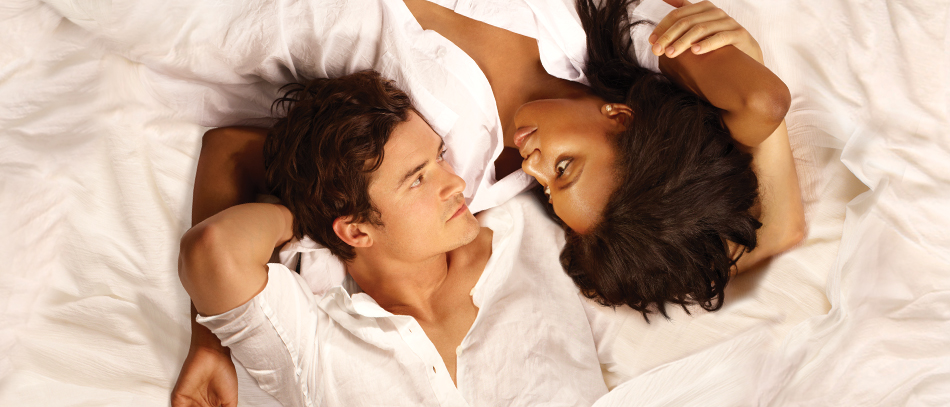 Orlando Bloom and Condola Rashad Star in Romeo and Juliet
MAY 13, 2013
Shakespeare rules! That's certainly how Orlando Bloom and Condola Rashad feel about playing the world famous lovers in the upcoming Broadway production of Romeo and Juliet.
Both actors first encountered the great Bard's work at acting school, but this is their first time in a full-length Shakespeare production on the professional stage. Two years ago, in a change of pace from playing an Elven prince in The Lord of the Rings movies and aswashbuckler in The Pirates of the Caribbean series, Bloom performed a few scenes from Romeo and Juliet at a concert of Tchaikovsky music by the Los Angeles Philharmonic, conducted by Gustavo Dudamel. "I was exhilarated and inspired by the experience and wanted to explore this classic in its entirety," Bloom reports. Shortly after, he met with director David Leveaux and they started work on a Broadway revival of Shakespeare's tragic love story. For her part, Rashad says, "Shakespeare has been one of my biggest goals; I always wanted that to be part of my career. When I heard through the grapevine that they were doing auditions for Romeo and Juliet, I called my agent and my manager and said 'you've got to get me in there!'"
"I have always loved this play, in particular because I think there are shades to Juliet that have yet to be discovered. I wanted to take a shot at it," Rashad continues. She kept it secret that she was auditioning for the role over the long six month casting process, which involved three call-backs. "I didn't want to jinx anything so the only person I told was my mother," she relates. Her mother, of course, is Phylicia Rashad, the Tony Award-winning actress and singer, known to the world as Clair Huxtable from the hit NBC sitcom The Cosby Show. (Her father is former NFL player and sportscaster Ahmad Rashad.) Their daughter has more than proved that she has showbiz blood in her veins. The year after she graduated from the California Institute of the Arts in 2008, she made a splash, at age 23, in the off-Broadway production of Lynn Nottage's Pulitzer Prize-winning Ruined. In 2011, she made her Broadway debut in Lydia R. Diamond's Stick Fly, and received her first Tony nomination for Best Featured Actress in a Play. This year, she is nominated once again in the same category for her current performance in The Trip to Bountiful.
Bloom's career has followed a different trajectory. He studied at London's Guildhall School of Music and Drama, and was offered an understudy contract with the Royal Shakespeare Company upon graduating. But instead the movies beckoned: he landed the plum role of Legolas, Elf of the Woodland Realm, in Peter Jackson's screen adaptation of The Lord of the Rings. Soon after the Tolkien trilogy was completed the newly minted box-office star continued his screen adventures, most notably playing the blacksmith Will Turner in the first three The Pirates of the Caribbean movies (2003-2007). But by then, having turned 30, Bloom says he was looking for a change. "I had been incredibly fortunate to have the opportunity to be a part of some of the most popular franchises in recent film, and I wouldn't trade those experiences for the world," he explains. "As I have matured in my career, I have wanted to return to the theater so I could draw on those experiences, having worked with some of the most talented artists." He made his West End debut in the 2007 London revival of David Storey's In Celebration, playing the youngest of three brothers who return to the small English mining town of their birth to celebrate their parent's wedding anniversary. "It was exhilarating and thrilling because I was able to connect with a live audience and feel that electrical energy. There's no safety net in the theater."
After her two call-backs in New York last year for Juliet, Rashad was called in once again this January, on this occasion to Los Angeles, for a "chemistry reading" with Bloom. "He was really nice," she recalls. "We had a good connection as people, as artists, and we were both really passionate about the work itself." Says Bloom, "I felt an immediate connection and thought she'd make an amazing Juliet." A few days later she had the role. Rashad contends that Juliet is neither frail nor passive as some believe "I think there is a strength and wit to Juliet that I'm very excited about exploring," she explains. "Juliet speaks poetry, but she is not trying to be poetic. I love how her brain is so active and colorful. It moves with the blink of an eye. It's just like how we go back and forth in our minds about things."
Rashad is keeping herself incredibly busy in the months prior to taking on her dream role. While performing nightly in The Trip to Bountiful through July, she is currently recording tracks for an album with her own rock band, Condola and the Stoop Kids. She is also taking classes to brush up on her Shakespeare. "Some actors get caught up in what I call 'Shakespeare tone,'" she says. "If you just trust the language, then it works. The other difficulty," she adds, "is how to make this story seem new when everybody knows what happens in the end. I love the challenge, that's what draws me to the work." For his part, Bloom is psyched about making his debut in New York: "Performing on Broadway is such a great honor for an actor," he says. "It's terrifying, yet that is also what makes it so exciting and rewarding."
Creating the...
Director David Le...
You might also like: