Features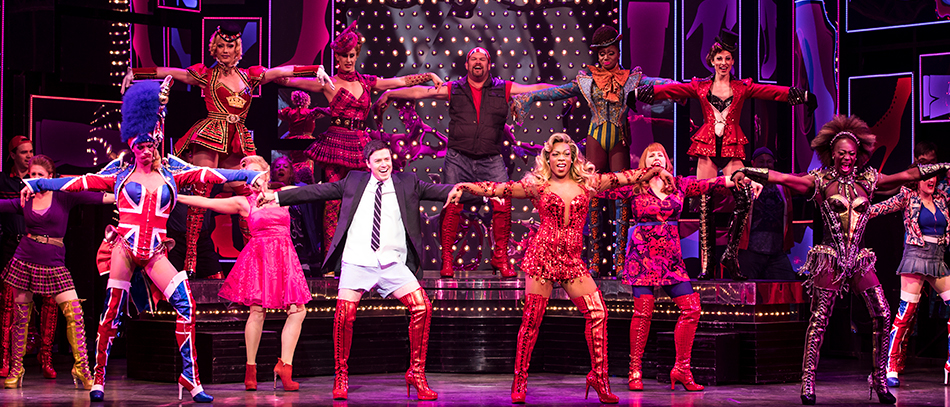 From Seoul to Sydney: How Kinky Boots Became a Worldwide Hit
DEC 8, 2016
Kinky Boots burst onto Broadway in the spring of 2013, wowing critics and audiences with a smashing pop-flavored score by Cyndi Lauper, a huge-hearted book by Harvey Fierstein, and inventive choreography and direction by Jerry Mitchell. Three years later, this irresistible musical has triumphed in six countries on four continents, collecting multiple Best Musical prizes along the way, including the Tony Award.
Because of its unique title and story line — a failing North England shoe factory gets a second life making sparkly footwear for drag queens — Kinky Boots might seem a surprising bet for international success.
"Kinky Boots has a very simple, universal idea: Accept yourself so that you can accept other people," says Jerry Mitchell, who was tapped by producers Daryl Roth and Hal Luftig to develop the show, based on a 2005 British film comedy. "As adults, no matter what we think our parents did or didn't do to us, we have to grow up and accept ourselves. It's the only way we can move forward, and that's a theme that speaks to everyone, in every country."
When Charlie meets Lola, he feels haunted by the idea that he has disappointed his father by refusing to join the family business. Lola, pressed by his macho dad to excel at boxing, is equally scarred by their broken relationship. Mitchell says he first realized the potential of Kinky Boots when he heard Cyndi Lauper's "Not My Father's Son," a moving duet sung by Charlie and Lola. "It was one of the first songs she wrote for the show, and it brought me to tears, then Harvey's scene brought me to tears. That's when I knew this would work on stage."
Lauper won a Tony Award (and later a Grammy for the original cast album) for a score that includes the showstopping anthems "Everybody Say Yeah" at the end of Act One and "Raise You Up" at the show's joyful climax. She came to Kinky Boots with an innate understanding of Lola as the ultimate outsider, another theme embraced by audiences around the world. "It was a revelation," Mitchell says of collaborating with the pop superstar. "As the work went on, I realized that Cyndi has dealt with being the underdog in her own career and could identify with the characters on a very personal level."
On Broadway, Kinky Boots earned six Tony Awards, including Best Musical. The show has since kicked off a successful worldwide journey, including an Olivier Award–winning London production, now in its second year on the West End; a North American national tour, now in its third year; two separate productions in Korea; a successful run in Toronto; a current hit production in Australia; and an unusual run in Japan that began with a local cast performing in Japanese and ended with a visit from the North American touring company performing in English.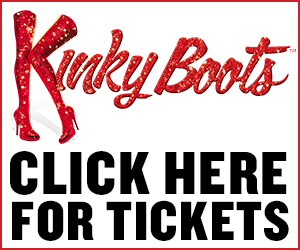 "Seeing the show in Japan was particularly amazing," says Mitchell. "Japanese audiences are really polite and respectful, but at the opening-night curtain call they clapped for the Japanese actors and simply would not leave. The house lights came up, but the audience called the actors back to the stage three times. Finally, someone had to step up and say, 'Thank you for coming and good night.' Seeing that reaction, which I am told is not the norm, was extremely moving."
Although Lola is typically played by a black actor (following in the boot-steps of film star Chiwetel Ejiofor and Tony-winning Broadway creator Billy Porter), Mitchell found it necessary to cast Asian actors in Japan and Korea. "My favorite international moment was when I first met one of our Korean Lolas," recalls producer Hal Luftig. "He was a huge martial arts star in Korea and had a body like a football linebacker. I thought there was no way this person could transform into a believable Lola. Well, when he took the stage, everyone in the audience did believe it. And when he sang 'Not My Father's Son,' I saw audience members openly weeping. I knew then the transformational power of Kinky Boots."
Ten-time Tony Award–winning producer Daryl Roth emphasizes the show's ability to make audience members "feel empowered and safe to just be who they are. I observed the perfect example of this when we opened Kinky Boots in Australia. I met a mother and her teenage daughter who came to the show during previews, and we had a lovely chat. They came back to see the show again, and the mother sought me out to tell me this extraordinary story that her daughter had come out to her after seeing the show the first time. It was a conversation that was beautifully candid, moving, and emotional for all of us. And that's the power of theater."
For Mitchell, whose résumé includes crowd-pleasing musicals such as Hairspray, The Full Monty, La Cage aux Folles, Legally Blonde, and On Your Feet!, Kinky Boots perfectly reflects his most important criteria for working on any show: to entertain, and to give the audience hope. "That's why I agreed to choreograph Hairspray Live!," he says of NBC's December 7 telecast. "It's a story of hope, and boy, do we need that now. On Your Feet! is a story about family inclusion. And Kinky Boots is the ultimate story about inclusion, equality, and acceptance."
In the coming year, Mitchell will head back to Australia, Japan, and Korea to cast and oversee new productions of Kinky Boots, which recently surpassed 1,500 performances at Broadway's Al Hirschfeld Theatre. "Honestly, I wish every American could have the opportunity to travel out of their comfort zone and observe the world through fresh eyes, as I have," he says. "Seeing this show have the same resonance overseas as it does in America has been so rewarding."
Todrick Hall...
Romance, Mystery,...