Features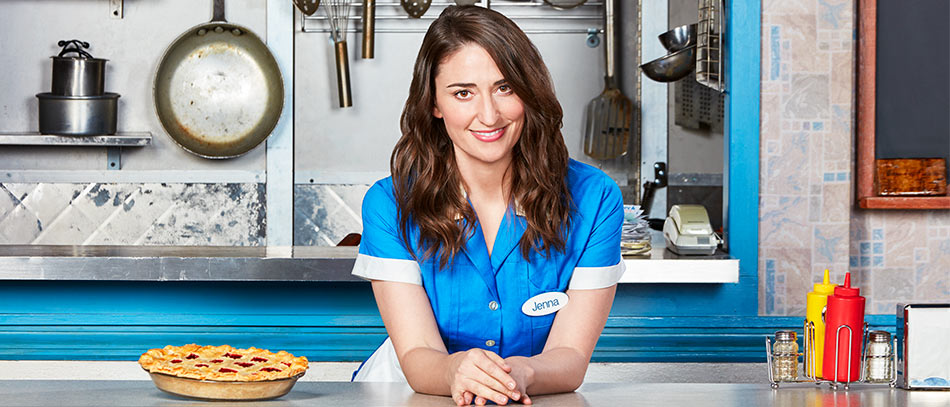 Sugar, Butter, Broadway!
APR 4, 2017
Growing up in Eureka, California, Bareilles considered herself a Broadway baby, and her dream is finally coming true as she steps on stage at the Brooks Atkinson Theatre in Waitress, the musical she composed to critical and popular acclaim.
Sara Bareilles became a chart-topping pop star 10 years ago with the irresistible hit "Love Song," earning her first of five Grammy nominations. But her original dream wasn't to perform in packed arenas: Growing up in Eureka, California, Bareilles considered herself a Broadway baby, and her dream is finally coming true as she steps on stage at the Brooks Atkinson Theatre in Waitress, the musical she composed to critical and popular acclaim.
"This feels like a beautiful homecoming," Bareilles says of her 10-week limited engagement as Jenna Hunterson, a pie-baking diner waitress who finds herself pregnant and trapped in a loveless marriage. "I was one of those musical-theater kids who listened to cast recordings of Phantom of the Opera, Les Misérables, Chess, The Secret Garden, and Little Shop of Horrors, and I watched The Sound of Music and Oklahoma! over and over after school. My introduction to songwriting was through theater, and I had no idea my life would stray so far and then come back around. This entire experience has been surreal."
Speaking just before her debut performance on March 31, Bareilles exudes the warmth and generosity that original star Jessie Mueller brought to the role of Jenna, created on screen by Keri Russell in Adrienne Shelly's 2007 indie film. Soon after the release of Bareilles's Grammy-nominated anthem "Brave" in 2013, director Diane Paulus had the inspired idea of approaching the singer-songwriter to adapt Waitress. "I was intimidated, but it became a labor of love," recalls Bareilles, adding with a laugh, "I had no idea I would become so obsessed with the show. I can't think of anything in my artistic career that has meant more to me."
Bareilles released her own concept album, What's Inside: Songs From Waitress, six months before the musical's Broadway bow in April 2016, but she never seriously considered opening in the lead role. Good call: Mueller, the Tony-winning star of Beautiful, earned another Tony nod for her performance, and Bareilles nabbed a Tony nomination for her score, and later a Grammy nomination for coproducing the original cast album. A year later, the time is right to put her stamp on material she knows inside and out.
"It's been a fascinating process to see my Jenna emerge," muses Bareilles, who joins the cast at the same time as Tony nominee Will Swenson (Hair, Les Misérables), as Jenna's ne'er-do-well husband, and Chris Diamantopoulos (TV's Silicon Valley), as the obstetrician who awakens feelings of romance and hope. "She is sweet and salty. Sarcasm is a strong theme, but there's a loyalty and honesty that she tries to bring to everything. She mucks things up without meaning to, but at the end of the day, her good heart brings her to the other side."
In real life, the poised and lovely Bareilles has overcome lifelong anxiety and insecurity stemming from having been a chubby and unpopular little girl. "Those years were precious as well as painful, and they taught me a lot," she wrote in her bestselling memoir, Sounds Like Me: My Life (So Far) in Song. "I learned empathy. I learned humor. I learned compassion. I learned how to soothe myself with my own private world of writing."
All of those qualities are evident in the score of Waitress, which boasts gorgeous harmonies for Jenna and her pals in songs that deftly advance the show's storytelling. "What I'm most proud of about the score is that it feels character-driven," Bareilles says. "That was my goal, as opposed to making something that just reflects my taste. I wanted to capture the essence of the characters." As for those harmonies, she explains, "I grew up the baby of three sisters, so singing in three-part harmony is something we did a lot. Then I got into a cappella in college [at UCLA]. Stacking harmonies has always been my favorite part of making a record."
Over the course of the show, Jenna becomes determined to escape to a better life, a quest beautifully captured in the ballad "She Used to Be Mine." Says Bareilles, "That's the first song I wrote for the show, and I ended up thinking, Oh, my gosh, it's like a prayer. [Jenna is saying] 'I can see my beauty and my flaws; they both exist, and what am I going to do?' I've come to that moment many times in my own life, so to be able to tell a story where someone triumphs is such a gift." Growing tearful, she adds, "We get letters from women who say that the show gave them the strength to leave an abusive relationship. You don't realize when you're making something that it could have such an impact."
The serious themes in Waitress are balanced by a playful spirit reflected in the comic performance of Christopher Fitzgerald, as the blind date of a dizzy waitress played by Caitlin Houlahan, a pairing reminiscent of Will Parker and Ado Annie in Bareilles' childhood favorite Oklahoma! "I love the fact that we make audiences laugh, and we make them cry," Bareilles says. "It's a show that ends up feeling like comfort food. People come and enjoy it, and then they bring their mother or their friends back for another serving."
Bareilles arrives on Broadway a month after wowing viewers with her performance of "Both Sides Now" during the "In Memoriam" segment at the 2017 Academy Awards. The evening was doubly meaningful since Joni Mitchell is one of her idols as a singer-songwriter. "To have a moment like that, celebrating the lives of artists with a song I love, meant a lot to me," she says. "Many wonderful things are happening now, but I also feel very aware of what I'm putting out into the world from an artistic standpoint. Waitress has brought me such joy, and that's what I'm looking for in my work — projects that bring joy and light to me and to others."
"Finishing t...
Ben Platt To Host...