Features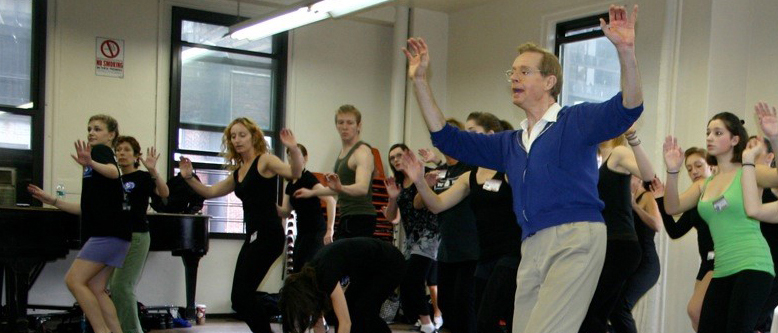 Sweep Your Glooms Away With a Song
JUL 16, 2015
Chorus girls finding love and stardom, aspiring song writers singing up a storm, and tap-dancing — lots and lots of dancing: That's what's in store for Broadway when Dames at Sea berths at the Helen Hayes Theatre on September 24.
The little gem of musical, which first captivated the hearts of New York audiences nearly half a century ago, may have a familiar title, but most people haven't actually seen it on stage, says three-time Tony nominee Randy Skinner, director and choreographer of the current production.
Many have heard of the popular Off-Broadway musical that gave Bernadette Peters her first big break. But, says Skinner, even avid theatergoers who know the Peters connection haven't experienced the charms of this affectionate valentine to the extravagant Warner Bros. movie musicals of the 1930s. "And for the people who do know the show, it is a really beloved musical with these wonderful melodies and a very witty and clever book."
Inspired in particular by three well-known Depression-era musicals — 42nd Street, Gold Diggers of 1933, and Footlight Parade — Dames at Sea, written by George Haimsohn and Robin Miller (book and lyrics) and Jim Wise (music), follows a now-classic backstage musical plot: a naive aspiring dancer from out of town (appropriately named Ruby, after Ruby Keeler, the star of all three of the source movies) arrives in the city with a dream of becoming a Broadway star. And, of course, she does, stepping in to save a show on opening night. The special appeal of this show is that it manages to evoke the spirit and splendor of the Busby Berkeley–choreographed escapist entertainments of the 1930s with a mere cast of six.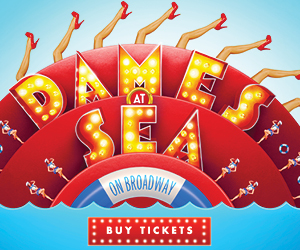 Since its first incarnation in 1966 at Caffe Cino, the bohemian Greenwich Village coffee house credited as the birthplace of the Off-Off-Broadway movement, Dames at Sea lived a charmed life: It played from 1968 through 1970 at a couple of Off-Broadway theatres in New York and also in London in 1969; a television adaptation, starring Anne-Margaret and Ann Miller, aired on NBC in 1971. It never played Broadway, nor did it go out on any organized national tour; nevertheless, it became staple fare at regional theatres around the country in the decade to come. Skinner recalls a period in the 1970s when three hit songs from the show — "Sailor of My Dreams," "Broadway Baby," and "Raining in My Heart" — were the standard audition numbers for every aspiring young actor of the day.
Skinner himself first discovered the musical in 1973 while attending Ohio State University, where he choreographed a production and also played Ruby's love interest — the sailor and aspiring songwriter Dick (named after Dick Powell, who partnered with Ruby Keeler in the movies). He subsequently directed and choreographed other productions of the musical, those times playing Dick's shipmate Lucky in the show. "I always had it at the back of my mind to reinvestigate the material," he says. And he got the opportunity to do so three years ago when he was invited to stage a production of the musical at the Infinity Theatre Company in Annapolis, Maryland. The success of that endeavor paved the way for this first-ever production of Dames at Sea on Broadway.
Dames at Sea on Broadway will be "a big little musical," says Skinner. It keeps the spirit of the original — there is still a cast of six and it's being mounted in the smallest house on Broadway — but will be "expanded into a new experience for a new generation, while taking the show to another level." For example, this production will feature a full orchestra, rather than the two pianos and drums that are typically used for this show, and it will also be the first time that audiences in New York will hear Jonathan Tunick's orchestrations (originally created for the 1969 cast album with Peters) live. And then, of course, there's the dancing. "Almost every show I do has at least one tap number in it," says Skinner, "but in this show we are celebrating the art form."
Skinner's great love for dancing is influenced by the movies. "My parents started taking me to movies when I was a little kid and I was mesmerized, and then I experienced the world of Fred and Ginger on my television set," he reports. "So I have always wanted to create solos and duets on stage that are reminiscent of that kind of brilliant dancing in the movies, where they do all this incredible dancing without relying on the choruses filling in and doing the tricky stuff."
As a young dancer and actor growing up in Columbus, Ohio, Skinner actually got to dance in summer-stock productions that starred some of the greats from the movies: Cyd Charisse, Ann Miller, and Mickey Rooney. Years later, in the mid-1980s, he also became friends with and got to work with Ginger Rogers, whose movie vehicles included 42nd Street and Gold Diggers of 1933. "Ginger always talked about how her dresses were designed to move with choreography and Fred wore loose ties because he loved seeing movement when he danced, so I always keep that in mind when we are designing the clothes for the show."
Skinner's Broadway career was launched in 1980 when he assisted legendary director-choreographer Gower Champion on his final Broadway production, the musical extravaganza 42nd Street, which was partially based on the 1933 movie musical that also inspired Dames at Sea 14 years earlier. "What I learned from Gower was the overall shaping of a show — he was a master at it," Skinner reports. "When you do choreography, each number has to have an arc — it takes people on a journey but the overall show, choreographically, has to have a journey too."
Skinner has cast John Bolton as The Captain/Hennesey, Mara Davi as Joan, Danny Gardner as Lucky, Eloise Kropp as Ruby, Laurence Olivier Award winner Lesli Margherita as Mona Kent, and Cary Tedder as Dick, and he promises that audiences will be seeing performers who are true triple threats, who will each carry the full weight of the dancing while staying front and center in the show. "I think the big appeal will be the level of the technique. Hopefully the audience is going to come and see the dance numbers and go, 'Wow, this is like watching the movies!' And it is all the more thrilling because you are seeing it live." Skinner says he has also come up with a framing device before each act and at the end of show, which signals that the production is an homage to the movies, besides being a stage musical. "It comes from my love for those black-and-white movies. I think it will be a nice surprise for people and put a smile on their face."
BookFilter's...
BookFilter's Best...