Features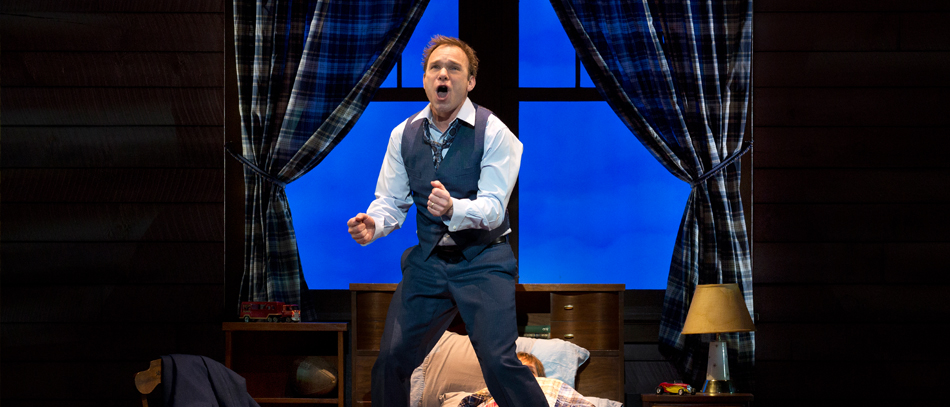 All In The Family: A Trio of Stars Shine in Big Fish
JUN 17, 2013
Norbert Leo Butz is having the time of his life playing Edward Bloom, storyteller extraordinaire, in the new musical Big Fish. But it's also hard work – a role that keeps him on stage for almost the entire course of the show.
"It's a huge arc that I have to go through," explains the two-time Tony Award winner (for Dirty Rotten Scoundrels and Catch Me If You Can). "He's an everyday guy, but the show charts an entire life. I have to start with a full tank of gas, as it were. I've never been so challenged as a singer before. Andrew Lippa writes really lush, huge songs with lots of dynamics – and I just never shut up all night!"

Butz is one of a trio of stellar Broadway actors in the musical written by Andrew Lippa and John August, directed and choreographed by 5-time Tony Award winner Susan Stroman. His co-stars are Kate Baldwin (who plays Bloom's wife, Sandra) and Bobby Steggert (their son, Will). "Falling in love with Kate and Bobby – creating that family – that is the easiest part of Big Fish for me," Butz continues, noting that while the show is very funny and visually dazzling, it's rooted in a heartfelt tale of family reconciliation in which a son attempts to reconnect with his father.
"I hadn't met Bobby before we auditioned together, but I have been such a fan of his work," says Butz. "I saw him on stage years ago in 110 in the Shade [2007] and I have never forgotten that performance. I think he's an extraordinary actor who happens to be gifted with a really beautiful voice. So it is really is a love fest!"
Butz also calls it "a dream" to be working with Baldwin, who was nominated for a Tony in 2010 for Finian's Rainbow. "She is one of those special leading ladies, one of the most gifted singers working in New York, and also just an incredibly graceful actress."

Steggert, who received a 2010 Tony nomination for Ragtime, says he was hooked the moment he read the script. "I was stunned by how honest and intimate it is, while combined with being a big splashy Broadway musical, so I worked my ass off in the auditions. It was clear that Norbert and I were a good team from the beginning. This story is about a father and son who love each other – they just happen to speak different love languages," he continues. "Edward Bloom speaks in metaphor – he expresses love through story-telling. Will has always been on the outside of those stories and feels alienated by them. What Will learns in the end is that there is a deeper and sometimes more significant truth in metaphor; Edward was not a perfect father, but he certainly loved his son."
While Steggert is working with Butz for the first time, this is the second time that he is playing opposite Kate Baldwin. They actually played mother and son before in the recent off-Broadway musical version of Giant. "I adore Bobby and I am thrilled and flattered that I get to play his mother not just once but twice," exclaims Baldwin. "There is no biological way that could actually happen, but that's the magic of the theater," adds the actress who is just a few years older than Steggert. "Giant was a very different relationship – I was more protective of him there. In Big Fish my main objective is trying to get my husband and my son to actually understand and appreciate one another," she continues. "I get to be the peacemaker, the voice of compassion, maturity and understanding. It's a lovely hat to wear every night."

In the musical, Butz and Baldwin play their characters from ages 18 through 58, unlike in the Tim Burton's film version, in which Edward Bloom was played by Ewan McGregor and Albert Finney, and his wife Sandra by Alison Lohman and Jessica Lange. "It kept me up for nights trying to think how I was going to make people believe I was all these ages," Butz recalls. "Then it finally hit me that the audience just had to believe in the theatricality of Big Fish. If someone is telling you a story in a way that is honest and passionate and exciting, you are going to believe whatever they tell you," he explains. "We found that by actually staying true to the theatrical nature of storytelling, it lives in the imagination of the audience."
Baldwin explains that we first meet her character as a mother on the day that her adult son is going to get married. "When Will tells the story of how his parents met, we go back in time to when my character was 18 years old. There is a very short scene when Sandra is in her mid-thirties, which is the only scene in which I get to play my own age!"
Steggert says that playing Will marks a "big shift" in his career. "This is the first time I have played an honest to god adult!" he says. "This is not a coming of age story but a journey about how to love your parent once you are also an adult, which is great because I am able to use a certain emotional understanding and experiential understanding that is right where I am, as opposed to where I was." He continues: "The interchange between reality and fantasy in the show is really exciting and surprising: the stories blossom out of the reality using all the wonderful conventions of musical theater and the capabilities of modern set, lighting and costume design."
Having recently completed the pre-Broadway engagement of Big Fish in Chicago, the actors now have a sense of how the musical is being received by audiences. "People were laughing and smiling through the whole show, and having just as much fun as we were. But then in the end, the emotion hit them," says Baldwin. "They came to the stage door with tears in their eyes and said they were reminded of their own families. I think this is what great theater does, it makes you think about own life and the world at large in a different way."
Butz sums it up simply, and with a huge smile. "I love this show so much because it is just unbridled, open-hearted emotion. I just can't wait to bring it to New York!"
Making Big F...
Summer Camps That...
You might also like: