Features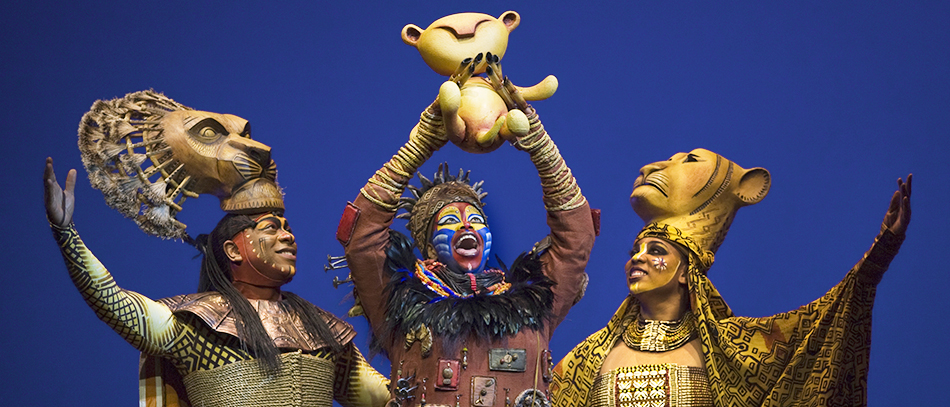 The Enduring Majesty of The Lion King
JUL 18, 2014
On a recent Wednesday at 1:55 p.m., a full house settled in at Broadway's Minskoff Theatre.
Theatergoers of all ages chatted excitedly, including a native New Yorker who could be overheard offering restaurant recommendations to a couple visiting the city from Spain. Minutes later, actress Nteliseng Nkhela took the stage to deliver the shaman Rafiki's majestic opening call, summoning a parade of rhinos, giraffes, zebras, and even an elephant.
Welcome to matinée day at Disney's The Lion King, the musical phenomenon celebrating several milestones in its 17th summer on the Great White Way. Already the first Broadway show to reach $1 billion in cumulative gross, Julie Taymor's production is headed toward its 7,000th performance on September 2. Ten companies of the musical — the most at any time in its history — are currently running in New York; London; Hamburg, Germany; Tokyo; Madrid, Spain; São Paulo, Brazil; and Sydney; and are on tour across North America, the U.K., and Japan.
Atop Pride Rock at the end of the astonishing "Circle of Life" opening number is Alton Fitzgerald White, who will reach a milestone of his own — 4,000 Broadway performances as patriarch Mufasa — in August after a decadelong run that included opening the first national tour and the Las Vegas company. "The Wednesday matinée is my favorite show of the week," Fitzgerald White declares. "The lights go down, and you hear the roar of the audience. They're ready to be entertained, and their uninhibited response gets us revved up."
The Lion King's massive success seems inevitable now, but back in 1995, Disney took a risk by entrusting its acclaimed animated movie to experimental theater director and puppet designer Julie Taymor. Her vision of costumes that capture "the duality of human and animal" and her inspired use of African music to augment songs by Elton John and Tim Rice propelled the show, which opened on November 13, 1997, and eventually earned six Tony Awards, including Best Musical. Taymor became the first woman to win Best Director in a Musical, with a second Tony for her costumes.
The elements that wowed critics on opening night — a multicultural 40-member company; intricate life-size puppets; authentic African music and dance — also make The Lion King a challenge to maintain in its second decade. That's where associate director John Stefaniuk comes in. This summer alone, Stefaniuk says, "I went to London for a week to do quick auditions for replacements, then Madrid for two weeks to oversee cast changes, then I had preliminary auditions for an upcoming production in Mexico. I'm heading to Washington, D.C., for two weeks to see the tour, followed by South Africa for auditions in Cape Town, Johannesburg, and Durban, then on to Australia for three weeks when the cast moves from Sydney to Brisbane. That brings us to the end of September, when I'll be back in New York."
There's no sign of jet lag in Stefaniuk's voice as he explains the key to keeping The Lion King fresh for both actors and audiences. "Julie doesn't treat the show like it's a museum piece," he says of Taymor's attitude toward her worldwide hit. "If you try to replicate it, you get a copy of a copy, and you lose the integrity. You have to allow actors to maintain their own voices while staying true to what the piece is. And you do that by digging into this story of a boy who is trying to discover who he is and where he's meant to be. When you give actors the opportunity to illuminate the story through their personal experience, they treat the show as if it's opening night on Broadway every night."
Incoming actors become immersed in the culture of The Lion King, often under the guidance of original cast member Ron Kunene. A native of South Africa and a UCLA-educated historian, Kunene juggles his ensemble role with serving as dialect coach for every company and informal tutor of the kids in the Broadway production. "I teach about the symbolism of Africa, African cosmology, and the meaning of [songs like] 'One by One,' a celebration of our heritage and culture," he explains. "I'm not just an actor, but also a cultural ambassador, which is thrilling."
Given the show's African roots, there's a natural cross-pollination among companies around the world. "We have a host of South Africans and African Americans on Broadway," Stefaniuk says. "In Australia, we have aborigines and Maoris and Hawaiians; in Spain, we have native Spanish and Brazilians. You get this beautiful mesh of cultures and a wonderful sense of community."
In New York and on tour, The Lion King has become an important launching pad for African American actors. "As a black male performer, I can say that we've never had a show like this, where kids who look like me can come out of college and have something to aspire to," he says. "I've been in many shows where I was the only black person in the cast, and grateful to be there, but it's great to know that young actors can become part of a phenomenon like The Lion King."
Having watched the show performed in seven languages, Stefaniuk marvels at its primal appeal. "You hear that African chanting, you see those faces, and no matter where you are, you feel an emotional response," he says. "Whether it's in Spanish or German or Chinese, the show has that same power and beauty." And yet each company finds areas to assert its national identity. Scar was a flamboyant French villain in a Paris production, and scrappy meerkat Timon drew laughs in Madrid as a lazy guy from the south of Spain. "It echoes differently with different actors," Stefaniuk notes, "but it's the same creation."
Back at the Wednesday matinée, Alton Fitzgerald White can be seen mouthing the words "thank you" to every section of the Minskoff Theatre during curtain call. Later, he says, "I make it a point to do that because I never take for granted the opportunity to play this fantastic role. Mufasa represents wisdom to me, and the bond he has with Simba is relatable to everyone. So, yes, I thank the audience for coming, and I approach every show as if it's the first one."
#TGIFTunes: ...
#TGIFTunes - Broa...