Features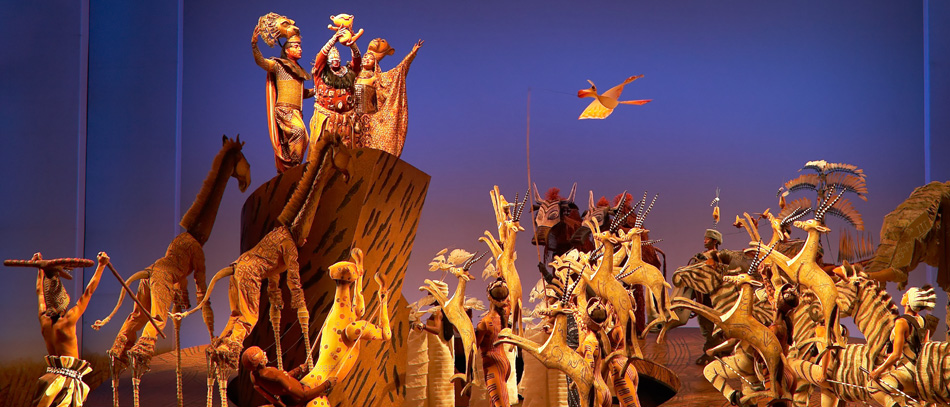 The Lion King Celebrates 15 Groundbreaking Years on Broadway
NOV 29, 2012
Way back in 1997, when Bill Clinton was president and gas cost $1.17 a gallon, something big and rather risky was brewing on Broadway.
Disney had had success with its stage musical adaptation of Beauty and the Beast, but it decided not to follow in that production's fairly literal steps. Instead it took the gamble of hiring Julie Taymor, a director acclaimed on the world's opera and avant garde stages but at that point hardly mainstream, to reimagine its recent hit film The Lion King.
Fifteen years – and over 65 million guests – later, it is safe to say that the gamble has paid off.
Earlier this year, The Lion King passed The Phantom of the Opera to become the highest-grossing show in Broadway history. Only four shows have had a longer run, and with a cumulative worldwide gross of more than $5 billion, the musical has earned more than all six Star Wars films combined. For Taymor's visionary creation, the circle of life looks more like an unbroken line.
Disney Theatrical Productions is celebrating the anniversary with something that has never been done before in New York: a pop-up exhibit dedicated to the show's rich history. Starting December 1, devotees of The Lion King as well as first-timers can visit 1095 Avenue of the Americas, across from Bryant Park, where Inside The Lion King will let them look at — and even interact with — the show's costumes, sets, music, movement and much more.
It is a unique way to delve deep into one of the most comprehensively realized worlds in Broadway history — and an instructive look at just how and why Taymor and her creative team succeeded.
From the beginning, Taymor's biggest decisions involved how closely to adhere to the 1994 film. For one thing, the stage version would clearly have to be longer; after all, the movie is well under 90 minutes long. She saw this as a welcome opportunity to flesh out the role of the title character.
"The limited 75-minute running time of the film just didn't allow time for Simba to truly take the journey, both inner and outer, that would lead him full circle to his place as king," Taymor wrote in her book The Lion King: Pride Rock on Broadway. "The two-act stage format provided ample time to deepen and strengthen Simba and show the arduous path that leads to his self-discovery."
She quickly decided to forgo realism and instead create a sort of hybrid that only theater audiences will accept. "I wanted audiences to be released from their memories of the film right from the start," she wrote. "I wanted them to take a leap of faith and imagination."
In order to do that, "stage mechanics would be visible. Showing the mechanics, revealing the rods, ropes and wires that make it all happen, is something that the theater can do that the film and television cannot. They are literal mediums where the spectator is asked to believe in the reality of the image while the theater functions best as a poetic medium. The audience, given a hint or suggestion of an idea, is ready to fill in the lines, to take it the rest of the way. Magic can exist in blatantly showing how theater is created rather than hiding the 'how.'"
That magic has been on display on Broadway for 15 years, with many more to come. And for two weeks in December, through breathtaking props and costumes as well as through workshops given by The Lion King's educational team, audiences will get an unprecedented chance to experience the "how."
From "The Lion King: Pride Rock on Broadway"
Copyright 1997 by Disney Enterprises, Inc.
Reprinted by permission of Disney Publishing Worldwide
Read All Abo...
Kinky Boots: A Ne...