Features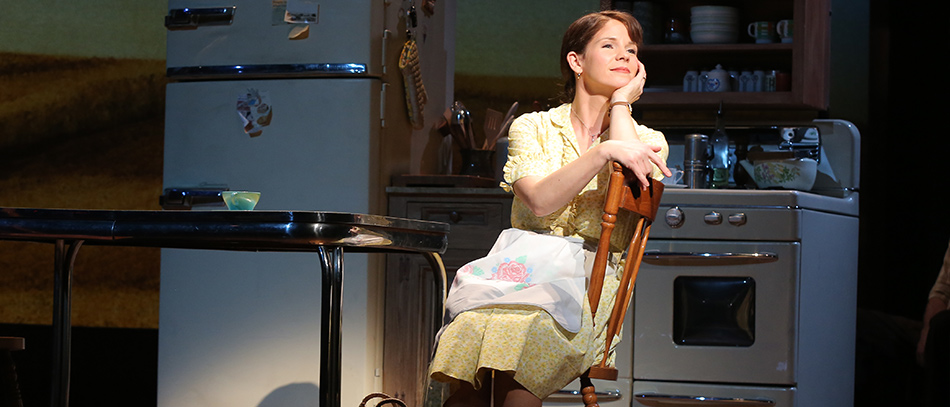 The Prime of Ms. Kelli O'Hara
MAR 4, 2014
When Kelli O'Hara stands center-stage at the beginning of The Bridges of Madison County and sings of her character's 20-year journey from Italian war bride to Iowa farm wife, audiences can sense her deep connection to the music—even if they don't know that Jason Robert Brown composed the score especially for her.
Critics felt it too, showering the four-time Tony nominee with praise for her performance as Francesca Johnson, whose affair with traveling photographer Robert Kinkaid (Steven Pasquale) threatens to wreck her family.
These days, O'Hara is carrying a load that makes Francesca look like one of the ladies who lunch. "I have not slept through the night since September 16, the day my daughter was born," she says, referring to baby Charlotte, her youngest child with singer/songwriter/director husband Greg Naughton. After performing 11 emotion-packed songs in a show that runs more than two and a half hours, O'Hara gets up in the middle of the night to feed Charlotte, then rises for an early breakfast with 4-year-old son Owen. (Both little Naughtons appeared on stage before they were born: O'Hara starred in South Pacific while pregnant with Owen and Far From Heaven while expecting Charlotte.)
"It's a busy, busy time, but my heart feels really full as opposed to overwhelmed," says the actress, chatting in her Schoenfeld Theatre dressing room as a digital picture frame flashes snapshots of her extended family. "I hold my children as tightly as I can when I'm at home, and I have amazing support from my husband and from several wonderful girls who help us. I'm not going to say it's easy, but I've been working on this project for four years, and I felt like I couldn't turn my back on it."
Exhaustion aside, O'Hara finds Brown's soaring score a joy to sing. "For the first time in my career, I don't think about hitting a note or cracking," she says. "I can sing with complete freedom. It's the way I felt when I sang opera, because it's a rounder place in your voice [rather than figuring out] 'Where do I belt?' And the songs are absolutely beautiful. People hear this music for the first time and fall in love with it. In my opinion, this is Jason Robert Brown's best score: deeper, more intricate, more varied, more sincere."
Looking back on her early years in New York after graduation from Oklahoma City University, O'Hara sees parallels with the young Francesca's journey from Naples to the Midwest. "I wasn't running away from a bombed city, but I was following a dream and didn't necessarily fit in," she says. "I still don't, all the time. There's something about my sincere nature that isn't always everyone's favorite. I tend to have a fan base of older folks."
Stardom was never her goal, O'Hara says, but she admits being ambitious for juicy stage roles. "There's a ladder in this business, and I feel like I was climbing it really, really hard in my twenties and early thirties." After playing ingénues in Jekyll & Hyde, Follies, Sweet Smell of Success and Dracula the Musical, she broke through with a moving performance as brain-injured Clara Johnson in The Light in the Piazza, launching a streak of Tony nominations that continued with The Pajama Game, South Pacific, and Nice Work If You Can Get It, plus star turns in concerts of My Fair Lady and Carousel at the New York Philharmonic.
Along the way, O'Hara became so good at creating stage chemistry with the likes of Matthew Morrison, Harry Connick Jr., Paulo Szot and now Steven Pasquale that people wondered whether the romances might be real. The answer is no. "Harry and I loved it," she says of her Pajama Game costar's reaction to the chatter. "We said, 'Let's feed into it and give them more.'" In Bridges, she feels free to portray an erotically charged relationship with Steven Pasquale because they've been friends in real life for years. "If I can explain it in technical terms, when you trust your costar and feel safe with each other, you can let yourself go on stage without feeling uncomfortable."
It helps that O'Hara married into a theatrical family led by patriarch James Naughton, the Tony-winning star of Chicago and City of Angels. "I would never be able to have a thriving family and career without someone like Greg, and that's because of the way Jim and Pam raised him." After more than 45 years of marriage, Pamela Naughton passed away from cancer in 2013. Since then, says O'Hara, "Jim has stepped up to be what his kids needed no matter what pain he's in. He's working and getting out in the world; I am so inspired by him."
Her own relationship with Greg Naughton, whom she wed in 2007 on Hogback Mountain in Vermont, remains rock-solid. "As cliché as it sounds, my husband is sort of my Robert," she says of Francesca's dream lover. "I had dated business guys, and Greg, who was a singer/songwriter, seemed like the risky one when I met him. But he wasn't. He's a confident person who doesn't need my 'bucket' to be empty in order for his to be full. He has never been threatened by my success or asked me to slow down, even in light of having the babies." Musing on Francesca's wrenching choice between family and romantic love, she adds, "The pull I feel is my career vs. my family. To be asked to give up one or the other seems impossible." Luckily, she hasn't had to.
OHara's next challenge has just been announced: She will make her Metropolitan Opera debut on New Year's Eve as Valencienne opposite Renee Fleming and Carousel costar Nathan Gunn in The Merry Widow, directed by Susan Stroman. "It's my dream!" she exclaims. "I got a degree in opera and I lost out in the regional auditions for the Met, then I gave it all up to become an actor. I've never been sorry, but in the back of my mind, I always thought it was something I could do. There's fear, because there are no microphones, but after singing this role [in Bridges], I feel like my voice is ready."
For now, O'Hara is trying to spread the word that her acclaimed performance is just one reason to see The Bridges of Madison County. "You may be skeptical walking in because of the subject matter, but you leave feeling something you didn't expect. And that's because we've taken a story that might seem simple and expanded it into the deepest parts of the human spirit, enhanced by this music. Our story is of a sexual, unstoppable kind of love, but we're also giving it a larger picture, a larger theme. This is real theater, the kind that's not made a lot anymore, with performances that come out of a passion for what we do."
As for that theatrical career ladder, O'Hara says, "I'm not necessarily at the top, but I feel pretty comfortable where I am. All I wanted was to come to New York, do work I'm proud of and find a theatrical family. There's something about this show that makes me feel like I'm OK."
How Beloved ...
An Affair to Reme...
You might also like: