Features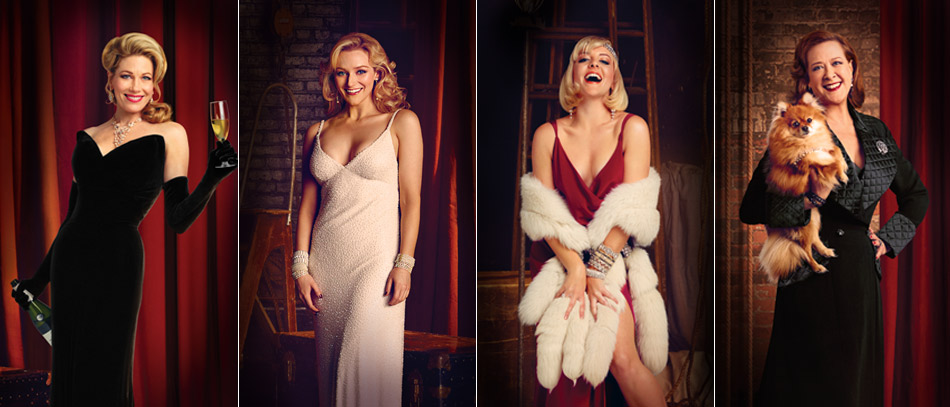 The Leading Ladies of Bullets Over Broadway
FEB 4, 2014
The four actresses featured in Bullets Over Broadway, a new Broadway musical written by Woody Allen, have great cause for celebration: They are performing roles written by New York's master comedian, and the production is helmed by Susan Stroman, one of the foremost director-choreographers working on Broadway today.
In Woody Allen's musical comedy, adapted from the screenplay he cowrote with Douglas McGrath, an idealistic young playwright in 1920s New York must cope with showbiz egos and murderous gangsters, and make artistic and moral compromises to get his first show produced on Broadway.
"When I saw the film I thought, If they ever made Bullets Over Broadway into a musical, I would love to play the role of Helen Sinclair," recalls three-time Tony Award–nominated actress Marin Mazzie. Nearly 20 years after the release of the movie, her wish has come true. It's hardly a surprise that Mazzie set her sights on a role written by Allen. As actress Diane Keaton said at the Golden Globe Awards last month, when she accepted the Cecil B. de Mille Award for lifetime achievement on Allen's behalf, the hallmark of Allen's writing is unforgettable female characters. "Woody's women can't be compartmentalized — they struggle, they fall apart, they dominate, they are funny," noted Keaton, who received a 1977 Oscar for playing a quintessential Allen creation herself, the title role in Annie Hall.
"I love being able to play a woman of a certain age, something that we deal with in our lives as women," says Mazzie about her character, Helen Sinclair, a grand diva who has reached a point in her career where has she no longer can command the lead roles. "As actresses, the roles get less and less for us, and in this case, less glamorous," Mazzie continues. "Helen says, 'I never play frumps or virgins,' and now she has to embody this dowdy woman in a play. She takes it on, but then she begins to manipulate the playwright, David[Zach Braff], to make her role better." For Heléne Yorke, getting the role of Olive, the girlfriend of a gangster boss (Vincent Pastore) turned Broadway producer, was a major break. "You think, Oh, God, not in a million years could something like this possibly happen to me!" says Yorke. "I felt like I was tossed a ball and told to go have fun." Olive used to be a star in her mobster boyfriend's nightclub show, but now she has her sights set on becoming a Broadway star. "She is somebody who gets exactly what she wants, and that's what sets the story in motion," Yorke explains.
Karen Ziemba, Tony Award winner for Contact in 2000, plays Eden Brent, a cast member in the play that is being rehearsed in Bullets Over Broadway. "She's a very successful journeyman actress, one of those types who has a great reputation as somebody who shows up, does her work, and keeps everybody happy," says Ziemba. "She aims to please and she travels with her mascot, Mr. Woofles. I've never worked with a dog on stage in this way before," she adds. The part of Ellen, the playwright's neglected girlfriend, is played by Betsy Wolfe, last seen on Broadway in the recent revival of The Mystery of Edwin Drood. "Woody's women characters always tell it like it is," Wolfe remarks. "Ellen is the steady in David, the playwright's, life. She's the one who keeps him grounded, trying to give him a balance."
Delighted to be portraying four very distinct women dreamed up by Allen, the ladies from Bullets Over Broadway are no less thrilled to be working with their talented director and choreographer. Stro, as she is affectionately known, is practically a Broadway institution by now. With five Tony Awards under her belt, she is best known for her phenomenally successful production of The Producers, the record-breaking 2001 musical made in collaboration with another comic genius, Mel Brooks. "For me, she is the queen of Broadway," says Wolfe. "She is absolutely the perfect blend of a consummate professional and a motherly figure who you absolutely want as your best friend — that rare combination of being able to command a room and at the same time be very nurturing." Yorke mentions Stroman's skill at putting together the best team possible. "I think the most incredible thing is her ability to assemble the perfect group of people and getting a vibe in the room that just gets our creative juices flowing." (Other members of the Bullets Over Broadway cast include Brooks Ashmanskas, Nick Cordero, and Lenny Wolpe.) Responding to a comment about this musical with strong female characters having a leading woman director, Yorke replies, "She is one the best directors, period. She just happens to be a woman, which is great."
"Stro has been a champion of mine — we came up together and have had quite a track record together," says Ziemba, who has worked on several projects with Stroman before, starting with the 1991 Kander and Ebb Off-Broadway revue And the World Goes 'Round, early in their careers, through to Steel Pier and the Tony-winning Contact. "She is great on preparation," Ziemba explains. "Before she even starts out with the cast, she maps out her template — she has these crack assistants — which makes such a difference when people come in to start work; all these wonderful seeds have been sown first. The show will change and it is very malleable but she sets up a very strong structure first, a foundation for everybody else to build upon." Mazzie, who has worked once previously with Stroman — as a replacement in the original production and as a member of the national tour of And the World Goes 'Round — says, "I think she's the best. What she brings into a room is just strength and beauty and poise, and really fun energy."
Anyone who has seen the movie, of course, will recall Dianne Wiest's Oscar-winning performance as Helen, the role Mazzie now plays in the show. For her part, Mazzie says she is not fazed by that challenge. "Dianne is an extraordinary actress and I love what she did, but I am extremely different, as any other actor would be. And also, you know, Helen Sinclair now sings. The diva is even bigger because she can belt out a big tune!" Yes, and what about the music? As Helen might say, "Don't speak! Don't speak!" The song list for Bullets Over Broadway happens to be one of the best-kept secrets on Broadway at the moment. All we know at present is that the score will feature music of the period. "Obviously, anybody who has seen Woody Allen's films knows how much he loves music. He has a great wealth of knowledge about it and he uses lots of music," offers Mazzie. "The score is a wide array of popular songs, pastiche songs, and novelty songs, beautifully blended by Glen Kelly, our musical supervisor who has done all the arrangements — and written additional lyrics." Ziemba reveals, "The major number that I sing is a great song from the Depression era, but I had never heard of it before." Says Wolfe, "I have a great fun number in Act 2 — it's sexy, it's smart, and it's toe-tapping. People are going to be singing these numbers for days!"
The women of Bullets Over Broadway report that the collaboration between Allen and Stroman is proving to be a particularly joyous experience. "I love working in an ensemble piece with so many people on stage at the same time — this fast spitfire timing and listening, passing the ball back and forth," says Ziemba. After the few lab presentations of the work they've done so far, Wolfe says, they have a sense of how the musical could play: "It's like the New York we all want to be part of; even though it is contemporary, it is the perfect, joyous, old-fashioned musical."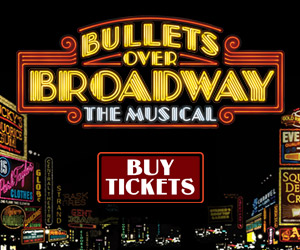 Spring Broad...
Play It Again, Sa...