Features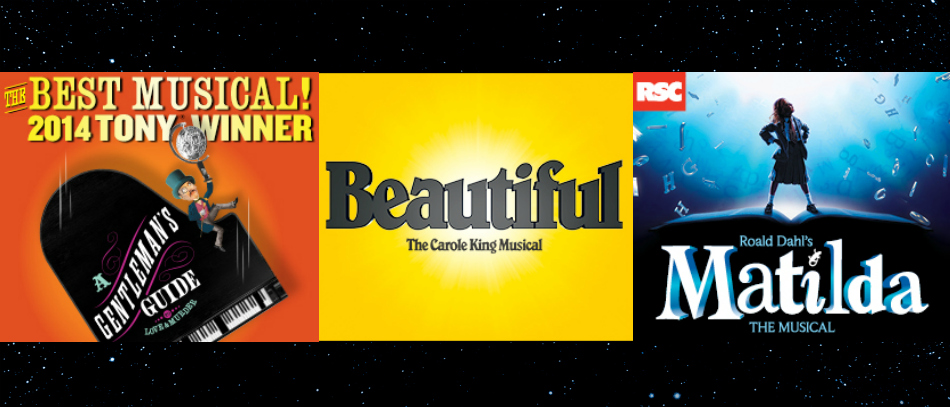 Tony-Winning Musicals Hit the Road
JUN 5, 2015
The best of Broadway is on it's way to a city near you.
For Broadway producers, winning a Tony Award is by no means the end of the journey for a new musical. A year or so later, hit shows begin crisscrossing America so that audiences who can't make it to New York get to enjoy the very best in professional theater, mounted by the original creative team.
"It's kind of a miracle that musicals make their way across the country," says Joey Parnes, lead producer of 2014 Best Musical winner A Gentleman's Guide to Love and Murder. "National tours involve an enormous amount of strategic planning and organization, but we do it because it gives more people the opportunity to experience a great Broadway show."
Business across North America is booming, according to figures provided by the Broadway League: In the 2013–2014 season, touring shows grossed $932 million, representing 13.8 million attendances, and the average theatergoer saw 4.5 shows a year. Productions of varying sizes make stops in about 200 cities.
Broadway Direct recently checked in with a trio of stage pros prepping tours of award-winning musicals still going strong on Broadway: Paul Blake, lead producer of Beautiful: The Carole King Musical, which hits the road in Providence, Rhode Island, on September 15; Michael David, a lead producer of Matilda, which launched a 90-week tour in New Haven, Connecticut, on May 23; and Parnes, whose Gentleman's Guide tour kicks off in Schenectady, New York, on September 19. Together, the three men represent more than 100 years of theatrical experience — and they're passionate about sharing their lifelong love of theater with a new generation.
"As a child, I remember reading about the Lunts, Katharine Cornell, and Mary Martin taking their shows on the road, and I thought, Wouldn't it be wonderful to share a big Broadway show that way?" says Blake, a native of NYC's Bronx who spent 22 years as executive producer of the MUNY outdoor theater in St. Louis and is a coauthor of screen-to-stage adaptations of White Christmas and Roman Holiday. In the case of Beautiful, he has a crowd-pleasing musical biography of a pop music icon and a score of hits including "Natural Woman," "Will You Love Me Tomorrow," and "You've Got a Friend." "The response has been way beyond what we expected," he says of advance sales. "People all over America are saying, 'Carole King? Yes, I want to see that.'"
Matilda also boasts a recognizable lead character in the feisty young book-lover created by Roald Dahl. The Broadway production won five Tonys in 2013, but delayed its tour in order to work through the production's complicated logistics. "Matilda is what we affectionately call 'a full meal,'" quips Michael David. The 39-member cast includes 16 children who must travel with a parent and various tutors and wranglers, and Rob Howell's Tony-winning set is one of the most elaborate on Broadway. To prep for the road, the Matilda company spent four weeks rehearsing and "teching" the show on stage at the Shubert Theatre in New Haven.
Luckily, David knows plenty about how to share hit shows with a national audience. As president of Dodger Theatricals, he has been involved in more than 150 productions, most recently the international juggernaut Jersey Boys. "We want as many people as possible to see our show," he says, "and [a tour] is the way our little cottage industry does something the Greeks did 2,000 years ago. Unlike movies or TV, we promulgate ourselves through live performance — and when we get it right, it's pretty powerful."
Creativity becomes crucial when a touring show isn't a known quantity, a challenge the uniquely named Gentleman's Guide to Love and Murder first faced when opening on Broadway in the fall of 2013. "No one has heard of the title," acknowledges Parnes, "and even though we won the Tony, there is a slender swatch of the American audience that pays attention to that stuff." To clue potential theatergoers in to the fact that the show is a funny, family-friendly romp, the composing team of Steven Lutvak and Robert L. Freedman put together a special plot-driven video preview. "We call it 'The Mini GGLAM,' and it takes you through the show, from beginning to end, in less than six minutes," explains Parnes. "We also send actors to each city to perform live for presenters and salespeople."
Advance marketing of a national tour can take many forms. The Matilda producers enlist local children's choirs to join a young tour star in singing "When I Grow Up" at preview events. David laughingly recalls bringing high school marching bands in to play "76 Trombones" at events promoting The Music Man. Community involvement also helps build awareness — and presumably ticket sales — for the show.
With Beautiful, Blake had a national audience in mind from the very beginning. "When we were putting the show together, I would say to the writer [Tony nominee Douglas McGrath], 'That line is not going to play in the Midwest. We should change it.' I wanted a warm musical that I knew people in St. Louis would love. Shows about family and friendship are what audiences want to see. That's why Fiddler on the Roof is done every five years!" When Beautiful transferred to London's West End, only one joke about Carole King being from Brooklyn had to be cut. "Every laugh we get in New York, we get there," says Blake. "If a show is universal, people will get it."
Though none of these Tony-honored musicals is star-driven, Blake, David, and Parnes report that hundreds of talented actors have been lining up for the chance to tour in Beautiful, Matilda, and Gentleman's Guide. "We're casting top-notch people who we would feel comfortable putting in the Broadway company," says Parnes. After all, a tour is the ultimate advertisement for the original production. "The more shows you see, the more you want to see," David believes. "Not everyone can get in [a limited local engagement], so they might seek you out on Broadway, or wait for you to come back."
Ultimately, the goal is to create a new generation of theatergoers. "There's nothing like the visceral experience of being in a dark theater with a bunch of other people, seeing performers live on stage in real time," says Parnes. Agrees Blake, "A night in the theatre is about making a memory. You never forget the show you saw, the people you saw it with, and theatre you were in. Why wouldn't producers want to take a show they love on tour?"
The Complete...
Growing Up on Bro...
You might also like: