Features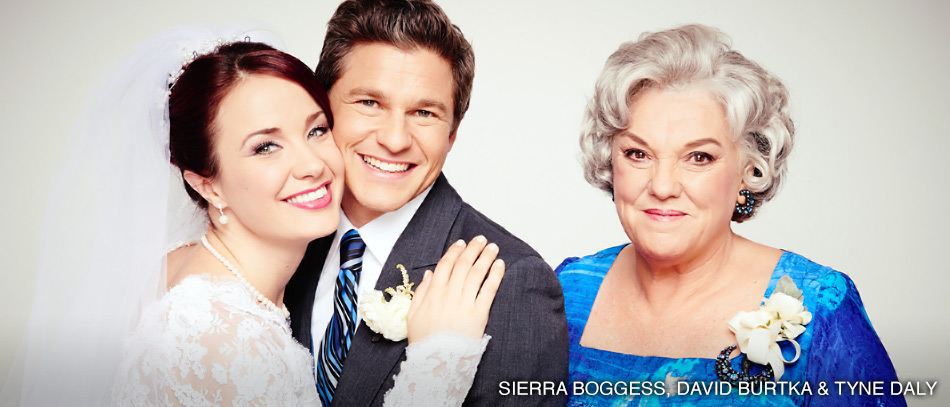 Tyne Daly Returns to Broadway
JAN 6, 2015
Tony- and Emmy Award–winning star Tyne Daly chuckles as she describes how she was introduced to It Shoulda Been You, a comedy about chaos at a wedding, written by Broadway novices — composer Barbara Anselmi and book and lyric writer Brian Hargrove.
"It was exactly like in the movies," she reports. "David Hyde Pierce telephoned and asked me to come over to his house; then he, Brian, and Barbara told me what they thought the play was about and they sang it to me — in their living room. Just like Betty Comden and Adolph Green, or something like that! At the end of it, they said, 'Do you have any questions?'" Daly continues. "I said, 'Well, yes, my question is when do we start?' At which point, David sort of quietly burst into tears, and they said, 'Oh, now we might be able to do this project.'"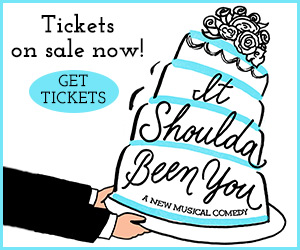 It Shoulda Been You arrives on Broadway this spring with Daly heading a glittering cast that includes Tony Award winner Harriet Harris (Thoroughly Modern Millie), Sierra Boggess (The Little Mermaid), Lisa Howard (The 25th Annual Putnam County Spelling Bee), David Burtka (Gypsy), Montego Glover (Memphis), and Edward Hibbert (Curtains); the production is helmed by Pierce, who is making his Broadway directorial debut.
"I think David is a joy," exclaims Daly, whose conversation is punctuated with warm, hearty laughter. "I am delighted to be working with him, playing for him. I mean, find somebody who doesn't like David Hyde Pierce. Every time I see him, as a member of the audience, and the times that I have now worked for him as a colleague — I just think he's totally yummy!" Pierce has directed Daly before: She played Lady Bracknell in his gangster-inflected Damon Runyonesque take on Oscar Wilde's The Importance of Being Earnest two years ago at the Williamstown Theatre Festival in Massachusetts. "I think David asked me to do that because he was putting a pin in me for the idea of It Shoulda Been You," she remarks. In truth, they form a mutual fan club.
"Tyne Daly has the best legs on Broadway, and her other parts are pretty fabulous too," Pierce enthuses when asked to comment on his leading lady. "Tyne lives and breathes theater; she has power, heart, and wit," he adds. "Tyne has the passion of a tragedienne and the timing of a vaudevillian. She doesn't suffer fools gladly, but in my case she's made an exception. We've had a blast together."
Born in Wisconsin, Daly caught the acting bug from her family. Her father, James Daly, an actor with several Broadway credits, also starred on the CBS series Medical Center. Her mother, actress Hope Newell, appeared in Starsky and Hutch and Charlie's Angels in the mid-1970s. "At 8 years old I knew that I wanted to do this for at least 80 years, you know, barring unforeseen disasters," she recalls. "I have no idea why that was true, but I understood it as long-distance running. I wanted to be on Broadway — that meant something for me from my childhood," she continues. "When I went to the theatre, stuff happened to me that I thought, I want to do that to people. Not just have them get up and applaud — I wanted to be in communication with them from the stage."
Daly's 1967 Broadway debut, in Frank D. Gilroy's short-lived That Summer — That Fall, was inauspicious; it would take more than two decades before she returned — in triumph to play Mamma Rose (winning the Tony Award for Best Actress in a Musical) in the 1989 revival of Gypsy. In the interim, based in Los Angeles, she spent more than a decade playing small parts in TV shows until the early 1980s when she landed the role that made her a household name: Christine Cagney on Cagney and Lacey. During its six-season run, she was nominated for six Best Actress Emmys, winning four times. Since Gypsy, Daly has returned to Broadway on several occasions, most memorably to portray opera diva Maria Callas in the 2011 revival of Terrence McNally's Master Class and, last spring, in the premiere of McNally's most recent work, Mothers and Sons.
"Anybody who said yes to me was encouraging me to continue doing it," she says, reflecting on her enduring career that has spanned more than half a century. "You both say yes and then you get to work. I'm lucky. I'm diligent, but I am also lucky. You have to bring yourself to the character," she continues pragmatically. "What else do you bring? I don't have a cello, a flute, a piccolo, so this is what I have got right now. I don't have what I had at 35 or even indeed at 55. I have to keep on trying to be in style and, you know, approaching my 70th year of life, this is madness!" she adds with a huge laugh. "But I just saw James Earl Jones in an old-fashioned play doing wonderful acting with a lot of other people. Betty Comden once said 'Good is always new.' They are doing it good. To see him work like that, it just makes me happy. My stuff will not be remembered after. I have to do it now. Writers, composers, painters, sculptors, they can be remembered later. Actors, dancers, singers, they have to do it right this minute. If I can serve a playwright, and then an audience, and then a colleague, I'll be fine. That's why I am doing It Shoulda Been You
"I have played lots of mothers — it seems to be my assignment, but at last I have accepted it," Daly notes wryly. Her latest role, however, couldn't be more different in style and tone from the last, the resentful, grieving mother of a dead gay son in Mothers and Sons. Performing in a broader, comic key in It Shoulda Been You, which premiered in the fall of 2011 at the George Street Playhouse in New Jersey, Daly plays Judy Steinberg, a bossy Jewish mother who will seize at any opportunity to stop her daughter's impending marriage to a Catholic boy. "She's got a few good jokes and a fun song," the actress reports. "In New Jersey, it was just like the audience had not eaten dessert in their whole lives! The grimmer the world gets, the more important it is to go to the theatre and have a good time. I think that's what we can offer this season."
#ThrowBackTh...
Here Comes It Sho...
You might also like: