Features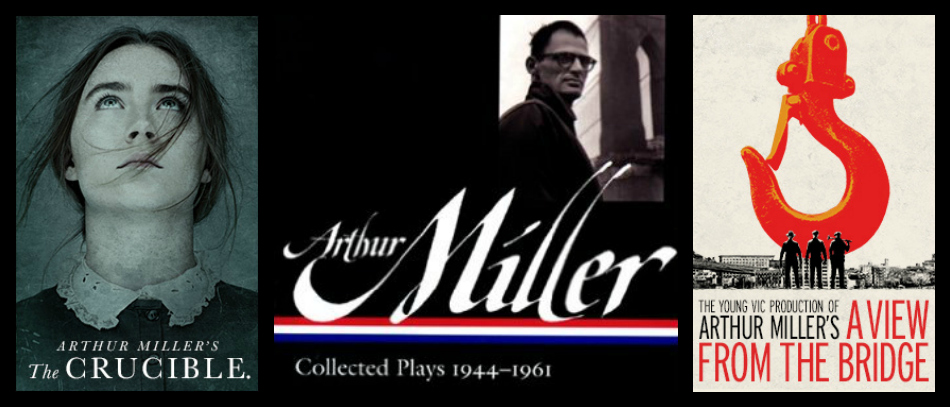 Arthur Miller At 100: Attention Is Being Paid
OCT 13, 2015
On the centennial of Arthur Miller's birth, and a decade after his death, there is a surge of revivals this season by the playwright of Death of a Salesman, in New York and throughout the country.
There are more than 130 productions of The Crucible, his play about the Salem witch hunts, scheduled to open within the next few months in the United States alone, according to the Dramatists Play Service, including one beginning on Broadway in February directed by avant-garde Belgian director Ivo van Hove. There are at least three dozen forthcoming productions of Death of a Salesman, including one translated into Yiddish opening Off-Broadway on October 15, and more than a dozen productions of A View From the Bridge, his modern tragedy set on the Brooklyn docks, including a Broadway revival, also directed by van Hove, that begins performances at the Lyceum October 21.
"Arthur Miller is a looming presence," says the actor Richard Thomas. Thomas, still best known as aspiring writer John-Boy Walton in the TV drama The Waltons, is performing his first role in a Miller play, Incident at Vichy, which begins performances Off-Broadway on October 27 as part of the Signature Theatre's 25th anniversary season.
"You can't escape Arthur Miller in America," says Matthew Parr, "if you go to the theatre at all" — or attended high school. Parr worked with playwright Tony Kushner in editing the Library of America's three-volume collection of Miller's plays — 42 in all — recently issued in a boxed set. Volume 1 covers the years 1944 to 1961 and includes Miller's most familiar plays, such as Death of Salesman, The Crucible, and A View From the Bridge, as well as All My Sons, Miller's first hit on Broadway and one of his most frequently produced dramas. Volume 2 (1964 to 1982) includes Incident at Vichy, one of his several Holocaust plays, as well as After the Fall, one of two plays Miller wrote said to be inspired by his marriage to Marilyn Monroe. But Volume 3 (which covers the periods both before and after the other two volumes) contains work that can count as discoveries — early plays, radio plays, and the plays Miller wrote in the last 20 years of his life.
"His later plays are not well known in America, but have had considerable success elsewhere, especially in England," says Geoffrey O'Brien, the editor in chief of the Library of America.
Miller's later years were among his most productive, as he explained to me in 1997, when he was 82. "As the theater has developed in New York, I have become more and more remote from it," he said. "And so I'm free of that anxiety of pleasing real audiences. I just write for myself."
"A License to Say the Unspeakable"
Arthur Miller was born on October 17, 1915, in Harlem, and wrote his first play at the age of 20 as a student at the University of Michigan. That first experience filled him with awe at what he later called "the magical force of making marks on a piece of paper and reaching into another human being, making him see what I had seen and feel my feelings." It's a sign of resurgent interest in Miller that that first play, entitled No Villain, is getting its world premiere in a theatre in London in December.
"Play writing was an act of self-discovery from the start and would always be," Miller wrote in Timebends, his 1987 memoir. "It was a kind of license to say the unspeakable, and I would never write anything good that did not somehow make me blush."
It took more than a decade after that first play for Miller to score on Broadway with All My Sons, in 1947, about a manufacturer during World War II who knowingly ships out defective airplane parts, with tragic results. Miller was so ambivalent about his sudden fame and fortune that he took a low-paying job in a factory assembling beer box dividers, but he couldn't tolerate the boredom and quickly quit.
Two years later, he created what is widely considered among the most important and stirring American plays of the 20th century, Death of a Salesman, with one of the most famous monologues in American literature:
"I don't say he's a great man. Willie Loman never made a lot of money. His name was never in the paper. He's not the finest character that ever lived. But he's a human being, and a terrible thing is happening to him. So attention must be paid. He's not to be allowed to fall in his grave like an old dog. Attention, attention must finally be paid to such a person."
"They used to ask me what's Death of a Salesman about," Miller said to me. "Well, it's about a salesman and he dies. What can I tell you?"
Death of a Salesman and Elevating the Common Man
Many over the years have been greatly moved by his best known play. "I remember being assigned to read Death of a Salesman in my sophomore English class in high school," says Michael Wilson, who is directing Incident at Vichy for the Signature. "I recall reading the play in my bed late at night alone after everyone had gone to bed. At the end, when Mrs. Loman is putting flowers on Willy's grave, and says, 'I made the last payment on the house today,' I cried. The Lomans' tragedy felt very immediate, very familiar to my own family's struggle to carve out some kind of life while making ends meet."
Wilson was fascinated with what he calls Miller's "vision of writing tragedies of the common man — elevating a lower middle class traveling salesman or a Brooklyn longshoreman to the stature accorded to the royal heroes of Greek tragedy. It was so American to me."
A View From the Bridge and the Unavoidable Spiral Downward
The appeal of Miller's plays, though, is not limited to his countrymen. Belgian-born theatre designer Jan Versweyveld was struck by what The Crucible (first performed in 1953) and A View From the Bridge (1955) had in common, likening them to a whirlpool. "Once they start, they go unavoidably toward an end. Even though we know what's going to happen, it is the thrill of witnessing that spiral downward and inward that makes them so unbelievably exciting and so universal." Versweyveld is director van Hove's set and lighting designer for the Broadway revivals of both plays.
British actor Mark Strong first encountered Miller's work in school, where he read The Crucible. By 1996, he was not only performing in Death of a Salesman but working with Miller himself during rehearsals. "He was so generous with his time and his comments. He used to joke that he couldn't understand how we could perform the play night after night."
Last year, Strong portrayed the destructively jealous longshoreman Eddie Carbone in van Hove's London production of A View From the Bridge. "I hadn't been on stage for 12 years but I just knew it was a part I wanted to play." He will be reprising his award-winning performance on Broadway.
"A favorite and incredibly simple moment in the play that speaks volumes to me is when Eddie's longshoreman pal Louis says to him, 'I mean what the hell? You know?' and Eddie replies, 'Sure.' It's an exchange that points to classic male inarticulacy. They both know what they mean but they haven't really said anything at all," Strong observes. "In A View From the Bridge, he was exploring masculinity and the patriarchal need for respect that many of his male characters are seeking." To Strong, "Miller is not only a perfect craftsman of plays, but through relatively simple domestic stories he is also asking what it means to be human."
Incident at Vichy and Remaining Relevant
For Richard Thomas, "Miller brings together the public and the personal. He examines the human psyche in the context of the community in ways that challenge our personal sense of responsibility. The plays are intimate and capacious at the same time. And they are deeply moving."
They are also as timely as they ever were, says Thomas's director, Michael Wilson:
"As almost a million Syrian refugees have flooded into Germany over the last several weeks, the world is exploding once more with a crisis of epic proportion that seems to know no boundary or end. Meanwhile, in America there is a heightened sense of
'the other' as both race relations and issues of faith dominate our national conversation. Incident at Vichy could not be more relevant than it is right now as we prepare this 50th anniversary revival."
The need to be relevant to the survival of the human race was the tough test Miller applied to both his work and his life, according to Tony Kushner in an essay accompanying the Library of America's Miller collection that Kushner edited. "He wasn't certain that a single individual has relevance to our collective survival, but he saw no other question worth pursuing."
Arthur Miller himself put it this way: "I could not imagine a theatre worth my time that did not want to change the world."
"Maybe It's ...
Q&A: Michael Ried...
You might also like: