Features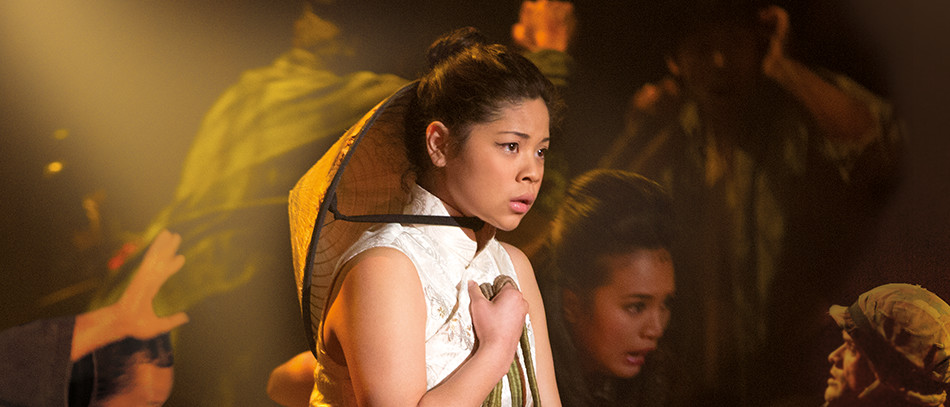 Meet Eva Noblezada, the Magnetic Young Star of Miss Saigon
OCT 25, 2016
Here's a casting story with a fairy-tale ending: A 17-year-old actress flew to New York for the National High School Musical Theatre Awards competition. But instead of heading home to Charlotte, North Carolina, after the event, Eva Noblezada ended up with a one-way ticket to London and the starring role of Kim in producer Cameron Mackintosh's 2014 West End revival of Miss Saigon.
How did a high school student who had never acted professionally triumph in one of musical theater's most demanding parts, a critically acclaimed performance she will reprise when Miss Saigon begins previews at the Broadway Theatre on March 1, 2017? Tipped off by casting director and awards judge Tara Rubin, Mackintosh put Noblezada through a series of auditions, concluding that her natural ability and "tremendous simplicity and savoir faire" would see her through. After all, when Miss Saigon debuted in 1989, he had entrusted the pivotal role of bar girl Kim to another charismatic 17-year-old, Lea Salonga.
Speaking with Broadway Direct from London, where she is currently playing Eponine in Alain Boublil and Claude-Michel Schönberg's other smash hit musical Les Misérables, Noblezada, now 21, compares the past four years of her life to a juicy work of fiction. "It feels like a novel, the first of a trilogy," she says. "It's been exciting, it's been challenging, but it's also been very nourishing. I was a hungry teenager who just wanted to do what she loved. Luckily enough, my journey led me here."
The eldest child of a Filipino father and a Mexican-American mother, Noblezada developed her talent — and a quiet confidence rare in someone her age — early in life. "I've been singing since I came out of the womb," she says, "and once I realized I could go on stage and wear fancy outfits and become someone else, it was like a fire that exploded." A star performer at Charlotte's Northwest School of the Arts, she laughingly describes her youthful dream "to move to New York, become a waitress, and audition, like everyone else. I never wanted to go to college, but I knew I needed to leave home to do what I wanted to do." Ultimately, she got to skip waitressing and leap directly to the lead in a beloved musical.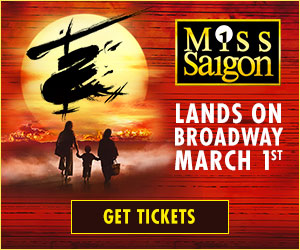 Faced with the twin challenges of learning a huge role and living on her own in a foreign city, Noblezada relied on the Miss Saigon team, including Mackintosh and director Laurence Connor, for support. "You need qualities of leadership and grace," she says of rehearsing with experienced actors, "and class is a huge one. I credit my parents for that." An early mentor was her aunt, Annette Calud, who understudied the role of Kim in the original 1991 Broadway cast of Miss Saigon, four years before her niece was born. More recently, Tony Award winner Salonga encouraged Noblezada to put her own stamp on the role.
"Lea has been really supportive," says the actress, who idolized Salonga for her vocal performances in Aladdin and Mulan. "She was more encouraging than I would have thought possible from somebody who created the role, and it was inspiring to hear her say, 'Run with it. Every woman will play Kim differently.'" The stars appeared together at the end of the show's 25th anniversary performance in September 2014, an event preserved in an electrifying film version shown recently in select theatres.
As she worked on her portrayal of Kim, Noblezada developed a deep bond with the character. Loosely based on Madama Butterfly, Miss Saigon depicts the whirlwind romance between a Vietnamese orphan and an American GI just before the fall of Saigon in 1975, and her devotion to the son she gives birth to after his departure. "Some descriptions of the play make Kim sound shy and innocent, but she really isn't," Noblezada says. "She doesn't know what's going on [in her country], but that doesn't mean she doesn't know who she is. She is compelling because she is relatable: When it comes to her child, you see the lioness in her come through. It's been interesting for me to go through this process so young — I feel like Kim and I grew up together."
After the London production closed in February, Noblezada jumped to Les Miz, an experience she is savoring partly because feisty tomboy Eponine is so different from Kim. "She's sassy, and she isn't afraid to punch someone in the face, which is kind of like me," Noblezada says with a laugh. "I'm having the time of my life." She counts it a privilege to sing Schönberg and Boublil's "On My Own," as well the gorgeous ballads "Sun and Moon" and "I'd Give My Life for You" in Miss Saigon. "To me, the best description would be honey," she says of the composing team's memorable tunes. "It's a symphony of poetry that just flows. Obviously, with Les Misérables, you can see that they're masterminds, but with Miss Saigon, even the background music resembles what is going on in the scenes. It's stunning, and amazing to sing."
Noblezada feels fortunate to be launching her career at a time when ethnicity doesn't necessarily determine casting, "where I can play Eponine and be Mexican-Filipino." Raised with an appreciation for both sides of her heritage, she quips: "Rice and tortillas go really well together. I feel very lucky to have had a taste of both cultures."
As she gets set for her Broadway debut, Noblezada says she's most excited about bonding with her new castmates and exploring the differences between the London and New York theater scenes. She's eager to show the sights to her London-based boyfriend, actor Leo Roberts, explaining: "We're not the kind of couple to freak out if I live across a tiny pond of water." And as usual, she looks to the future with calm self-assurance. "I've tried to take this whole journey in stride," she says, "and I'm looking forward to getting to know Kim again and performing on Broadway in this beautiful show. Our goal is to leave audiences feeling touched and inspired."
A Couple of ...
Alain Boublil on ...