Aladdin, Disney Theatrical's new hit Broadway musical, is the most colorful show in town, thanks in no small part to the costumes of Gregg Barnes.
The opening number, "Arabian Nights," unfurls bolt after bolt of Technicolor fabrics, featuring women in hot pink, orange, and lavender garb and men in elaborately patterned harem pants and turbans. This single scene is more eye-filling than many musicals in their entirety, but, as it happens, Barnes is only getting started; he estimates that Aladdin has nearly 350 costumes in total, all of which were handmade especially for the show, prompting The Huffington Post to rave that the veteran designer "outdoes himself with costumes that bring a new meaning to the word resplendent."
Adding to the delightful excess is director/choreographer Casey Nicholaw, who decided that certain of Aladdin's musical numbers should feature multiple costume changes within them. Thus, "Friend Like Me," in which Aladdin's Genie runs riot through the Cave of Wonders, displaying his magic abilities, features three separate sets of outfits for the ensemble; the second-act opener, "Prince Ali," in which Aladdin, impersonating a prince, crashes the palace where his beloved Princess Jasmine lives, features four complete changes. These numbers challenge the quick-change skills of the production's wardrobe department. "It's a big crew and a young crew. It's very physical for them," Barnes says. The team of 15 dressers can often be found just offstage, executing complex costume changes in a matter of seconds.
Barnes says that when first discussing the number with his director, "Casey said, 'We have to deliver a parade.' We had a finite amount of people, so he had the idea that we would split them in half and keep them coming through the door in different costumes. We did so well that people didn't realize they were seeing a tour de force of costume changes!"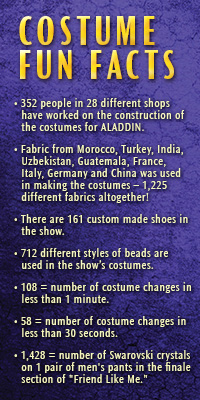 Barnes notes that the show's vivid color palette is in part a tribute to the animated film from which Aladdin is drawn. "Casey, who has clear initial instincts, said, 'I want to honor the spirit of the animation.' That meant color-blocking a lot of stuff. You know how in animated films the backgrounds are complex and the people are simple? That's where we started—  not that the clothes don't have a lot of complex graphic designs."
Indeed, not: In order to get everything built, Barnes contracted out to 28 different costume shops, including milliners, cobblers, beaders, and dressmakers, among others. "We had stuff beaded in India and shoes made in South America and Italy," he says. "We tried to keep as much in America as we could, too. This is one of the blessings of working with Disney; they understand the scope of a project like this. I just run around and answer questions all day, but they had to make sure everything was on the calendar."
Researching the designs was no small matter either. As Barnes notes, Chad Beguelin's libretto, like the film, is full of anachronistic jokes. "Friend Like Me" pays tribute to the swinging sound of Cab Calloway, throwing in spoofs of The Price Is Right, Dancing With the Stars and several other Disney movie-musicals for good measure. As a result, the designer says, "my research went from ancient costumes to the Cotton Club of the 1930s and crazy bridal fashions of today. In terms of inspiration, we were all over the map." He adds, "We decided that the show takes place in a fabled city of the spice trade; that way, we could use a lot of cultural influences, including Chinese and Indian, in the costumes. All the graphic work on the clothes comes from the natural world."
Barnes is something of a specialist in shows with big costume demands. Among his credits are the currently running Kinky Boots, which ranges from factory workers' drab everyday outfits to some highly outrageous drag; the 2012 revival of Follies, which combined 1970s-era eveningwear for the principals with outsize, silvery showgirl costumes for the ghosts of their youth; and Legally Blonde, with its parade of pink Valley Girl fashions. He notes that he enjoys juggling more than one project at a time. "I've been working on Aladdin for three years, since we did a single pilot production in Seattle. When I was in a bind with it, I could put the "Arabian Nights" fable to one side and work on a factory in Kinky Boots. It was a blessing. Also, Casey and I were working on Tuck Everlasting." (That musical, based on the popular children's novel, premieres at Atlanta's Alliance Theatre in January, with a Broadway berth possible after that.)
For Barnes, the process of designing costumes is one of constant discovery. "I spend a lot of time trying to answer as many questions as I can, because when you send the designs out to bid, there are always a million things you haven't thought about. I sleep better if I feel like I'm really on top of it. You develop a million strategies to keep yourself on point."
Still, he says, laughing, "I grew up in San Diego and my dream was to do Hamlet at the Guthrie. Instead, I've had a career doing musicals, circuses, and the Radio City Christmas show. I have to get my name out there for some three-person plays!"
Aladdin performs at The New Amsterdam Theatre at Broadway and 42nd Street.