The stunning stage production of An American in Paris arrives at the Palace Theatre this spring, following its pre-Broadway engagement at the Théâtre du Châtelet in Paris.
In 1928, when George Gershwin's symphonic-tone poem An American in Paris premiered at Carnegie Hall, the classical music critics were not sure it belonged on the same program as works by Cesar Franck and Richard Wagner. Gershwin's response? Get a grip, guys. "It's a humorous piece, nothing solemn about it," he said at the time. "If it pleases symphony audiences as a light, jolly piece, a series of impressions musically expressed, it succeeds."
That simple summing-up resonates with Christopher Wheeldon, the British-born director and choreographer whose stage adaptation of Gershwin's dazzling classic is one of the most hotly anticipated musicals of this season. "I think it's a direct reflection of the musical we're building," says the onetime principal dancer and present choreographer of the New York City Ballet, who is making his Broadway directing debut with An American in Paris. "There is a joy and optimism in the panoramic sweep that comes directly out of the music. "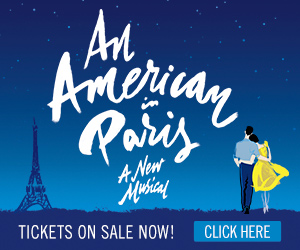 And yet Wheeldon and his creative team, including bookwriter Craig Lucas, have been able to hit some of the darker notes in Gershwin's masterpiece, which were not part of the lighthearted Oscar-winning 1951 film, directed by Vincente Minnelli and starring Gene Kelly. The skeletal framework of Alan Jay Lerner's screenplay is still there. Jerry Mulligan arrives in post-War Paris with painterly ambitions and allies with two buddies, the dyspeptic Jewish American composer Adam and Henri Bourel, a French aristocrat. Mulligan meets and courts Lise, a shy young store clerk and aspiring ballet dancer, even as he in turn becomes the object of desire for Milo, a wealthy heiress eager to help fund artistic careers.
In this reimagined version, however, Lucas has put meat on those bones. The characters are much younger than their film counterparts are, and the story has been moved to the immediate aftermath of the war. The wounds are still fresh — literally, for Adam — as well as for a city still shaking off the trauma of the Nazi occupation.
"One of the exciting things about this version," says Wheeldon, "was exploring how potently joy and romance emerge from darkness, which of course they couldn't do in the movie because the memory of the war was still so close at the time. The more truthful historical context heightens the romance because everyone, including the city itself, is reaching, like a plant, toward the light."
While the characters are now more complicated, the narrative is still driven by dance. Wheeldon has upped the ante with ballet, modern dance, tap, jazz, and pastiche to accompany such standards as  "I Got Rhythm," "They Can't Take That Away from Me," "'S Wonderful," and "But Not for Me." According to Lucas, this version of  An American in Paris is a seamless integration of song, choreography, and storytelling that is something of a throwback to the Broadway of Jerome Robbins and George Balanchine.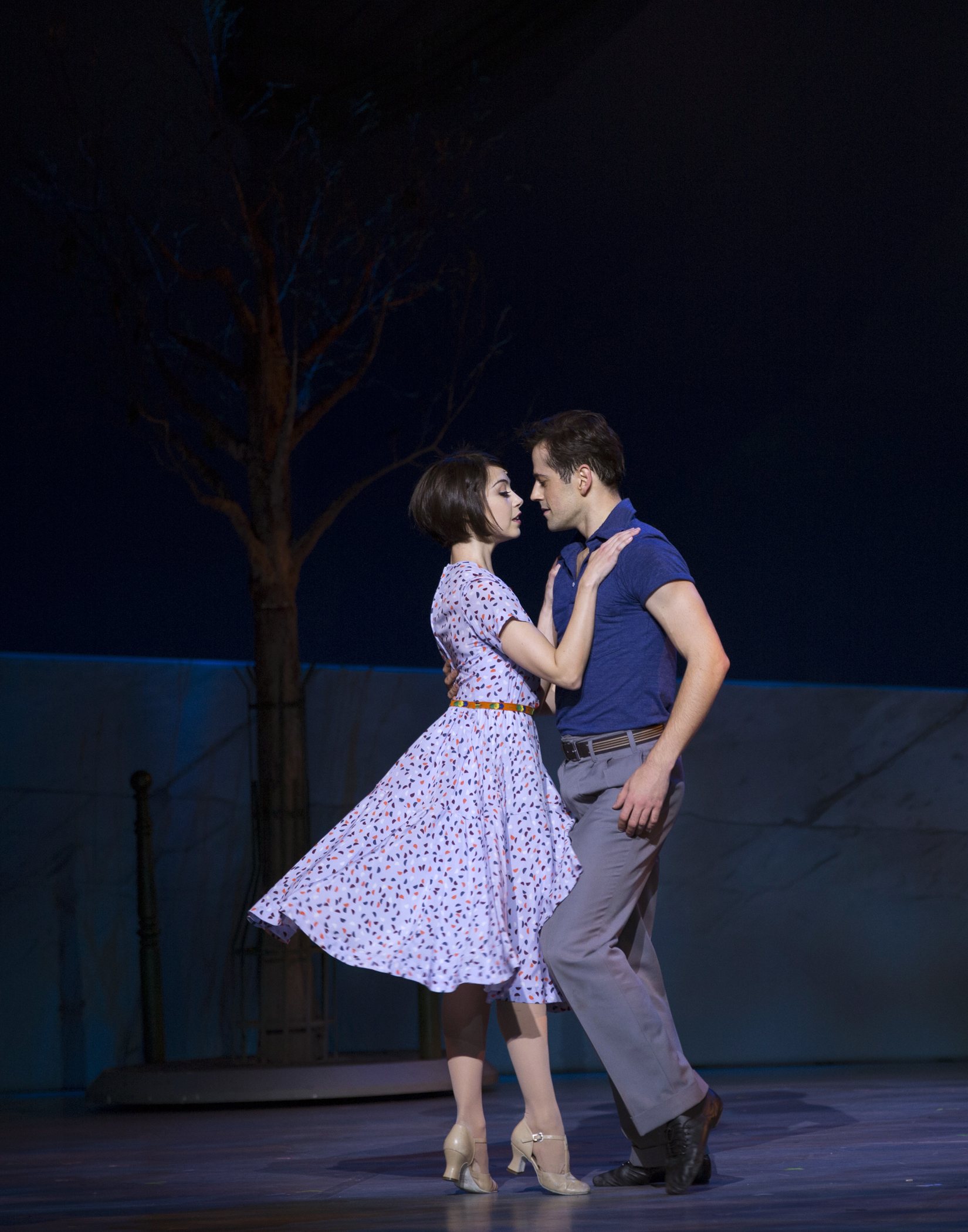 The triple threat demands on the two leads presented a casting challenge that was finally met in Robert Fairchild, an NYCB principal dancer,  and Leanne Cope, an artist with the Royal Ballet. Under tremendous pressure, they must not only make high-profile Broadway debuts but they must do so under the shadows of Gene Kelly and Leslie Caron, who created the roles on film.
"We've pushed them hard and they've responded very well," says Wheeldon. "They have a great chemistry. Robbie has that all-American ease, masculinity, and theatricality, which I think is quite rare. And Leanne always dreamed of being on Broadway but fell into ballet. They both have a star quality that's hard to define. I like to describe it as a 'perfume.' "
It's a fragrance, adds Wheeldon, that reeks of romance and sensuality. "Gershwin oozes sexiness," he says with a laugh. "In the American in Paris ballet, there's one orgasmic line of trumpets!" After all, sexual energies were very high after the war. "People found great solace and comfort in each other's comfort."
Paris was also a hotbed of artistic invention at this time, and Lucas notes that this theme is expressed  in the musical through Bob Crowley's ingenious sets and costumes.  Even so, Lucas posits that love trumps art in this version of An American in Paris. "I don't care how good an artist you are: what matters is how much compassion and kindness that you engender ," says the writer. "That's why I wanted to do this. I saw Christopher's ballets and thought this guy is putting out into the world such generosity toward human beings."
For his part, Wheeldon isn't sure he agrees with Lucas's premise. "I suppose in the bigger picture, art lasts forever and love is a fleeting thing, a moment, a meeting, and then it evaporates. But to us, as human beings, there's nothing stronger or more potent than this incredible connection between one person and another. How to put that on the stage in a way that's elegant, airy, and light on its feet — like Paris. That's been the challenge."
Learn more and buy tickets for An American in Paris on Broadway.
Photos: Robert Fairchild and Leanne Cope. Credit: Angela Sterling